Donald Trump tests negative for coronavirus 'on consecutive days', doctor says
12 October 2020, 22:47 | Updated: 13 October 2020, 01:11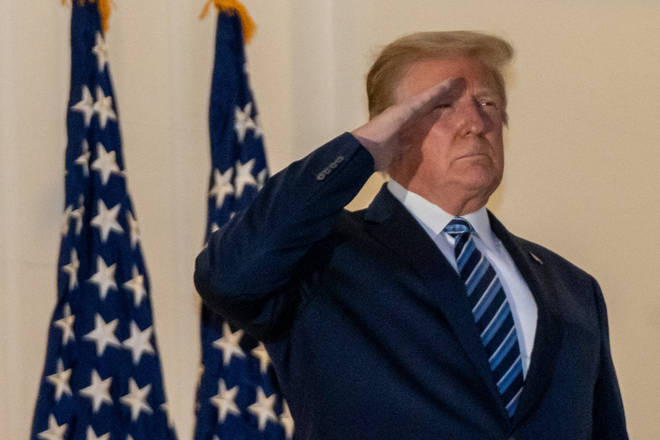 Donald Trump has tested negative for coronavirus "on consecutive days", the White House doctor has said.
The US President's official physician, Dr Sean Conley, confirmed he had returned negative tests on multiple antigen cards across two days.
He said the data collated from Mr Trump's negative tests, as well as other clinical and laboratory tests, revealed the president "is not infectious to others".
Dr Conley wrote to the US leader's press secretary Kayleigh McEnany, who had also tested positive for coronavirus, on Monday.
Read more: Dr Fauci criticises Trump campaign for taking quotes 'out of context'
Read more: Twitter brands Trump's 'immunity' tweet 'misleading and potentially harmful'
"In response to your inquiry regarding the president's most recent Covid-19 tests, I can share with you that he has tested negative, on consecutive days, using the Abott BinaxNOW antigen card," he said.
"It is important to note that this test was not used in isolation for the determination of the president's current negative status.
"Repeatedly negative antigen tests, taken in context with additional clinical and laboratory data... as well as ongoing assessment of viral culture data, all indicate a lack of detectable viral replication.
"This comprehensive data, in concert with the CDC's (Centers for Disease Control and Prevention) guidelines for removal of transmission-based precautions, have informed our medical team's assessment that the president is not infectious to others."
Mr Trump returned to the campaign trail on Monday for the first time since contracting coronavirus as he tries to stage a late comeback in the election's final stretch.
The president faces a stubborn deficit in national and battleground state polling.
He left Washington to appear at a rally in Sanford, Florida - the first stop in a busy week that will include events in Pennsylvania, Iowa, North Carolina and Wisconsin.
Florida is seen as critical to Mr Trump's re-election chances.
He narrowly beat his 2016 rival Hillary Clinton in the state by just over 112,000 votes, but recent polls have suggested a close race in the state, while others have put Democrat Joe Biden ahead.
Listen & subscribe: Global Player | Apple Podcasts | Google Podcasts | Spotify