Triple killer Lawangeen Abdulrahimzai sentenced to life for murdering man in e-scooter dispute
25 January 2023, 14:07 | Updated: 26 January 2023, 09:28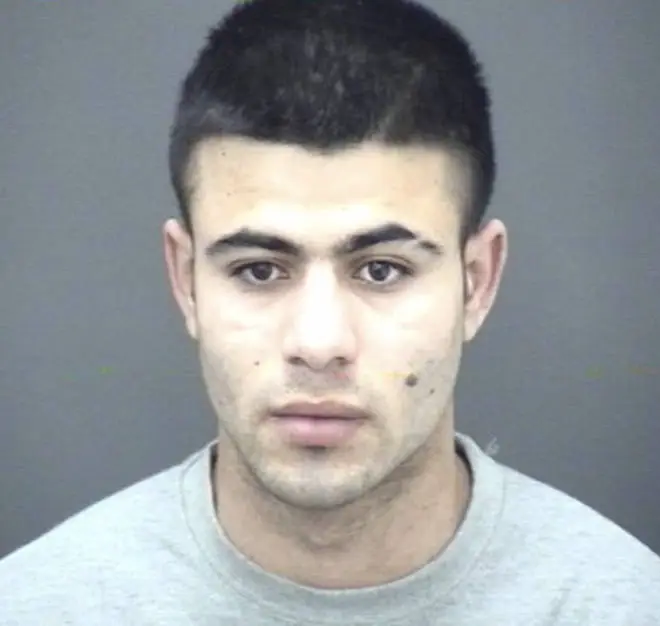 A double killer who sought asylum in the UK has been jailed for life for murdering a man during an argument over an e-scooter.
Lawangeen Abdulrahimzai, 21, was found guilty on Monday of killing Thomas Roberts, 21, in Bournemouth, Dorset, last year.
Abdulrahimzai will serve a minimum of 29 years.
The victim - an aspiring Royal marine - had been acting as a "peacemaker", the court heard, after his friend James Medway got into a row with Abdulrahimzai over an e-scooter left outside a Subway sandwich shop in March, 2022.
During the 24-second confrontation, Mr Roberts slapped Abdulrahimzai in the face.
Read more: Mum, 37, locked herself in bedroom before stabbing son to death then taking her own life
Read more: Sir Keir Starmer blasts Sunak as 'too weak' to sack Zahawi over tax affairs at fiery PMQs
Abdulrahimzai then pulled out a knife he had concealed between the two pairs of trousers he had on, stabbed Mr Roberts twice, and ran away into nearby woodland.
After that he buried the weapon, before burning the jacket, trousers, and an Afghan flag he was wearing as a scarf.
Abdulrahimzai claimed that he fled his home country, Afghanistan, after he was tortured at the hands of the Taliban and his parents were killed.
After the verdict was delivered, the court heard that Abdulrahimzai had been previously convicted of murdering two people in Serbia.
He was found guilty of two counts of murder as well as a related firearm offence in 2020.
He fled Serbia after the killings and the trial took place in his absence.