Sir Keir Starmer blasts Sunak as 'too weak' to sack Zahawi over tax affairs at fiery PMQs
25 January 2023, 12:35 | Updated: 25 January 2023, 12:56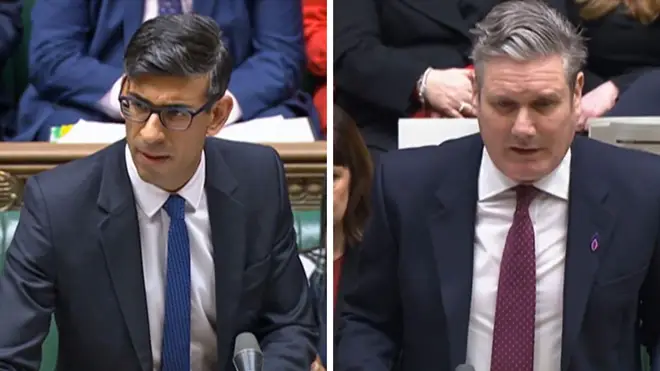 Sir Keir Starmer accused the PM of being too 'weak' to sack Nadhim Zahawi amid the storm over his tax affairs.
In a fiery PMQs session today, Sir Keir said it should be obvious that someone who tries to avoid tax should not be in charge of tax but the PM said that "proper due process" must be adhered to and the government's ethics adviser must be allowed to do their job.
Sir Keir Starmer asked: "Does the PM agree that any politician who seeks to avoid the taxes they owe in this country is not fit to be in charge of taxpayer money?"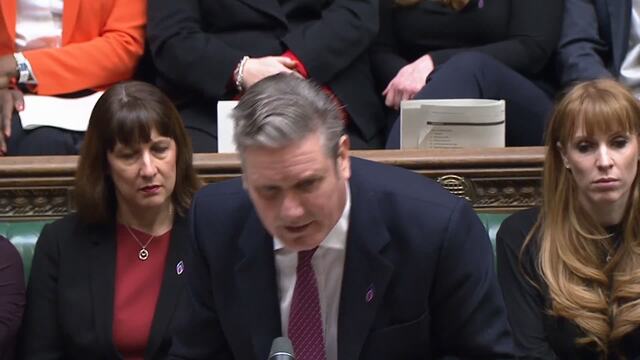 Sir Keir Starmer grills Rishi Sunak amid Nadhim Zahawi tax row
Mr Sunak replied: "The issues in question occurred before I was prime minister. With regard to the appointment of the minister without portfolio, the usual appointments process was followed.
"No issues were raised with me when he was appointed to his current role. Since I commented on this matter last week more information has come forward and that is why I have asked the independent advisor to look into the matter. It is right that we fully investigate this matter."
The Prime Minister ordered his ethics adviser to investigate whether Mr Zahawi broke ministerial rules over the estimated £4.8 million bill he settled with HMRC while chancellor.
Read more: Met chief says two or three officers will face charges for months in 'painful truth' for scandal-hit force
Read more: 'Robots are treated better': Amazon workers walk out in first UK strike over 50p pay rise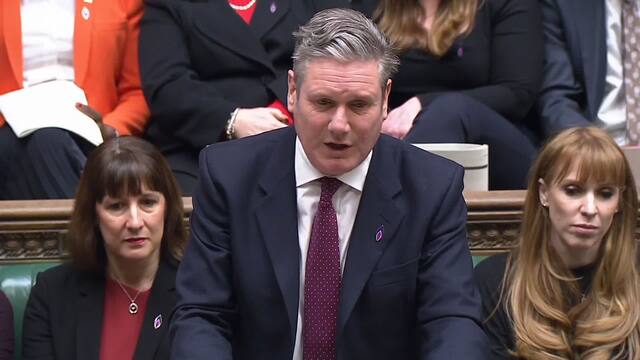 Sir Keir Starmer takes aim at PM Rishi Sunak
Mr Sunak admitted there are "questions that need answering" as the inquiry was launched but it was unclear what he knew when appointing Mr Zahawi to the Cabinet-attending role.
Chairman of the Committee on Standards in Public Life Lord Evans criticised the legal threats Mr Zahawi made as he tried to prevent stories about his tax affairs emerging.
As they worked to uncover the situation, The Independent website said he personally threatened "legal action" and tax lawyer Dan Neidle was contacted by "expensive" libel lawyers.
Lord Evans suggested "trying to close down a legitimate public debate" would not live up to the Nolan principles on public life that must be upheld under the ministerial code.
"Accountability, openness are things which the Government says that it wants to be characterising its own behaviour, so that I think speaks for itself," he told BBC Radio 4's PM programme.
"The sort of attempts, apparent legal attempts to suppress this story, I don't think that does live up to the sort of standards that the public would rightly expect."
Senior Conservative MP Caroline Nokes has called on him to "stand aside until this matter is all cleared up" but Mr Sunak has so far stood by Mr Zahawi.
The Prime Minister argued it is "longstanding practice" for ministers to remain in their roles while under investigation.
Just last Wednesday, Mr Sunak told PMQs that Mr Zahawi had "already addressed this matter in full".
The Prime Minister's press secretary said Mr Sunak "takes Nadhim Zahawi at his word".
But Mr Sunak bowed to pressure to order the investigation by ministerial interests adviser Sir Laurie Magnus after the Guardian revealed Mr Zahawi paid a penalty as part of the dispute.
Downing Street subsequently suggested Mr Sunak did not know last week that Mr Zahawi had paid the reportedly 30% penalty to HMRC.
And the Prime Minister said that the advice he received ahead of appointing Mr Zahawi party chair in October was that there was "no reason" not to.
Mr Zahawi, the MP for Stratford-upon-Avon, has insisted his "error" over shares in the YouGov polling company he co-founded was "careless and not deliberate".
He has insisted he is "confident" he has "acted properly throughout".
Labour has argued Mr Sunak should sack the chairman before the investigation's conclusion, describing it as a "pathetic attempt to pass the buck".
Mr Zahawi was appointed chancellor by Boris Johnson, whose time in No 10 was continuing to create challenges for Mr Sunak.
Fresh allegations of cronyism in the Tory party have been levelled after it emerged BBC chairman Richard Sharp helped secure Mr Johnson a loan of up to £800,000 before the then-PM backed his appointment to the broadcaster.
Since the last PMQs, Mr Sunak has also received a second police fine, this time for failing to wear a seatbelt after he broke coronavirus rules during the partygate scandal.