Ear-achnophobia: Woman kept awake by clicking noises finds tiny spider living in her ear
2 November 2023, 12:11 | Updated: 2 November 2023, 12:17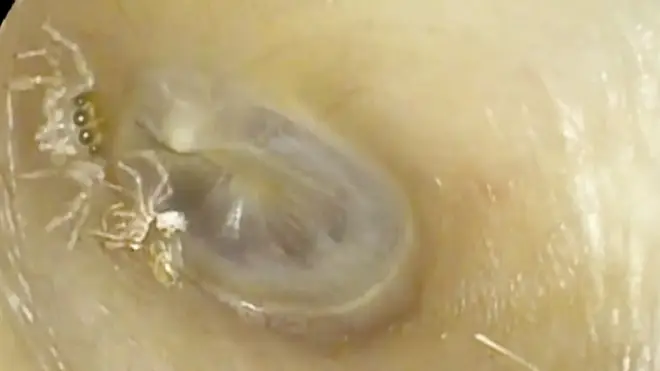 A woman who was kept awake by clicking sounds found she had a spider living inside her ear.
The 64-year-old Taiwanese woman suffered four days of the noise before the arachnid was discovered when she checked in at hospital in April.
Doctors found the small spider, which was about the size of a pin, next to some shedded skin in her left ear.
They used a suction device to remove it from the woman, who has not been named, and she suffered no damage to her ear canal.
The case was published in the New England Journal of Medicine.
A woman with hypertension presented to the clinic with a 4-day history of abnormal sounds in her ear. On examination, a small spider was seen moving within the external auditory canal of the left ear. The molted exoskeleton of the spider was also present. https://t.co/dye2sbbiL9 pic.twitter.com/SfeNBBGQS8

— NEJM (@NEJM) October 25, 2023
Read more: Mushroom cook Erin Patterson charged with murder over beef wellington lunch that left three dead
Dr Tengchin Wang said she had never seen a creature shed its skin in an ear.
"She didn't feel pain because the spider was very small - just about two to three millimetres," she said.
Critters account for about 14% of foreign objects that get stuck in the ear.
Patients can get them removed by having doctors use a suction cannula, which removes small objects from their ear.
Dr Stacey Ishman, an ear specialist at the University of Wisconsin, said: "Most of the time the ear is completely fine.
"If there's some injury to the ear canal, quite honestly it's more often from people trying to get it out than it is from the bug itself."