Emily Thornberry backs Starmer's attack ads on PM's record on child sex abuse
10 April 2023, 12:02 | Updated: 10 April 2023, 17:13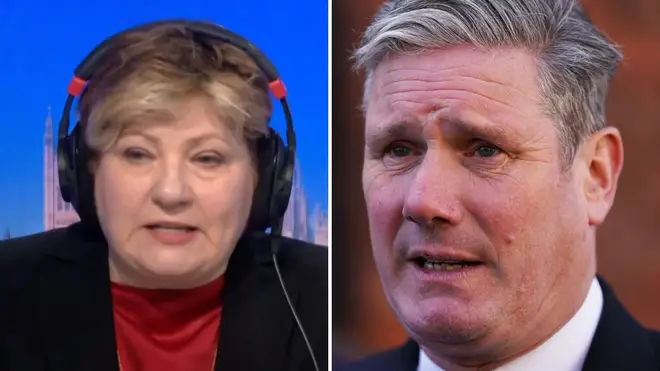 Labour frontbencher Emily Thornberry has backed Labour leader Keir Starmer's stinging attack ads on the Government's record on crime on LBC.
The shadow attorney general spoke to Andrew Castle on LBC this morning to support content released by Labour which claimed that Prime Minister Rishi Sunak did not care about adults who abuse children not getting jail time in some cases.
Labour bigwig Ms Thornberry told LBC: "If he wanted to stop it, he could stop it.
"If he saw it as seriously as he should do, he would be able to stop it. But he is not.
The frontbencher added: "And what Keir is trying to say is that he is unapologetic about being blunt about this. We hold the government to account.
"The government has a responsibility for the criminal justice system. There are things that they could do but they are not."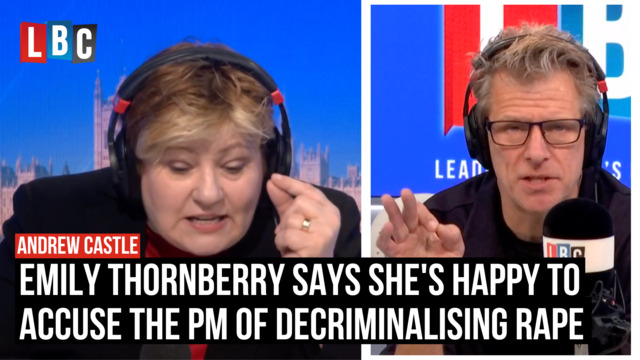 Shadow Attorney General Emily Thornberry doubles down on Labour's ads
Read More: 'It's a skit!': Senior Labour MP defends advert claiming Rishi Sunak does not believe child sex abusers should be jailed
Read More: 'Is a Labour government a threat to the well-off?': Andrew Castle quizzes Labour MP Steve Reed
Labour has launched a series of intensely personal attack adverts on Twitter against Rishi Sunak - in an apparent attempt to tie him to government failures since 2010.
Starmer has defended the ads and said he wouldn't change a word of them when challenged on their rhetoric.
Labour have also promised more attacks on Mr Sunak's record on the economy as it gears up for a general election which must be held before the end of 2024.
Political journalist Michael Crick told Shelagh Fogarty that the Labour Party has a "bit of cheek really", before stating: "This is a party that in the last decade has turned a blind eye to grooming gangs in certain northern cities."
The comments were in reference to accusations surrounding a Labour Council's failure to curb child sex abuse in areas such as Rotherham.
The discussion comes amid controversy over a new Twitter advert from the Labour Party which inferred that Prime Minister Rishi Sunak did not think adults convicted of sexually assaulting children should go to prison.
Michael said: "It's disgraceful...it's dishonest and it's a lie essentially."He went on to criticise Labour leader Keir Starmer, who is the former Director of Public Prosecutions, saying someone who held that position should know that MPs do not play a part in decisions on individual cases.
However, he conceded: "The Conservatives have put out some pretty disgraceful campaign ads in the past."Then he gave an example of a Conservative campaign advert in the London mayoral election. That advert portrayed the Labour candidate at the time, Sadiq Kahn, saying council taxes would increase.
He went on to warn: "The danger here is this becomes an arms race...and the next time the Conservatives respond they'll go even more over the top."
Speaking to LBC's Andrew Castle on Friday, Shadow Culture Secretary Lucy Powell defended the advert saying: "These sort of political campaigns, we've all been on the receiving end of things like this...it's highlighting what I think is a very serious issue that needs dealing with that I think the average Labour voter is really worried about.
"However, Labour backbencher John McDonnell has urged the party to take the advert down, saying: "We, the Labour Party, are better than this."
Andrew Castle also spoke to the Political Strategist and ex-Political Secretary to Tony Blair, whether this is "the right tone being set by a future government".
Mr McTernan replied: "If you have a very very unpopular political party, and you have a moderately more popular leader - you can see what the Conservatives are doing. They're trying to run a presidential campaign to make this the Rishi Sunak campaign for re-election, with a few Tories associated with him."
"He's all the things that you are angry about in current life in the UK", he continued. "Everything you're angry about is the responsibility of 13 years of Tory government."