Female teacher at £20k-a-year girls' school 'humiliated' after being forced to apologise for saying 'afternoon, girls'
16 April 2023, 12:33 | Updated: 16 April 2023, 13:44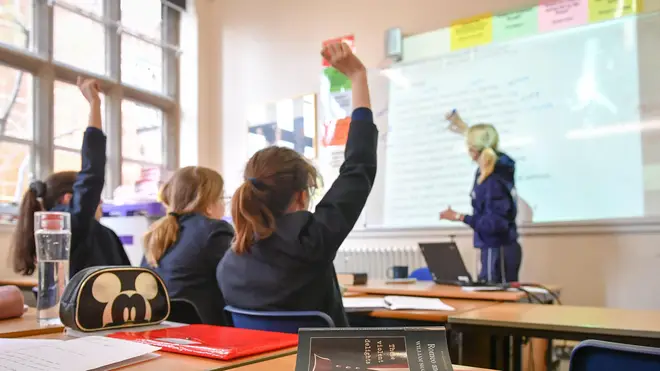 A female teacher has claimed she was left "humiliated" after being forced to apologise to a group of 11-year-olds at a private girls' school for calling them girls.
The woman had to apologise after her class complained over her saying "good afternoon, girls" at the start of a lesson, according to the Mail on Sunday.
Pupils told her that "not everyone here identifies as female".
The following day, she arrived in the classroom to see they had all put their names and preferred pronouns on the board, including one person who used they/them.
There was also a lunchtime protest after she refused to acknowledge their demands.
Read more: Schools 'must tell parents if children start using different gender identity' under new guidance
Read more: Furious parents launch petition after major change to October half-term school holiday
The philosophy and religious education teacher told the paper that she felt she was "managed out" by senior staff.
"I was told that they made placards with slogans on such as 'Trans lives matter'," she said.
"Before the end of the week I was in some sort of disciplinary process and the head of year was telling me I had to apologise to the girls."
She said she was joined by the head of year when she stood in front of the class of 11-year-olds.
"She spoke to the children on my behalf saying no one here would want to hurt you and you're all really loved by us," she continued.
"She then worded the apology in terms of, 'I am sorry you're upset and we didn't mean to offend. I'm sorry you felt bad.' But it was all pretty humiliating and embarrassing."
The teacher said problems started to become clear at the school less than a week after the sixth form's "diversity and inclusion" prefects did an assembly on gender and pronouns.
Students were allegedly shown a video discussing gender identities and sex being assigned at birth.
The teacher said she felt she was later "managed out" of her position, revealing that the head teacher rejected her application to remain at the school after her one-term contract ended.