Supply chain crisis: No 10 brings in former Tesco boss to save Christmas
8 October 2021, 14:05 | Updated: 8 October 2021, 15:16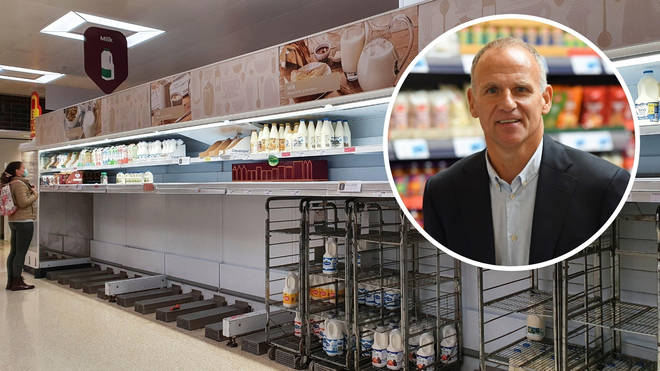 The former CEO of Tesco has been appointed the government's supply chain adviser to ease the shortage crisis and help save Christmas.
No 10 announced on Friday that it has appointed Sir David Lewis in advisory capacity until the end of the year.
He will work with the government to help ease the supply chain crisis which is leaving petrol pumps dry and supermarket shelves bare in the run-up to Christmas.
He will advise the Prime Minister and Chancellor of the Duchy of Lancaster on both immediate improvements and any necessary long term changes to UK supply chains for goods.
Sir Lewis is being drafted in following weeks of supply chain issues which have caused panic-buying chaos across the UK.
Read more: Fuel industry says recovery 'not quick enough' as pumps left dry in London and South-East
Read more: Energy crisis: Govt adviser warns there is 'no quick fix' as gas prices spiral
Downing Street said Mr Lewis is being brought in to help what they described as "current blockages", and will also "pre-empt potential future ones".
Boris Johnson said: "I'm pleased that Sir David Lewis is joining the team who have been working on future proofing our supply chains across the United Kingdom as we recover from the pandemic.
"There are currently global supply issues which we are working with industry to mitigate and Dave brings a wealth of experience which will help us continue to protect our businesses and supply chains."
This story is being updated