Full list of Bonfire Night firework displays cancelled this weekend because of Storm Ciarán
3 November 2023, 11:37 | Updated: 3 November 2023, 11:50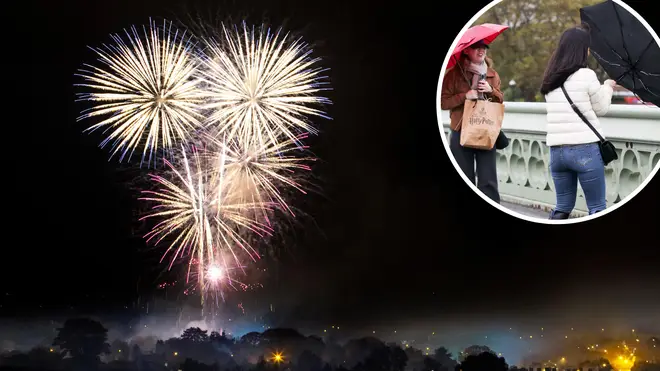 Storm Ciarán has been battering Britain, and now Bonfire Night displays face being fizzled out due to the unfavorable conditions created by the storm.
Storm Ciarán has brought vicious rain, flooding, and wind to the country.
There are currently 55 flood warnings and 203 flood alerts, according to the government website.
Many firework displays were meant to have taken place this weekend to celebrate Bonfire Night but organisers of several events have said the ground has become too wet from the heavy rain.
Read more: More than 80 flooding warnings remain in place across UK after Storm Ciarán as Brits told to 'stay home until Sunday'
Read more: Trail of destruction: 127k homes left without power as tornado sparked by 104mph winds hits UK during Storm Ciaran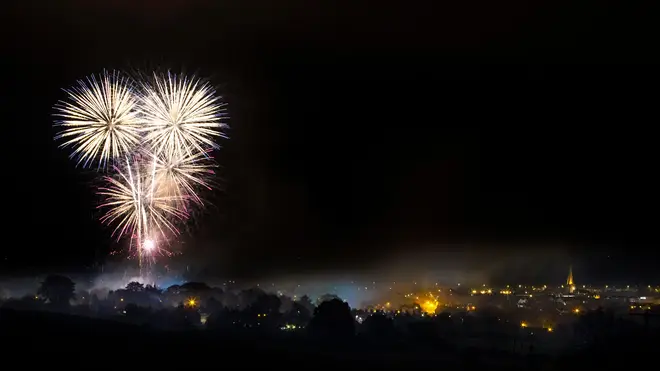 Below is a list of Bonfire Night firework displays which have been cancelled or postponed so far:
Beamish Hall in County Durham
Spennymoor Town Council in County Durham
Segedunum fireworks in Tyneside (postponed to later in the evening of Friday 3 November)
Heveningham Hall in Suffolk
Undley Farm in Suffolk
Saltwell Park in Tyne and Wear
Lindsey Rose in Suffolk
Caistor Bonfire and Fireworks in Lincolnshire
Thetford Fireworks Spectacular in Norfolk (postponed to 12 November)
Wroxham Barns' Low-Bang Fireworks Display in Norfolk (cancelled on Thursday, Friday still going ahead)
Hook and Hatchet Inn in Kent
Weston Grand Pier in Somerset
Sprites Primary Academy in Suffolk
The Ross-on-Wye Lions Club in Hertfordshire
Feckenham firework display in Worcestershire
Dullingham in Suffolk
Port Eliot House in St Germans, Cornwall (postponed until next weekend)
Meifod in Powys
Welshpool in Powys
Colwyn Bay in Denbighshire
Orley Farm School in Harrow, London
Harborough showground fireworks in Leicestershire (postponed to 9 November)