'Leave my children alone!': Furious Donald Trump blasts judge in fraud trial as son testifies in New York
1 November 2023, 22:03 | Updated: 1 November 2023, 22:20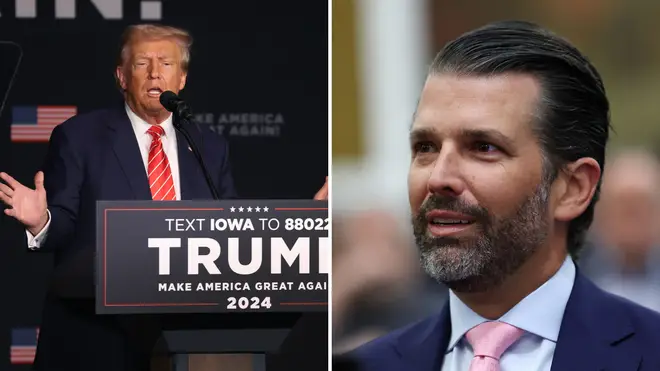 Donald Trump Jr took to the witness stand on Wednesday at the civil fraud trial over whether his father overstated his wealth to banks and insurers.
The Trumps deny wrongdoing and are fighting to keep the family's Trump Organisation intact.
The ex-president's son is the first of his children to testify, kicking off a blockbuster stretch as the trial in New York attorney general Letitia James's lawsuit enters its second month.
Ms James, a Democrat, alleges that Donald Trump, his company and top executives, including sons Eric Trump and Donald Trump Jr, conspired to exaggerate his wealth by billions of dollars on financial statements that were given to banks, insurers and others to secure loans and make deals.
Donald Trump - the former president, family patriarch and 2024 Republican front-runner - is slated to take the stand on Monday.
State lawyers have expected to call his eldest daughter, ex-Trump Organisation executive and White House adviser Ivanka Trump, as their final witness on November 8. Her lawyer filed an appeal on Wednesday challenging a judge's decision to require her testimony.
Donald Trump Jr and Eric Trump are both executive vice presidents at the Trump Organisation and defendants in Ms James's lawsuit.
Eric Trump has oversight over the company's operations, while Donald Trump Jr has been involved in running the company's property development.
He and longtime company finance chief Allen Weisselberg were also trustees of the revocable trust Donald Trump set up to hold the company's assets when he became president.
Read More: 'Single greatest witch hunt of all time': Donald Trump launches eight-minute tirade as civil fraud trial begins
Read More: Trump storms out of courtroom amid clash with foe Michael Cohen, as he's issued $10,000 fine for violating gag order
Before the trial, Judge Arthur Engoron ruled that Donald Trump's financial statements were fraudulent. He ordered that a court-appointed receiver seize control of some of his companies - potentially stripping him and his family of such properties as Trump Tower - though an appeals court has halted enforcement for now.
Like their father, both brothers have denied wrongdoing. Eric Trump has spent several days at the trial, often on the days his father has been there.
He has commented sporadically, mostly on social media. On October 5, he posted a video montage to Truth Social of Ms James criticising his father.
With it, he wrote: "This is the corruption my father and our family is fighting! The system is weaponised, broken and disgusting!"
Meanwhile, Donald Trump Jr has not been to court, but since testimony began on October 2, he has repeatedly denounced the case and Judge Engoron as a "kangaroo court".
State law does not allow for juries in this type of lawsuit, so Judge Engoron will decide the case.
"It doesn't matter what the rules are, it doesn't matter what the constitution says, it doesn't matter what general practices and business would be," Donald Trump Jr said on Monday on Newsmax.
"It doesn't matter. They have a narrative, they have an end goal, and they'll do whatever it takes to get there."
Donald Trump blasted Judge Engoron on Wednesday on Truth Social as a Trump-hating "political hack" who was "doing the dirty work for the Democrat Party".
"Leave my children alone, Engoron. You are a disgrace to the legal profession!" Donald Trump wrote in one of several posts.