Housing minister hints at reforms in coming weeks as she insists government hasn't abandoned home ownership pledge
19 September 2023, 12:34 | Updated: 19 September 2023, 14:17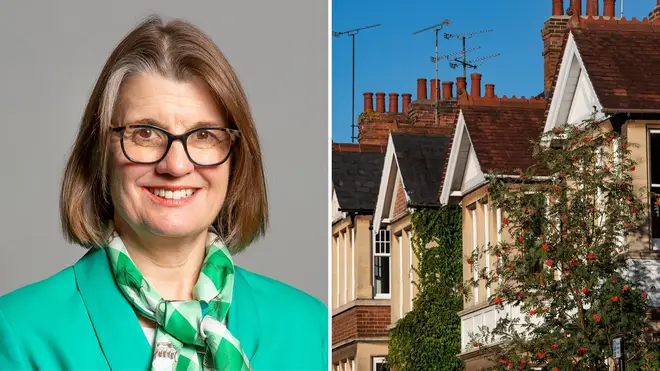 The Housing Minister has said she is "feeling positive" about renter and leasehold reforms being included in November's King's Speech.
Rachel MacLean told a group of MPs and campaigners that the government "absolutely has not abandoned its commitment" for leaseholders to be able to own their homes.
But a solicitor has told LBC some lawyers have been told to stop offering advice to some buyers until current legislation has been "cleaned up" with the housing market essentially brought to a standstill.
Speaking at a meeting of the All-Party Parliamentary Group (APPG) on leasehold reform, Ms MacLean said: "We're determined to ban new leasehold houses - we see no need for them to be leasehold whatsoever so we think they should be freehold from the outset.
"We're also committed to delivering a reformed commonhold option for people and correcting the power imbalances."
Last week, LBC revealed concerns from some leaseholders that their building owners were 'rigging the system' by appointing their own businesses as managing agents, while service charges are continually being increased.
It was described by some as a conflict of interest, and led to calls for more regulation to hold business owners to account.
Read more: Crumbling concrete found in 27 more schools, bringing the total number to 174
Read more: Health Secretary slams 'militant' doctors' union as he refuses to meet with striking medics over pay
Conservative MP Sir Peter Bottomley, who is Father of the House and co-chair of the APPG on leasehold reform agreed with calls for better accountability.
He told LBC: "On both sides of the house we want progress, in fact when the King came to Parliament a few days before the Coronation, I was standing with Sir Keir Starmer and the Prime Minister and I said to Rishi Sunak that although the Leasehold Reform Bill might be complicated, it's not complicated in terms of politics.
"I said Labour will support it and he looked at Keir Starmer and he nodded - there's no controversy over that, it's just a question of getting the changes made.
"I hope we can get to a stage where what is now leasehold becomes commonhold and leaseholders in effect can appoint their own managing agents.
"If a landlord wants to appoint a managing agent they own, they should get the leaseholders to agree to it voluntarily, it shouldn't be imposed.
"And if the landlord is getting commission from insurance policies, they should declare those to the leaseholders and refund them."
Recent changes to legislation has seen a cap being put on ground rents charged to new leaseholders, all but abolishing the charge. But one solicitor has told LBC the complexities and confusion around changes to the process of seeking money from developers when it comes to building safety issues has left the housing market at a standstill - with many told not to take on new clients just now.
Zarah Aullybocus said: "The insurers are looking at this legislation and have taken the view that it's very, very complicated and it will be a specialist area. 
"What's being added is layer upon layer of additional things that need to be done if you want to buy a flat and I know a lot of conveyancing solicitors have left the profession because of the lack of understanding on why the process takes so long."
Ms Aullybocus admitted that right now, she'd encourage clients not to buy a leasehold flat. The housing minister said her department is committed to "correcting the imbalance" between leaseholders and landlords and making it easier to extend leases and to have a say in the management of blocks.
Just now, many flat owners have told LBC the process of challenging unfairly high costs or the appointment of certain managing agents is too complicated and expensive to go through successfully.
Have a story you'd like to share? Send an email to Fraser.Knight@global.com