HSBC and Barclays shutting further branches next week - is your local bank on the list?
11 April 2023, 15:29 | Updated: 11 April 2023, 15:47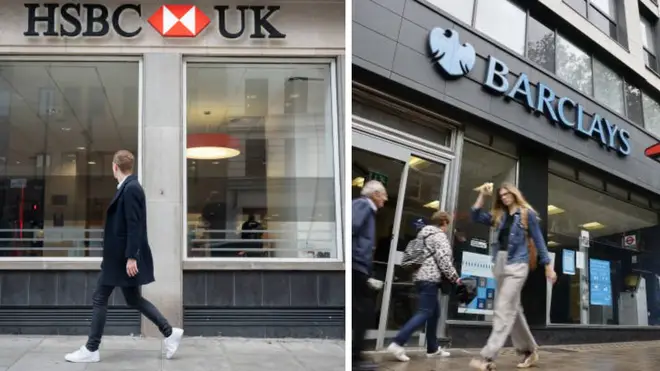 Six HSBC branches and eight Barclays sites are to shut permanently next week, amid a slew of closures as UK customers move to online banking.
HSBC said it had made the decision to bring down the shutters on a number of branches because of a fall in in-person customers and was instead looking to help customers transition to digital banking.
The bank said its branches had seen a 65 per cent drop in regular customers over the past five years.
It has said it would close 114 banks, which represents around a quarter of its total branches, this year.
Read more: Police divers return to river where Nicola Bulley's body was found as they investigate cause of death
Read more: Bomb squad robots sweep Londonderry cemetery hours ahead of Joe Biden's arrival in Northern Ireland
On April 18, the following HSBC branches are set to close:
17 Market Place, Blandford Forum, England, DT11 7AG
2 Devonshire Road, Bexhill-On-Sea, England, TN40 1AT
Market Hill, St Ives, England, PE27 5AP
14 Fore Street, St Austell, England, PL25 5EL
2 Frogmore Street, Abergavenny, Wales, NP7 5AF
29A Church Street, Cromer, England, NR27 9ES
Barclays are expected to shut at least 84 sites in 2023, after announcing a further 15 closures on April 11.
Eight of its branches are closing next week on the following dates:
April 18
8/10 High Street, Woburn Sands, Milton Keynes, England, MK17 8RN
April 19
93-95 Hutton Road, Shenfield, England, CM15 8JE
104/108 Tower Bridge Road, London, England, SE1 3NG
April 20
304 Green Street, London, England, E7 8LG
April 21
55 Front Street, Stanhope, Bishop Auckland, England, DL13 2TU
70 Birmingham Road, Rowley Regis, Warley, England, B65 9BA
Market Square, Keswick, England, CA12 5BE
390 Harrogate Road, Leeds, England, LS17 6PY
Jackie Uhi, managing director of UK distribution at HSBC, said: "People are changing the way they bank and footfall in many branches is at an all-time low, with no signs of it returning.
"Banking remotely is becoming the norm for the vast majority of us.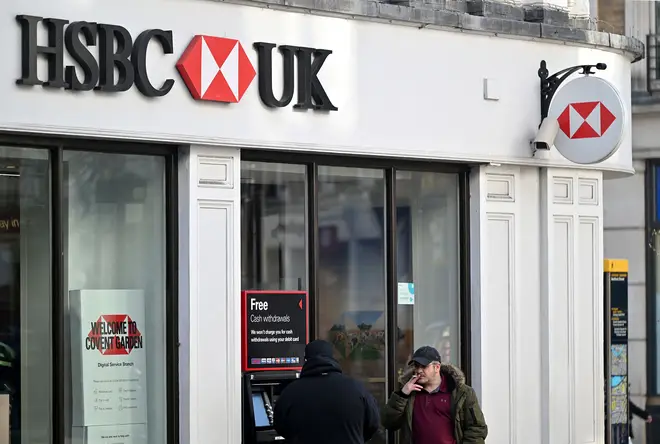 "Not only can we do it anywhere at any time of day or night, many more things can be done at the customers' convenience and don't rely on a branch visit.
"The decision to close a branch is never easy or taken lightly, especially if we are the last branch in an area.
"We've invested heavily in our 'post closure' strategy, including providing free tablet devices to selected branch customers who do not already have a device to bank digitally, alongside one-to-one coaching to help them migrate to digital banking."
HSBC said that there will still be a network of 327 sites across the UK following the current round of closures.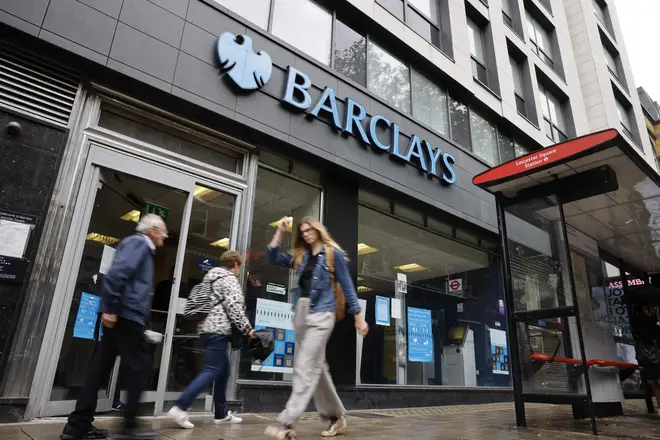 Barclays customers concerned about their local branch shutting have alternative options if in need of face-to-face support.
It currently has 200 pop-up sites and has announced plans to add a further 70.
The bank also now has 10 "banking pods", semi-permanent mobile sites that can move between towns on demand.
"As visits to branches continue to fall, we need to adapt to provide the best service for all our customers.
"Where there is no longer enough demand to support a branch, we maintain an in-person presence though our Barclays Local network, live in over 200 locations, based in libraries, town halls, mobile vans and our new banking pods.
"We also support access to cash with our cashback without purchase service, 24-hour deposit-taking ATMs and by working alongside the Post Office and Cash Access UK."