Police divers return to river where Nicola Bulley's body was found as they investigate cause of death
11 April 2023, 12:04 | Updated: 11 April 2023, 14:12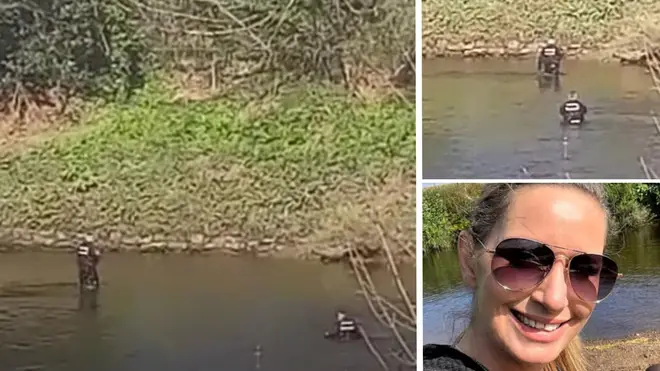 Police divers have returned to the Lancashire river where mother-of-two Nicola Bulley disappeared, six weeks on from the discovery of her body.
Footage shared to social media by YouTuber Maria Solarz shows the divers returning to the River Wyre, with one diver filmed "floating on his back" along a stretch of river.
The return of police units comes amid reports the coroner is attempting to confirm her cause of death.
The 45-year-old's phone and dog Willow were discovered after a widespread manhunt which followed her disappearance on January 27.
Nicola's body was discovered following an extensive search on February 19, a mile downstream from where she disappeared.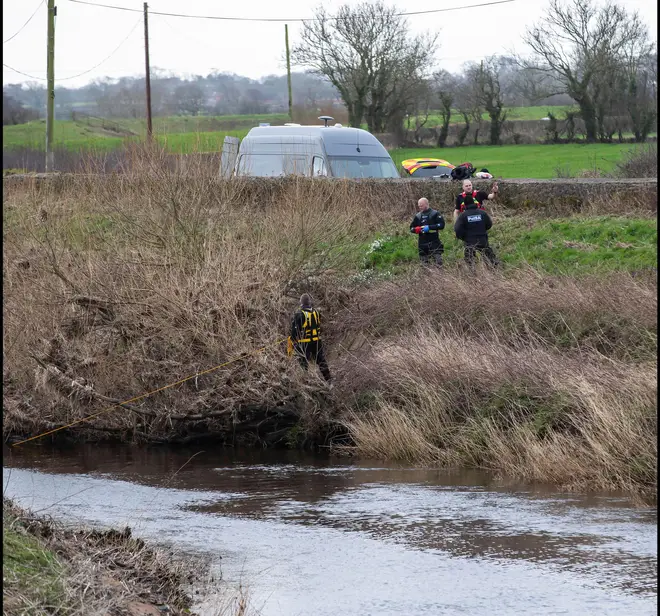 Nicola Bulley | Police Divers Still In River Wyre | 4th April 2023
The footage, which was shot Ms Solarz on Tuesday, April 4, while she was on a "nice quiet walk" with her son and friend, comes some six weeks on from the discovery of Ms Bulley's body.
Divers can be seen wading through the waist-level water before floating down the river near a weir, close to where the mother-of-two went missing - appearing to recreate a limp and lifeless body.
Lancashire Police said in a statement: "We can confirm we are carrying out some work on the direction of HM coroner."
A spokesman for HM Coroner has since said: "The investigation will take time to complete to ensure that as complete a picture as possible of the facts concerning Ms Bulley's death is presented at the inquest.
"This will assist the family in understanding what occurred."
Read more: Two teenage girls 'raped on canal towpath' over Easter weekend as a 17-year-old boy is arrested
Read more: Child dies in Rotherham park on Easter Sunday
Speaking with fellow YouTuber the Airmchair Detective, Solarz explains how she saw divers floating over the weir on their backs, adding that a "plain clothes detective" could be seen standing on a nearby bank.
The footage was shot during Ms Solarz's first visit to the area, adding her dog had "launched itself" into the river at the same spot Nicola's phone and dog were discovered.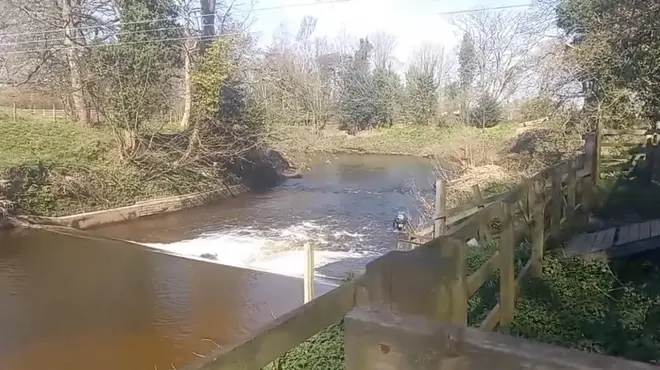 Explaining the steep incline beside the bench, Ms Solarz says she had "trouble getting the dog out" and needed assistance.
"Right next to the water is really quite steep. I had to try and go down there to get the dog out... he couldn't climb up, it was too steep at that edge," she said.
She adds that it's "very clear" Nicola didn't fall into the water "at the bench" and doesn't believe her body remained in the water for 23 days without being found.
Lancashire Police faced widespread criticism when it came to the case, with the force now facing several probes over their handling of the investigation.
At the time of her disappearance, Nicola was deemed a "high-risk" missing person due to a "number of specific vulnerabilities".
Describing how she felt "hopeful" at the police presence, Ms Solarz adds the presence of officers suggests Bulley's death is not an "open and shut case".
The mysterious nature of the case attracted widespread speculation online from so-called 'armchair detectives' who ventured to the area in order to 'solve' the case.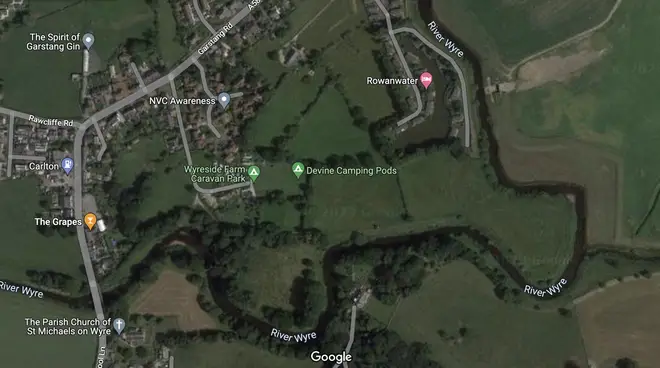 Speaking of the initial crime scene's surroundings, Ms Solarz adds the slope beside the bench is "much steeper" than she thought it would be.
An inquest into Nicola Bulley's death is set to be heard on Monday, June 26 at County Hall in Preston.