Australian man finds huge gold nugget worth £135,000 using bottom-of-the-range £650 metal detector
29 March 2023, 08:55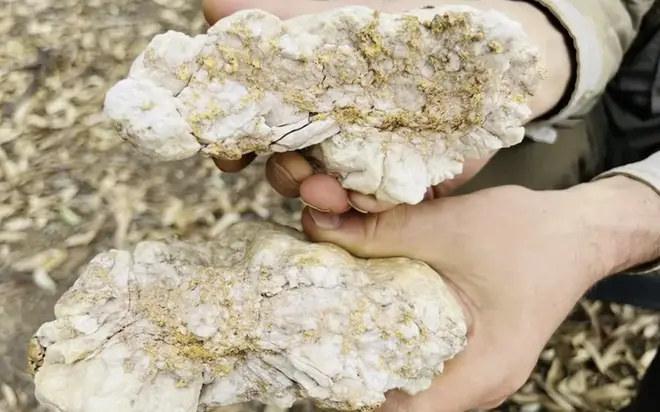 A gold prospector in Australia managed to unearth a nugget worth around £135,000 ($240,000 AUD) using little more than a 'basic' metal detector.
The man found a 4.6kg rock speckled with gold nuggets in Victoria's goldfields using a bottom-of-the range $1,200 (£650) metal detector.
He found the rock in Victoria's 'golden triangle' between Bendingo, Ballarat and St Arnaud.
He took it to a prospecting story in Geelong, named Lucky Strike Gold, asking the owner Darren Kamp: "Do you think there's $10,000 (£5,400) in it?"
The owner told him: "Try $100,000 (£54,000)."
The man replied: "that's only half the rock, the other half is at home."
Read more: Prince Harry says royals 'without a doubt' withheld information over phone hacking
Read more: Amsterdam tells young British men to 'stay away' as Dutch capital looks to move on from 'sex and drugs' reputation
The entire rock contained 83 ounces of gold - around 2.6kg - and was worth $240,000 - around £135,000.
Mr Kamp said: "I haven't seen a specimen in this amount of gold in my 43 years of prospecting."
"The largest I've ever found prospecting was 24 ounce 12 years ago."
The find is all the more incredible as the prospector's detector would not have found anything if it had been buried deeper than 12 inches below ground.
Lynnie Hindle, the president of the Bendigo branch of the Prospectors and Miners Association of Victoria (Pmav), said: "If a big nugget is found, it always creates a new gold rush."
Prospectors need to pay $25.50 for a licence that lasts for 10 years. Any gold found without a licence belongs to the crown.
The biggest nugget found in Australia is "the Welcome Stranger" found near Moliagul, Victoria, in 1869, which yielded 2,300 ounces of gold.