Met Police chief urged to resign after 'deeply disturbing' handling of Sarah Everard vigil
13 March 2021, 19:00 | Updated: 14 March 2021, 15:31
The Metropolitan Police is facing a major backlash over its "deeply disturbing" handling of crowds which turned out to pay respects to Sarah Everard.
Several hundred gathered at Clapham Common on Saturday evening, despite official events being cancelled, to mourn the murder of the 33-year-old and highlight violence against women.
Officers soon moved in, angering the crowds which chanted "shame on you" as they arrested several women and attempted to move people away from the park's bandstand.
The move sparked fierce criticism from many, who accused the Met of "manhandling" and using "disproportionate" force.
READ MORE: Duchess of Cambridge pays respects to Sarah Everard memorial at Clapham Common
Home Secretary Priti Patel said she has asked the force for a "full report" on what happened, while London Mayor Sadiq Khan said he is in contact with Met Commissioner Dame Cressida Dick to "seek an urgent explanation" over the event.
He tweeted: "The scenes from Clapham Common are unacceptable.
"The police have a responsibility to enforce Covid laws but from images I've seen it's clear the response was at times neither appropriate nor proportionate."
The organisers behind the official Reclaim These Streets event urged people to instead take part in a 'doorstep' vigil at 9:30pm on Saturday but later slammed the Met over its treatment of women at the gathering.
A statement from the group said: "We and women across the country are deeply saddened and angered by the scenes of police officers physically manhandling women at a vigil against male violence.
"From the start, Reclaim These Streets set out to work closely with the Met to ensure this vigil could go ahead safely so women could stand together peacefully and safely to remember Sarah Everard and all the women lost to male violence.
"The Metropolitan Police failed to work with us despite the high court ruling yesterday that vigil could potentially go ahead lawfully.
READ MORE: Doorstep candlelight vigil to remember Sarah Everard
"In doing so, they created a risky and unsafe situation. It is their responsibility to protect public order, public health and the right to protest. They failed on all counts."
The group expressed its frustration with the Met over the High Court case where it "was clear, and the Metropolitan Police conceded minutes before the hearing, that there was no blanket ban on protests under the current law".
Four arrests were made at the vigil, with Scotland Yard saying people were detained for public order offences and for breaches of coronavirus regulations.
On Sunday, assistant commissioner Helen Ball said: "Those who gathered were spoken to by officers on a number of occasions and over an extended period of time. We repeatedly encouraged those who were there to comply with the law and leave. Regrettably, a small minority of people began chanting at officers, pushing and throwing items.
"After speaking with officers, the vast majority of people quickly left. Four arrests have been made for public order offences and for breaches of the Health Protection Regulations.
"Part of the reason I am speaking to you tonight is because we accept that the actions of our officers have been questioned.
"We absolutely did not want to be in a position where enforcement action was necessary. But we were placed in this position because of the overriding need to protect people's safety."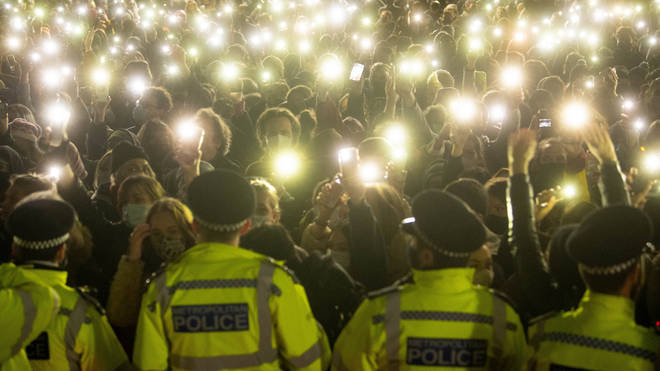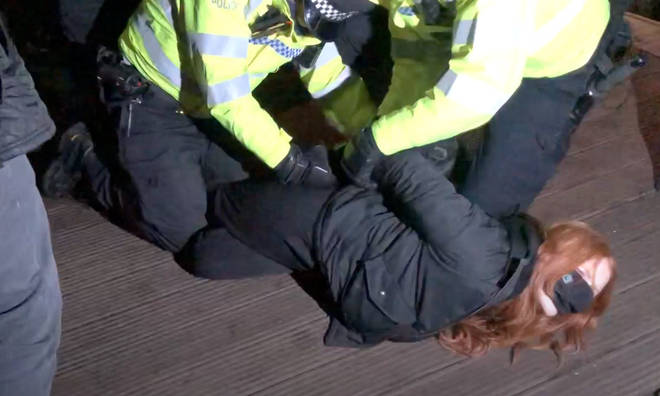 Dozens of flowers have been laid at the site as a memorial to the 33-year-old.
Police urged people to go home and thanked those who chose to leave when officers arrived.
"The gathering at Clapham Common is unsafe. Hundreds of people are tightly packed together in breach of the regulations and risking public health," the force tweeted.
However, Liberal Democrats leader Sir Ed Davey described the Met's statement following the arrests as "tone deaf".
"Doubling down is not the right response. It is clear the Senior Leadership of the Met got this badly wrong and continue to do so."
This is tone deaf. Doubling down is not the right response.

It is clear the Senior Leadership of the Met got this badly wrong and continue to do so. https://t.co/B2C1uLlEAc

— Ed Davey MP 🔶🇪🇺 (@EdwardJDavey) March 14, 2021
The Lib Dems have called for Commissioner Dick to "consider" her leadership of the force.
In a letter to Dame Cressida, Mr Davey wrote: "The scenes this evening of the policing of the Clapham Common vigil in memory of Sarah Everard are utterly disgraceful and shame the Metropolitan Police.
READ MORE: Police officer appears in court charged with kidnap and murder of Sarah Everard
"The vigil this evening was a peaceful one brought together in the most horrific of circumstances.
"Across the country, countless women have told their own painful stories of harassment and abuse. Your officers should have been standing in solidarity with those on Clapham Common tonight not being ordered to disrupt this display of grief and peaceful protest.
"This was a complete abject tactical and moral failure on the part of the Police.
"We therefore call on you to consider your leadership of the service and whether you can continue to have the confidence of the millions of women in London that you have a duty to safeguard and protect."
The scenes in Clapham this evening are deeply disturbing. Women came together to mourn Sarah Everard - they should have been able to do so peacefully.

I share their anger and upset at how this has been handled. This was not the way to police this protest.

— Keir Starmer (@Keir_Starmer) March 13, 2021
Labour leader Sir Keir Starmer condemned the force's handling of the gathering as "deeply disturbing" and said officers should have maintained the event peacefully.
"The scenes in Clapham this evening are deeply disturbing," he said.
"Women came together to mourn Sarah Everard - they should have been able to do so peacefully.
"I share their anger and upset at how this has been handled. This was not the way to police this protest."
Former Assistant Commissioner Helen King will appear on Swarbrick on Sunday to discuss the events.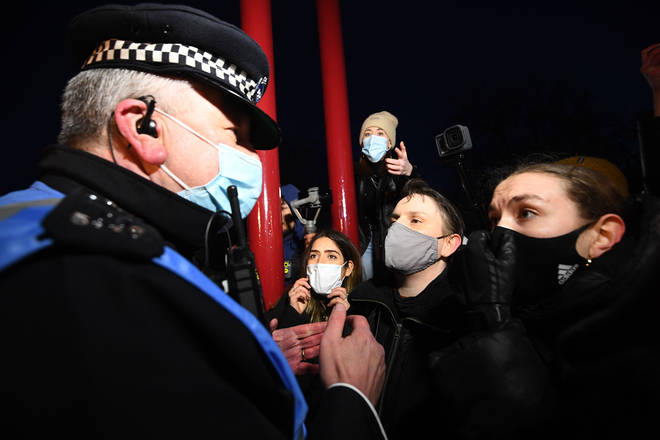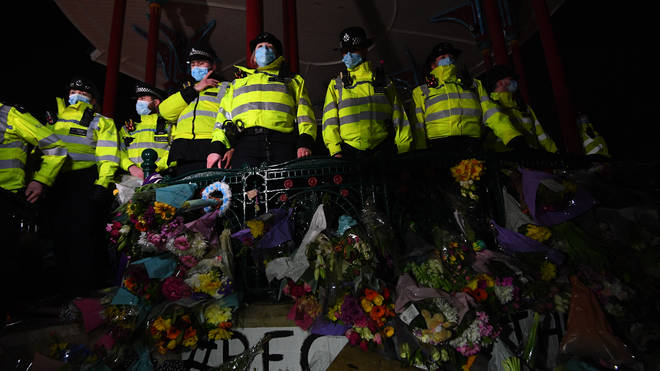 Groups have also gathered in all corners of the UK including Glasgow, Cardiff and Birmingham, with one event also held in Brussels, Belgium.
In contrast, the 100-person vigil in Birmingham passed off without incident and with little sign of uniformed police officers - despite West Midlands Police warning the event would be illegal under Covid rules.
Meanwhile, the doorstep vigil went ahead, with Sir Keir and Prime Minister Boris Johnson lighting a candle outside their homes to remember Sarah.
He tweeted: "Tonight Carrie and I will be lighting a candle for Sarah Everard and thinking of her family and friends.
"I cannot imagine how unbearable their pain and grief is. We must work fast to find all the answers to this horrifying crime.
"I will do everything I can to make sure the streets are safe and ensure women and girls do not face harassment or abuse."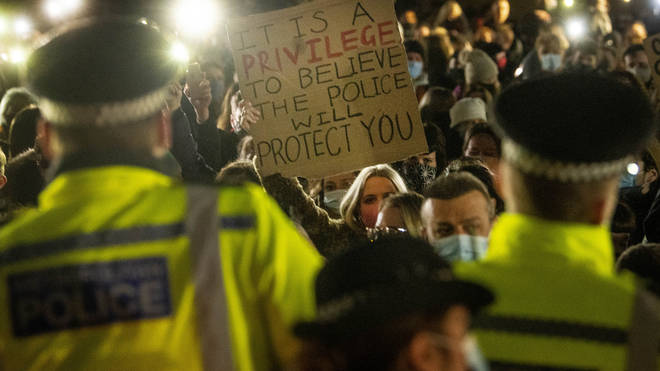 A virtual Reclaim These Streets livestream was also opened by TV presenter and comedian Sandi Toksvig.
She expressed her "profound sorrow and rage" at what had happened to Sarah, saying: "The truth is of course I don't want to be here at all, I do not want to attend a vigil for a bright young woman in her early 30s, a woman with her life before her.
READ MORE: Sarah Everard's body found in builder's bag and identified using dental records, court told
"I do not want to be here talking about the memory of Sarah. I have two daughters about the same age as Sarah. Tomorrow is Mother's Day. Never have I felt more passionately concerned about my kids.
"It surely cannot be asking too much to want them simply to be free, to walk where they like, when they like.
"I am filled in equal measure with profound sorrow and rage, and I know there are many who share this rage and I think it is entirely justifiable. But I also know that it will harm rather than help us if we don't try and direct that anger to good purpose."
She added: "Tonight we reflect that when the vigil is over, the work begins."