Moment residents of town in Iceland hurriedly load up their car as they flee home ahead of looming volcanic eruption
15 November 2023, 20:15 | Updated: 15 November 2023, 20:18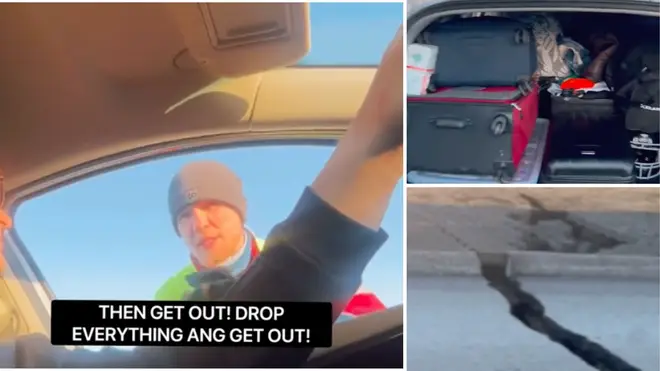 This is the moment residents of Grindavik in Iceland pack up their belongings as they're forced to evacuate the area amid a looming volcano eruption.
A video shared to Tiktok shows two people in a vehicle waiting in a long line of traffic heading into Grindavik.
The pair are approached by a man in a high-vis vest, who asks them through the car window in Icelandic, "you're from Grindavik, yeah?"
The driver nods while the man continues: "It's just in and out. You can enter the area. If you hear any sirens, airhorns, or anything similar, then get out. Drop everything and get out."
It comes as tensions have been growing in the Icelandic town of Grinadavik, as the Fagradalsfjall volcano on the Reykjanes Peninsula has been threatening to erupt.
The pair continue to drive as the video goes on, when they turn the camera to show a crack in the road they're driving on.
They eventually arrive at their home where they rapidly pack up all their belongings, cramming the car full with suitcases, and head back out of the town.
Drawers and belongings in their home are shown pulled out and scattered everywhere as a result of quakes that have hit the fishing town.
Read more: Iceland braced for volcanic eruption as river of magma flows under town and huge cracks open up in the ground
Read more: Greta Thunberg pleads not guilty to public order offence at court in London
"Alright, missing accomplished!" the driver finally adds.
Until 2021, the Fagradalsfjall volcano had been dormant for 800 years. But the eruption two years ago may have marked the beginning of a new eruptive cycle, experts have suggested.
More than 500 earthquakes hit Iceland's south-western Reykjanes Peninsula on Monday.
A further 800 have since been measured in Iceland since midnight, the Icelandic Met Office said.
Scientists are still expecting the Fagradalsfjall volcano to erupt, despite the strength of the quakes decreasing.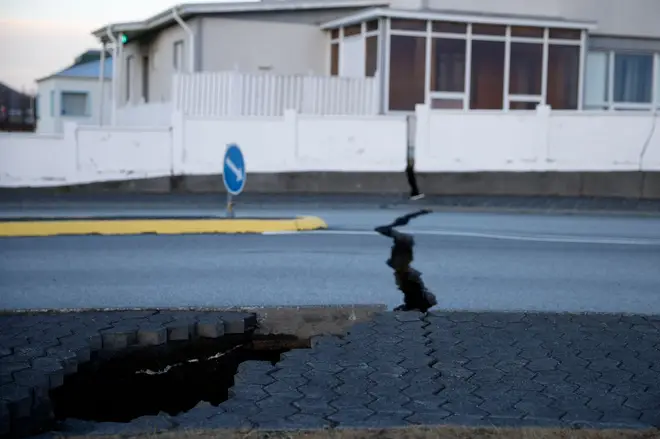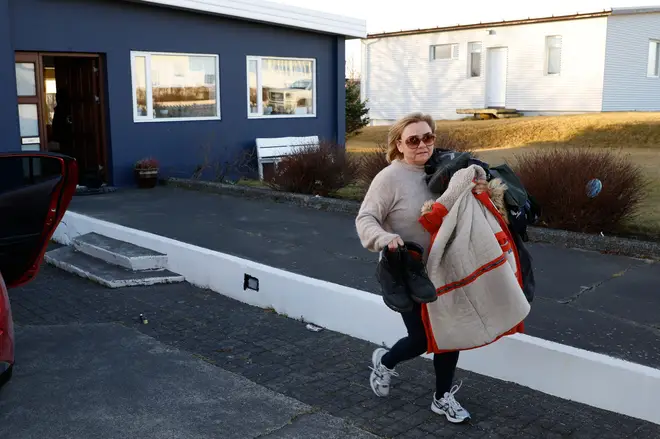 A state of emergency has been declared and the town of Grindavik has been evacuated, with 4,000 people told to leave their homes.
Residents were initially allowed to return to their homes with emergency services, however, the evacuation order was reinforced when increased levels of sulphur dioxide were detected in the air - indicating a possible eruption.
Authorities are urgently preparing to build defence walls around a geothermal power plant.
Seismic activity in the area moved south towards Grindavik, with a corridor of magma, or semi-molten rock, now thought to be extending under the community, Iceland's Meteorological Office said.