Inflation falls sharply to 4.6% in two-year low amid easing energy costs as Sunak hits target
15 November 2023, 07:03 | Updated: 15 November 2023, 08:24
Inflation has dropped sharply to 4.6% from 6.7%, the lowest it has been in two years, new data shows.
The lower energy price cap imposed on households at the start of October is one of the causes behind the sharp drop in inflation.
It also means the government has met its target to halve inflation by the end of the year.
The Prime Minister hailed the fall in inflation, though said the government will continue to work towards getting its 2% target.
"Inflation works like a tax. It eats into the pound in your pocket, affecting the price of your food shop, your mortgage, the size of your pension pot. This is why halving inflation has been my number one priority," he said.
"Getting it down has involved hard decisions and fiscal discipline.
"Official figures released this morning confirm we have halved inflation meeting the first of the five priorities I set out at the beginning of this year.
"But while it is welcome news that prices are no longer rising as quickly, we know many people are continuing to struggle, which is why we must stay the course to continue to get inflation all the way back down to 2%."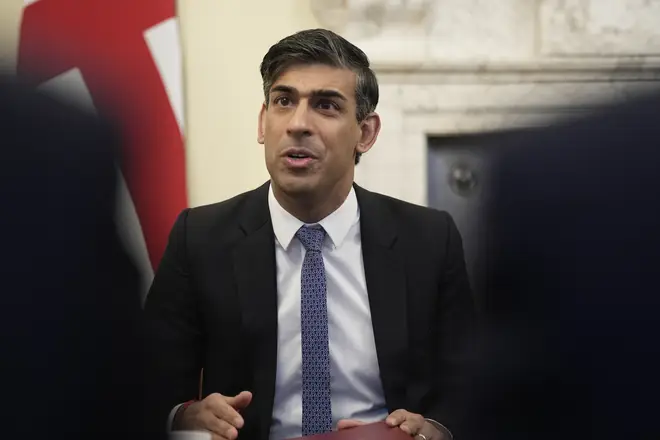 Meanwhile, the Chancellor Jeremy Hunt said the sharp fall in inflation "means people are keeping more of what they earn".
"In January we said we'd halve inflation. Today we've done that - inflation is now 4.6%," he said.
"Why does that matter?
"Because it means people keeping more of what they earn, letting them provide for their families, do the things they love and invest in their futures."
Read More: Bank governor Bailey 'optimistic' that inflation will fall
Speaking to LBC's Nick Ferrari at Breakfast, Gareth Davies said: "We have put in place measures for vulnerable such as cost of living places."
"I am not going to make forecasts on your program."
"Inflation has always been the top priority."
Labour's Pat McFadden reacts to latest inflation news
Grant Fitzner, chief economist at the Office for National Statistics (ONS), said: "Inflation fell substantially on the month as last year's steep rise in energy costs has been followed by a small reduction in the energy price cap this year.
"Food prices were little changed on the month, after rising this time last year, while hotel prices fell, both helping to push inflation to its lowest rate for two years."
Read More: Tories at war after Suella Braverman accuses Rishi Sunak of 'betraying the nation' in scathing resignation letter
Inflation reached as high as 10.4 per cent in February this year and hit 11.1 per cent in October, causing the Bank of England to raise in interest rates.
Inflation is a useful economic tool as it indicates how quickly prices are rising in the UK.
When it falls, it does not mean things are getting cheaper, simply that prices are not rising as quickly as before.