Israel 'wants to expel Palestinians from Gaza in replay of 1948 Nakba', ambassador to UK claims
7 November 2023, 19:20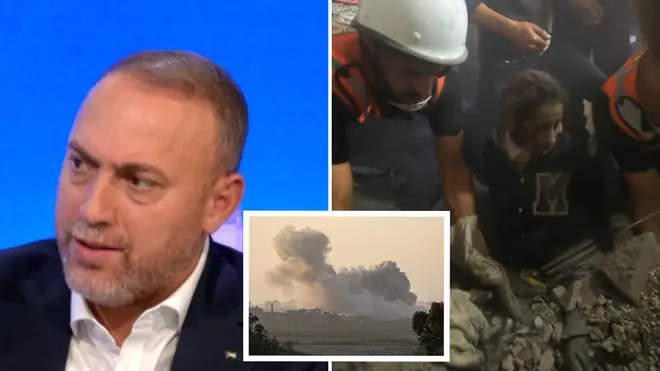 The Palestinian ambassador to the UK has claimed that Israel wants to expel his compatriots from the Gaza Strip.
Husam Zomlot said that the IDF's current exploits in Gaza constitute a replay of the 1948 'Nakba', when hundreds of thousands of Palestinians were displaced from their homes in the newly-formed state of Israel.
It comes after Benjamin Netanyahu said that Israel would have "overall security responsibility" in Gaza for an indefinite period after its war with Hamas.
More than 10,000 Palestinians have died since Israel launched its bombardment and invasion of Gaza, along with 2,300 missing in the rubble of destroyed buildings. Israel's actions are a response to the Hamas terror attack on October 7 when 1,400 people were killed and around 240 taken hostage.
The IDF has told Gazan civilians to move south, away from the northern area that is the focus of the fighting. Around 70% of the strip's 2.3 million people have fled their homes. But some bombs have continued to fall on central and southern areas of the strip. The IDF has cut the territory in half and encircled Gaza City.
Read more: 'Dead man walking': Israel surrounds Hamas leader in bunker and vows to eliminate him
Read more: Israel encircles Gaza City and splits strip 'in two' as it ramps up for major assault on Hamas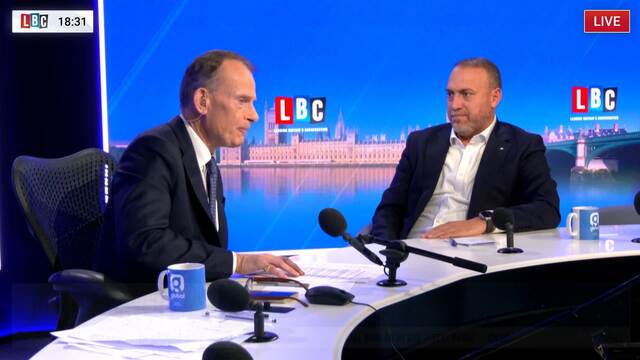 Palestinian Ambassador to the UK Husam Zumlot speaks to LBC's Andrew Marr
Asked if he thought Israel planned to displace Palestinians from Gaza, Mr Zomlot told LBC's Andrew Marr: "I don't think - I know."
He added: "Their tanks are not there to fight Hamas or anybody. Their tanks are there to oversee the mass expulsion of hundreds of thousands.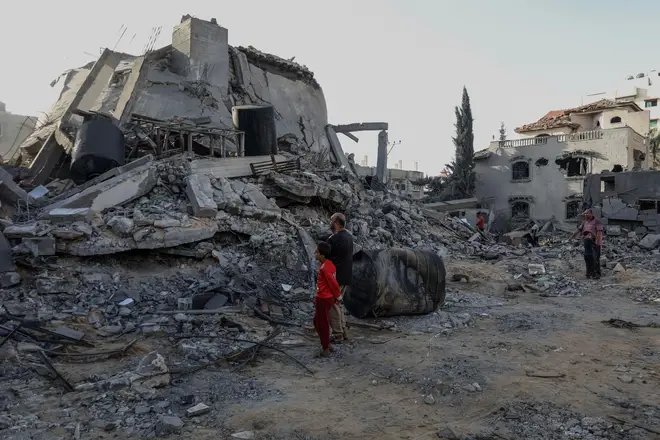 "And they have done so already in the last few days. Now we have more than a million people who have had to leave their home from the north to the south and they were told 'you will move to a safe haven, a safe zone, shelters'.
But Mr Zomlot said that really "this is a plan to move people from the north to the south until comes a moment they push whatever is left in the south towards the Sinai desert.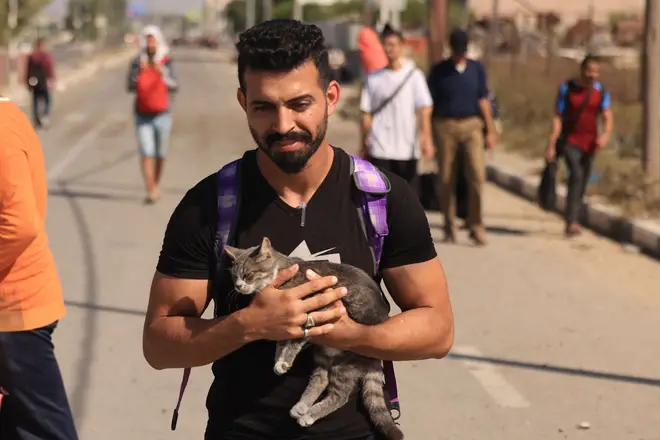 "This is a replay of 1948, the Nakba. They have the playbook, we have the memory. We know what they did then and what they're doing now."
Mr Netanyahu, asked who should "govern" Gaza after the end of the conflict, said: "Those who don't want to continue the way of Hamas."
He said that "Israel will for an indefinite period … have the overall security responsibility [in Gaza] because we've seen what happens when we don't have that security responsibility."
Mr Netanyahu also ruled out a ceasefire, while leaving open the possibility for "little pauses" to help hostages get out, which is the UK government's diplomatic position.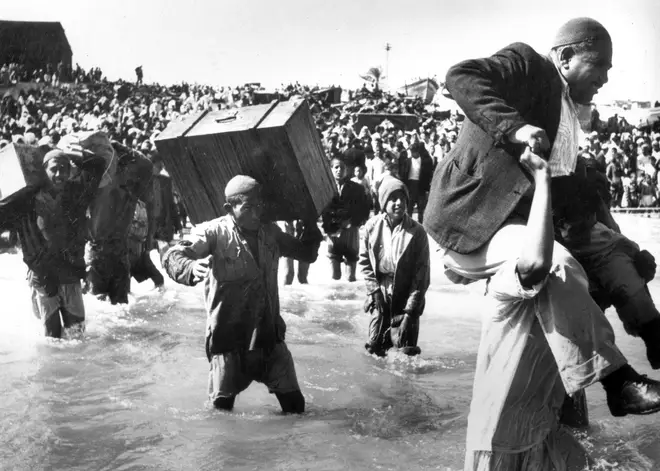 Mr Zomlot said that Mr Netanyahu's comments, made in an interview with US outlet ABC News, were "absolutely unsurprising."
He added that he thought it was part of an "old-new" plan to occupy Gaza, adding that the strip had previously been "under occupation from the outside".
Mr Zomlot also drew attention to the situation in the West Bank, where 164 Palestinians have been killed since October 7.
"The settlers are wreaking havoc, there is a rampage as we speak," he said.
Asked by Andrew to consider Mr Netanyahu's position, given Hamas has said it would not respect a ceasefire, Mr Zomlot reiterated his call for Israel to end its "occupation" of Gaza.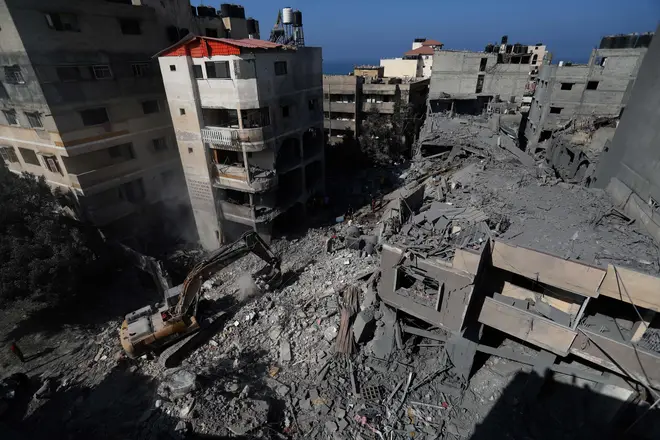 The war has come at a huge cost. Aside from the death toll, air trikes have flattened large stretches of Gaza, and food, medicine, fuel and water are running low. Parts of southern Gaza are hugely overcrowded with refugees.
Hundreds of trucks carrying aid have been allowed to enter Gaza from Egypt since October 21, but humanitarian workers say the aid is far short of mounting needs.
Egypt's Rafah Crossing has also opened to allow hundreds of foreign passport holders and medical patients to leave Gaza.