Argentina elects chainsaw-wielding far-right populist Javier Milei as next president in divisive win for country
20 November 2023, 07:33 | Updated: 20 November 2023, 07:35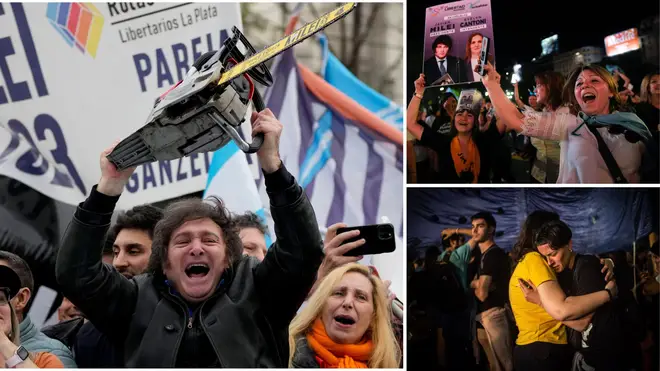 Argentina has elected right-wing populist Javier Milei as its next president after a divisive political campaign.
Javier Milei, 53, was elected as Argentina's new president on Sunday night after the country's current economy minister, Sergio Massa, admitted defeat.
The political newcomer gained 56 per cent of the vote, compared to Mr Massa's 46 per cent - the widest victory margin in the country since it returned to democracy in 1983.
He will be sworn in on December 10.
"Today the reconstruction of Argentina begins. Today is a historic night for Argentina," the newly elected president told his supporters on Sunday evening.
He pledged to make "drastic changes" to the country and promised to deal with rising inflation and poverty.
The country is currently experiencing record poverty alongside 143 per cent inflation.
Dismantling the Central Bank, halving the number of government ministries and pushing the dollarisation of the economy are among some of his pledges.
"We have monumental problems ahead: inflation, lack of work, and poverty," he told his voters.
"The situation is critical and there is no place for tepid half-measures."
Read more: Albanian people smuggler jailed after texts reveal how she managed Channel crossings, as dramatic raid footage released
Read more: Israel 'finds Hamas base' under Gaza hospital and says hostages taken there on October 7, as 'release deal close'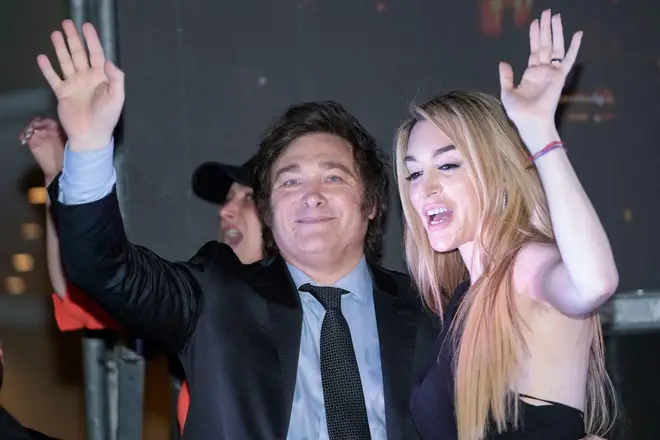 Delivering his victory speech on Sunday evening, supporters celebrated with fireworks, blaring rock anthems, and Mr Milei's popular chant against the political elite of "out with all of them".
The former TV pundit and economist has previously been vocal on his anti-abortion stance, opposition to sex education in schools, denial of climate change and advocacy for looser gun laws.
Mr Milei, who carried chainsaws at rallies to symbolise his planned cuts, favours strong ties with the US.
The right-wing hardliner, who has been likened to Trump and nicknamed 'El Loco' (the madman), was congratulated by the former US president on Sunday.
Writing on his social media platform Truth Social, Trump said: "The whole world was watching! I am very proud of you.
"You will turn your Country around and truly Make Argentina Great Again!"
Meanwhile, Brazil's former president Jair Bolsonaro tweeted: "Hope is sparkling in South America once again."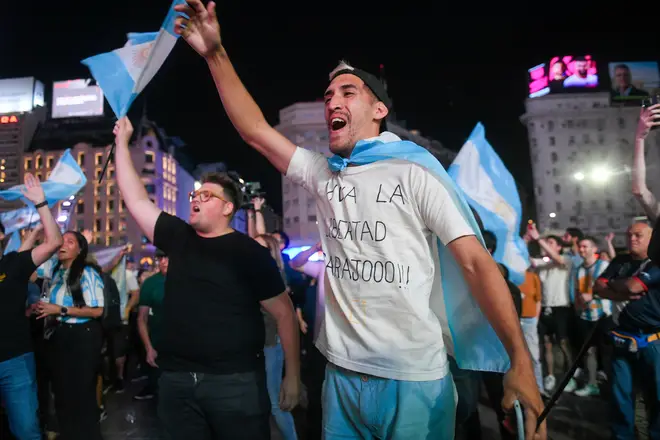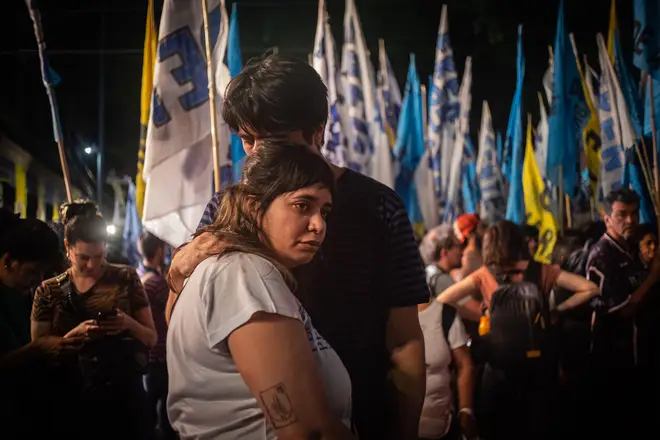 Despite Mr Milei's criticisms of China and Brazil, claiming he would not work with "communists", Brazil's President Luiz Inacio Lula da Silva wished him success.
Mr Milei's ascension to political power has been a divisive one, as thousands protested against comments and proposals he had made during his campaign.
An open letter released ahead of his victory saw more than 100 economists warn that his proposals could result in economic "devastation".
Conceding defeat, Mr Massa said on Sunday: "Argentinians have chosen another path."