Jewish man dies a day after he was injured in a violent clash at pro-Palestine rally in US
7 November 2023, 10:04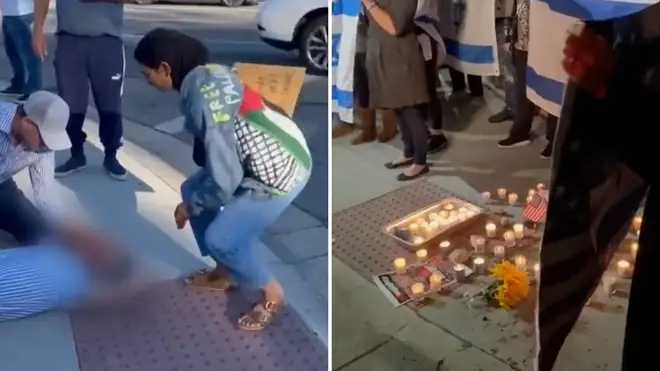 An elderly Jewish protester has been killed in California after he fell and hit his head after reportedly being hit with a megaphone.
Shocking footage shows Paul Kessler, 69, lying in a pool of his own blood after he was caught up between rival rallies.
He is understood to have been involved in a tussle when he fell back and hit his head.
He was rushed to hospital but was pronounced dead the following day. Police have launched a homicide investigation.
Local rabbi Moshe Bryski told the New York post that Kessler's death was "just a tragedy."
He is understood to have been at the event to counter protest a pro-Palestinian gathering.
Read more: 'Tone deaf' and 'insensitive': Former Met chief blasts pro-Palestinian protests on Armistice Day
Read more: 'Truly appalling': Elderly army veteran poppy seller 'punched' by pro-Palestine protesters at Edinburgh station
An autopsy determined Mr Kessler died from a blunt force head injury.
The Los Angeles Times reports that Mr Kessler was hit in the head before he fell.
The Jewish Federation of Greater Los Angeles said he was 'struck in the head by a megaphone wielded by a pro-Palestinian protestor.'
The Federation said in a statement: "While we wait for more information from our law enforcement partners, we remind you that this is the fourth major antisemitic crime committed in Los Angeles this year alone. 
"Violence against our people has no place in civilized society. We demand safety. We will not tolerate violence against our community. We will do everything in our power to prevent it."