Jewish students 'afraid to wear kippahs on campus' amid surge in anti-Semitism
20 October 2023, 07:54 | Updated: 20 October 2023, 10:53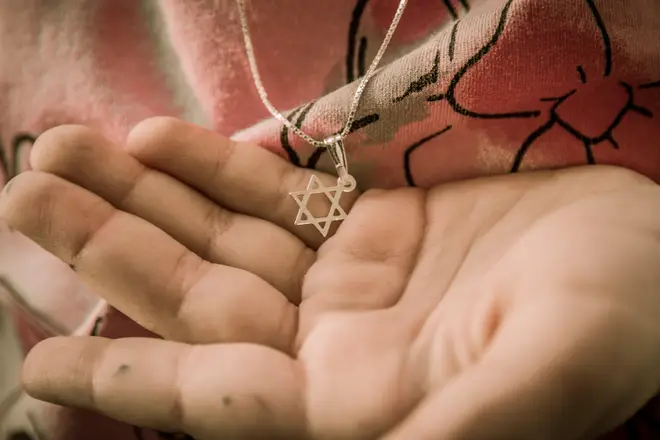 Jewish students across the UK are choosing not to wear religious symbols such as Kippahs or necklaces displaying the Star of David for fear of being subjected to anti-Semitic attacks on campus.
The warning, provided to LBC by the Union of Jewish Students, which represents 9,000 students across 70 campuses, comes amid a startling rise in the number of students that have faced such abuse since the onset of the war between Israel and Hamas - a development Higher Education Minister Robert Halfon has described as "intolerable".
Speaking to LBC, the Union of Jewish Students' Head of Campaigns Guy Dabby-Joory said they had experienced a sharp increase in the number of people accessing their helpline, which has already received north of 100 calls: "We've had lots of calls from Jewish students who have been scared to come onto campus - scared to be visibly Jewish on campus, scared to be around their flatmates, their course mates, scared to really exist at university as a Jewish student.
"There have been, of course, some Jewish students who have been scared to wear a Kippah – which is a type of Jewish skullcap – or a Magen David necklace which says they're Jewish.
Read more: Glamorous banker sacked after anti-Semitic Instagram post saying 'no wonder Hitler wanted to get rid' of Jewish people
"People are worried they will be intimidated, harassed, attacked or abused on campus."
Mr Dabby-Joory also explained that "every university across the country with Jewish students" has experienced issues since the onset of the war, highlighting the case of one university where a Jewish society WhatsApp group was infiltrated by people who used it to abuse and threaten freshers.
The Community Security Trust, which monitors anti-Semitism across the UK, registered 36 reports of abuse across the UK's universities in the first nine days of the conflict - over twice the number recorded in the first six months of 2023.
Elsewhere, Nottingham University has seen a high uptake of counselling by Jewish students due to anti-Semitic incidents, while members of the Palestine Society at the School of Oriental and African Studies in London were suspended after their actions at a Gaza solidarity rally.
Read more: LBC caller details 'disgusting anti-Semitic' act he witnessed, as hate crimes rise in fall out of Israel-Hamas war
There has also been a formal complaint made by a student at one British university about a senior volunteer member of the students union who is accused of antisemitism after posting a message on a student Discord channel claiming the term Jew is synonymous with "occupier".
Speaking to LBC's Nick Ferrari at Breakfast, Dov Forman, a history student at a London university, said "almost all of us have been frightened" to wear their kippot or Star of David necklace.
"Yesterday, I was in campus, I was sat in my lecture hall at around 12 noon. And I heard what I thought was someone on a loudspeaker screaming the word 'intifada'.
"I was quite frightened... and then very quickly it was confirmed on the Jewish society WhatsApp group that there was a group of ten to 20 people outside the gates, or at the entrance to the university, waving Palestinian flags and screaming they want an intifada until victory against the Jews."
Dov's great grandmother survived Auschwitz, and he said she brought up her family to be proud to be Jewish and proud to "live in a country where you're allowed to be religious - and unfortunately, now it seems like that's not the case".
He added that Jewish students will also be fearful of what some lecturers will say.
Dr Jaclyn Granick, a modern Jewish historian at Cardiff University and a member of the British and Irish Association for Jewish Studies (BIAJS), said a rise in anti-Semitism on campus was contributing to the fear and anxiety felt by Jewish people who work in higher education.
She said: "There have been accounts from colleagues across Britain and Ireland of campus activism or campus statements that have… cheered Hamas' massacres as political and revolutionary resistance. These [protests] haven't considered the impact of violence on diaspora communities and [colleagues] are feeling very isolated and alone in those spaces on campus."
Responding to these revelations, Higher Education Minister Robert Halfon told LBC the rise in anti-Semitism in Universities was "shocking" and called on institutions to act to protect students: "We realised that there would be problems for Jewish students following the horrific attacks in Israel by Hamas on the 7th of October… and [that's] why I sent a letter to vice-chancellors last week urging them to do all they can to deal with incidents swiftly.
"Jewish students should go to university, should go to our schools and colleges, and have a wonderful experience. [Universities] should be a safe place. They should not be afraid to wear kippahs or other religious clothing if they are Orthodox Jews.
"It is intolerable what is going on. It is not acceptable and I will be doing all I can to ensure that wherever any act of anti-Semitism occurs, wherever there is any support for extremist proscribed organisations like Hamas, that action is taken by the appropriate authorities, particularly the universities and, where necessary, the police."
A spokesperson for Universities UK, which represents 142 institutions across the UK, said: "Campus communities across the UK will be deeply affected by the terrorist attacks by Hamas and Israel's military response, and the tragic loss of civilian life.
"Universities UK has produced guidance on freedom of speech on campus, and on tackling anti-Semitism, Islamophobia, and other forms of harassment, and we have recirculated this guidance in the last week.
"We will continue to bring universities together to share their approaches to managing campus relations in this extremely difficult period."