Biden plans to give Ukraine advanced long-range missiles in major boost to counter-offensive
23 September 2023, 07:43 | Updated: 23 September 2023, 11:48
Ukraine will be given advanced long-range missiles by US President Joe Biden, American media has reported.
American officials familiar with the war have claimed Kyiv will be sent ATACMS missiles with a range of up to 190 miles (300km).
It is hoped this will allow Ukraine to penetrate Russian targets behind the front line.
It comes after one Ukrainian missile hit the HQ of Russia's Black Sea fleet in Crimea on Friday.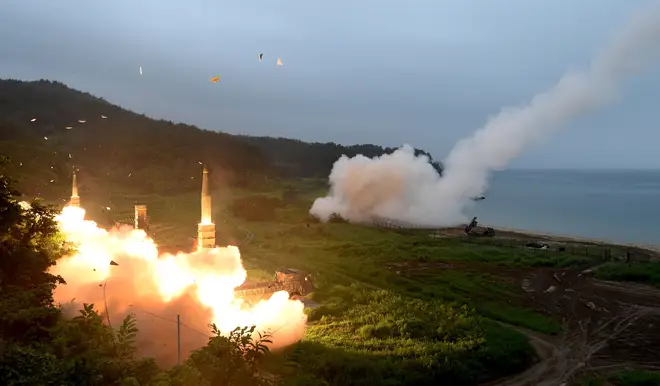 Large clouds of smoke were seen billowing from the harbour of the city of Sevastopol in Crimea, a Ukrainian peninsula that Russia annexed in 2014 and has held ever since.
Ukraine later claimed responsibility for the strike.
Read More: Ukraine launches missile strike on headquarters of Russia's Black Sea fleet
Read More: Zelenskyy knows his most important battle for Ukraine's future is being played out on Capitol Hill, writes Megan Gittoes
A Russian pro-war blogger said that the missiles were British.
Sevastopol governor Mikhail Razvozhayev did not give any details, but said that emergency services had been sent to the site.One member of the Russian military died during the strike, the Kremlin said.
Russian anti-missile guns shot down five missiles earlier.
Razvozhayev told Sevastopol residents: "Another attack is possible. Please do not travel to the city centre. Don't leave buildings.