Kate and William play key role in South Korean state visit at Buckingham Palace alongside the King and Queen
21 November 2023, 16:53 | Updated: 21 November 2023, 16:56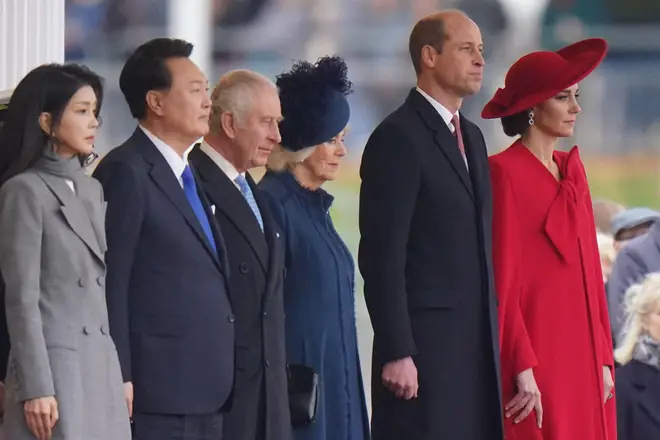 The Prince and Princess of Wales have welcomed the South Korean President to Buckingham Palace alongside the King and Queen, ahead of this evening's glittering state banquet.
Kate Middleton stunned in a red outfit, complete with a hat, as she stood with fellow Royals to greet Yoon Suk Yeol and his wife Kim Keon Hee for the King's first incoming state visit since his coronation - and the second of his reign.
Both Kate and William played a significant role in the state visit by greeting the president and first lady at their London hotel earlier this morning.
They then travelled with Mr Yoon and Ms Kim to Horse Guards Parade where King Charles and Queen Camilla were waiting to greet them with a ceremonial welcome.
The King and Queen then made their way to the Grand Entrance to Buckingham Palace with the South Korean first couple in the black and gold Irish State Coach and the Australian State Coach. The South Korean and British national anthems were then played.
A guard of honour from the 1st Battalion Welsh Guards in their long grey coats and bearskin hats waited in the Palace quadrangle.
William and Kate travelled in the Scottish State Coach with Choo Kyung-ho, South Korea's deputy prime minister and minister of economy and finance. The royal party and their guests went inside the Palace for a private lunch.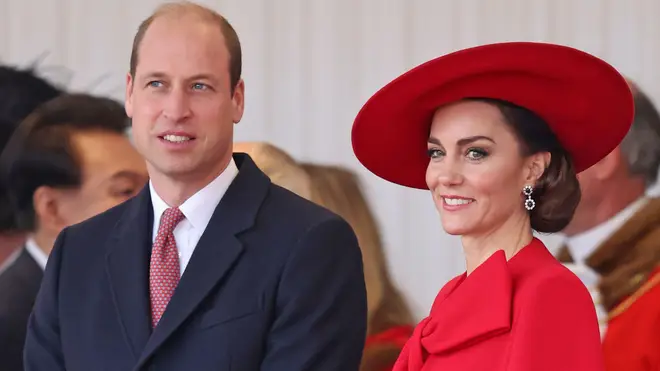 Read More: Kate and William lead royal well-wishes to King Charles as they share photos to mark his 75th birthday
Read More: Meghan 'writing bombshell memoir' that could ruin ties with William and Kate so badly they may never speak again
The senior Royals later viewed a special exhibition at Buckingham Palace with the South Korean representatives. The exhibition was a selection of items from the private Royal Collection relating to South Korea.
The King and Queen briefly greeted Prime Minister Rishi Sunak and Foreign Secretary Lord David Cameron, and Home Secretary James Cleverly.
While Kate dazzled in red, Camilla stunned in a contrasting blue dress and coat. The Queen also wore a hat with loose feathers and a complementing broach belonging to Queen Mary.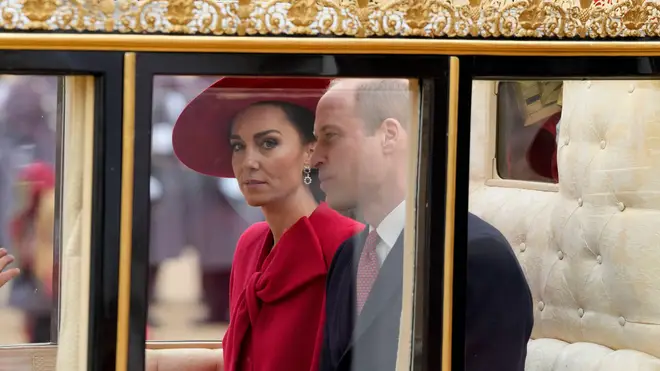 Later this evening, 170 guests will gather for a banquet, customarily a white tie and tiara affair, in the opulent Palace ballroom.
The King and Queen are expected to be joined by William, Kate and other members of the royal family, while Charles and Mr Yoon will make speeches.
Foreign secretaries are also usually invited, meaning the newly appointed Lord Cameron of Chipping Norton is likely to make a return to dining at the royal residence, harking back to the days when he was prime minister.
Mr Yoon, 62, is a known fan of karaoke and in April belted out a verse of one of his favourite songs, American Pie, at a White House dinner at the request of President Joe Biden during a state visit to the US. He received a standing ovation following his performance.