Voters want to tell you to 'eff off': Starmer's swipe at Sunak as he calls for immediate general election at PMQs
25 October 2023, 12:50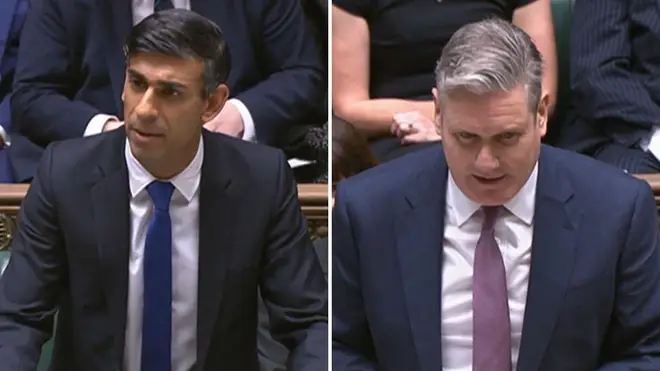 Sir Keir Starmer has told Rishi Sunak the British public wants the chance to tell his government to "eff off".
Speaking shortly after the Prime Minister appeared to hint a general election could be called in a year's time, Sir Keir brought up remarks made by the Tories' defeated candidate in Tamworth.
Andrew Cooper, who saw the Conservatives' 20,000-vote majority there crumble to Labour's Sarah Edwards in last week's by-election, had previously posted a photo online telling families who need to use food banks but spend many on other things to "f*** off".
Read more: Rishi Sunak drops huge hint that general election will be held in Autumn 2024 as he marks one year in No10
Speaking during Wednesday's PMQs, Sir Keir said the government had "abandoned renters at risk of being kicked out, abandoned mortgage payers struggling to make ends meet, abandoned those who dream of owning their own house".
"The truth is his candidate in Tamworth summed up perfectly just how his and his Tories are treating the British public," he told Sunak.
"So will he just call a general election and give the British public the chance to respond as they did in Selby, mid-Beds and Tamworth?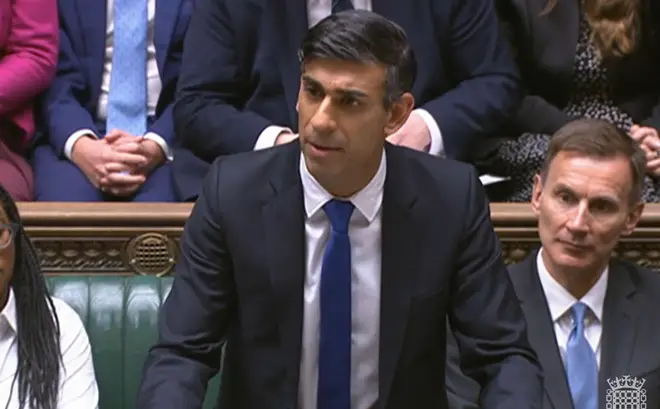 "They've heard the government telling them to eff off, and they want the chance to return the compliment."
Sunak fired back: "We are getting on making the right long-term decisions to change this country for the better on net zero, on HS2, on a smoke-free generation, on education and on energy security.
"Contrast that to his leadership - too cautious to say anything and hope that nobody notices. Let me tell him, come that general election the British people will."
Read more: Highs and lows of Rishi Sunak's year in office - from strikes success to by-election blows, writes Natasha Clark
The exchange came shortly after Sunak posted a video to his official Twitter account.
Towards the end of the video, on-screen captions said: "All long term decisions for a brighter future. So what can a country achieve in 52 weeks? Watch this space."
Some took that to suggest he will call an election next month.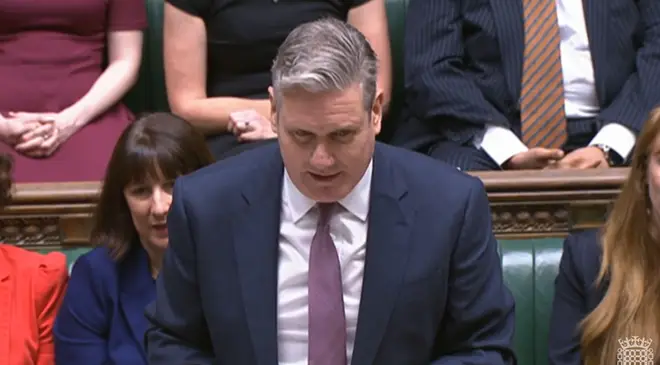 No10 insiders say that no decision has been made on when to call an election - but many expect it to be in the autumn.
Labour is preparing for it to be held as early as May 2024, which would coincide with London mayoral elections.
The Tories are hoping Sunak will be able to point to progress on Sunak's five priorities, including halving inflation - which is expected to fall anyway - and stopping small boats crossing the Channel.
Reflecting on his first year as PM, having taken over after Liz Truss's disastrous short tenure in No10, Sunak said in the video: "When I spoke about my priorities in January, I knew they were going to be tough targets to meet, but I made them because they're what's right for this country, its economy and its people. And it's why over the last 12 months we've been committed to meeting them - building a better, brighter future for all of us."
While Tamworth's new MP Edwards was welcome to the Commons during PMQs, she was joined by Mid Bedfordshire's Alistair Strathern.
He overturned a 24,000 majority as he took Nadine Dorries' old seat after she effectively disappeared from the Commons.
Sunak said: "I suspect the new member for Mid Beds might actually support me a little bit more than the last one."