Watch: Dramatic footage shows moment Kentucky police gun down bank attacker who livestreamed massacre
12 April 2023, 11:55
Bodycam footage shows the tense standoff between police and the Louisville bank shooter.
The footage shows the moment officers raced to the scene in Kentucky as an employee, Connor Sturgeon, killed five of his colleagues in a rampage on Monday.
It shows how Officer Nickolas Wilt was hit in the head as he approached the bank. He remains in a critical condition.
Footage from Cory Galloway's bodycam sees him fall as Sturgeon opens fire from the Old National Bank, then, having been hit, he runs to cover down some stairs in front of the building.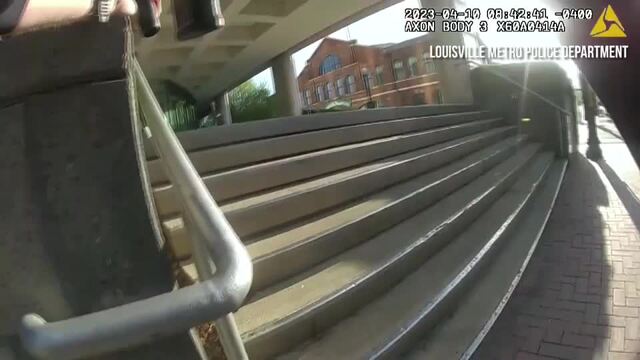 Dramatic footage shows moment Louisville police confront and kill bank gunman
He tilts either side of his cover to try and spot the shooter as gunshots ring out.
"The shooter has an angle on that officer, we need to get up there – I don't know where he's at, the glass is blocking him," he tells a colleague as he still tries to see the attacker.
Read more: Pictured: Shooter who killed four in Kentucky texted friend he'd 'shoot up bank before live-streaming massacre'
The officers discuss how they can hear a "blue" talking – a reference to one of their colleagues.
"I don't have an angle," Galloway says as gunfire breaks out and Sturgeon is shot dead.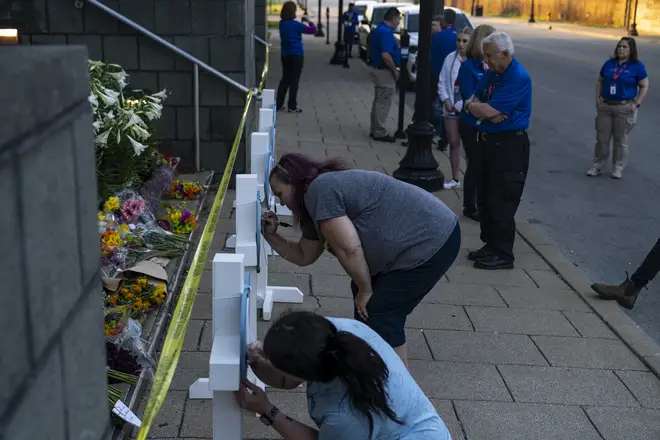 "I think he's down – get down, now!" he shouts after the gunshots. "Suspect down, get the officer."
Speaking at a press conference where the footage was shown to journalists, deputy chief Paul Humphrey said the gunman broke glass from the bank's lobby to open fire at Galloway and Wilt approached.
"Officer Wilt was a brand new officer, he had no experience. He was going based on two things: his training and his character. And you will see that he never hesitates – even after getting shot at," he said.
Read more: Hero mum fights for life after pushing pram out of the way of 'hit-and-run' driver
Police then entered the bank and started helping the victims, which medics later said certainly helped save lives.
Officer Wilt was taken to hospital.
Sturgeon, 25, legally bought an AR-15 type rifle six days before the shooting.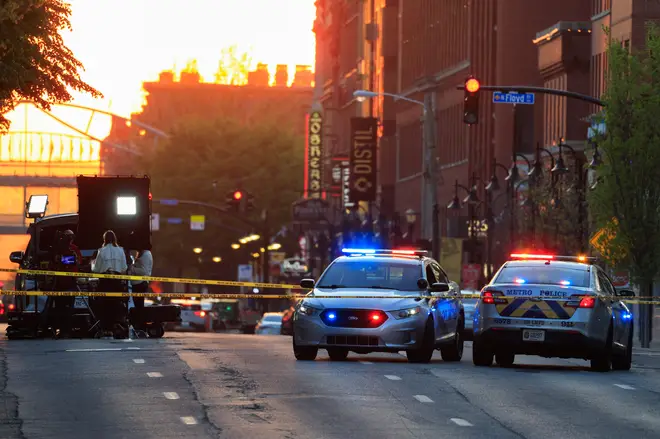 It is unclear what led him to massacre his colleagues at the bank, which he livestreamed on Instagram.
Sturgeon attacked the bank for about a minute and then waited for police to arrive.
He had worked at the bank for about two years, having previously interned there.
His home has been searched but details about what was found inside have not been released.