The end of legal laughing gas: New law will ban possession of 'hippy crack' and tackle antisocial behaviour
26 January 2023, 08:43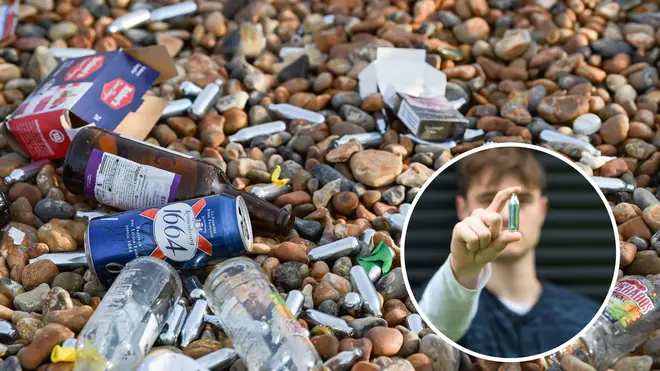 Plans to ban the possession of laughing gas unless someone has a legitimate reason are being drawn up by the Government.
Drug laws would be tweaked to allow people found carrying nitrous oxide cans - nicknamed hippy crack - to be prosecuted in a bid to clamp down on antisocial behaviour.
Legitimate reasons to carry them would include medics who use it for pain relief or cooks who need it for whipped cream.
Read more: Matt Hancock assaulted and called a 'murdering scumbag' by anti-vaxxer who assaulted him on the Tube
Reckless supply of nitrous oxide for inhalation is banned already but now plans are in place to tighten the law further.
"There is a clear view that we have to act. There is a clear link between the use of nitrous oxide and antisocial behaviour and this is a top priority for the government," a source told The Times.
It could see laughing gas classified similar to Class C drugs, bringing a maximum of two years in prison for possession or up to 14 years and an unlimited fine for supplying it.
Chris Philp, the policing minister, wants the Advisory Council of the Misuse of Drugs to fast track its review into banning laughing gas brought forward to April, the Times said.
The empty canisters have become a common sight on Britain's streets and parks and led to fears of anti social gatherings, and it is second only to cannabis as the drug of choice for people aged 16 to 24 in England. More than half a million people in that age bracket used it across England and Wales in 2019-20.
Read more: Missing rugby and X Factor star Levi Davis 'owed £100,000 to Somali mafia before he vanished in Spain'
They release gas from the canisters into balloons and then inhale it.
It can trigger feelings of relaxation or euphoria, and can cause laughing fits – giving rise to nitrous oxide's nickname.
But it can also damage how the brain works, including by impairing users' memory, and in severe cases has caused death by asphyxia. There have were 36 deaths associated with it between 2001 and 2016.
Changes to the law could be made in the summer, after the Government publishes its strategy for tackling antisocial behaviour.
That could see vandals forced to clean up their own damage among other policies.