As it happened: Several Ukrainian cities attacked as huge Russian convoy approaches Kyiv
1 March 2022, 08:39 | Updated: 2 March 2022, 07:38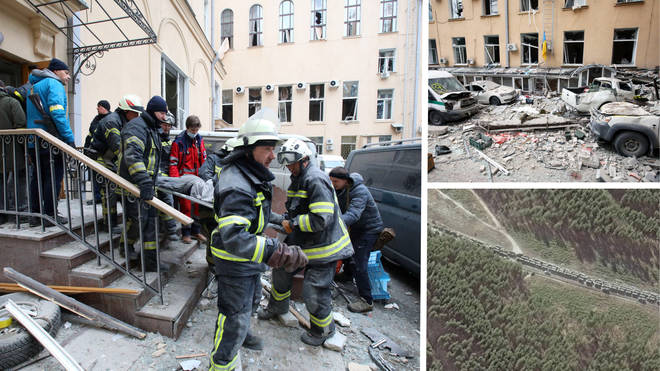 Russia has stepped up attacks on a number of Ukrainian cities, as a huge convoy of tanks and military vehicles closes in on the capital Kyiv.
A government building in Kharkiv's Freedom Square was hit by two missiles early on Tuesday, killing at least 10 people and injuring at least 35.
Officials say people - including women and children - have been killed in the "constant shelling" of the southeastern city of Mariupol.
Kherson, a city in the south, has also been subjected to major Russian assaults.
The UN says at least 136 civilians have been killed in total - and Ukraine says over 5,000 Russian soldiers have died.
READ MORE: Siege of Kyiv: Putin's 40-mile convoy heads to capital as he is accused of 'war crimes'
READ MORE: Huge explosions rock Kyiv hours after Putin resorts to banned 'cluster bombs'
Follow the latest updates LIVE below
Happening Now