'Shameful to blame fans': Liverpool Mayor demands UEFA answers after Paris chaos
29 May 2022, 08:06 | Updated: 29 May 2022, 15:52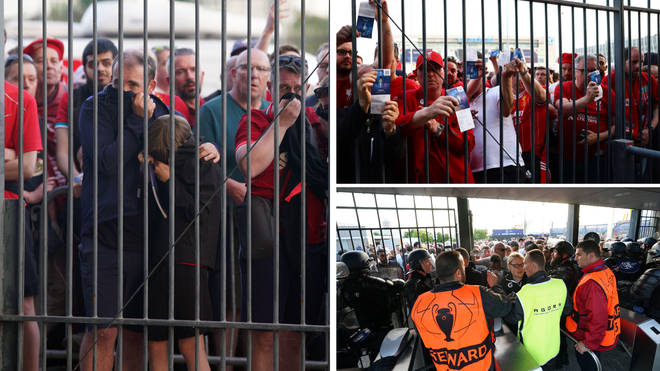 A total of 174 people were injured and 68 were arrested in clashes between football fans and riot police in Paris on Saturday night.
Fans, including children, were tear-gassed trying to get into the stadium to watch the Champions League final.
Police officers with batons and riot shields were working to try and stop fans forcing their way into the Stade de France without showing their tickets.
They repeatedly used tear gas on fans.
Police said 174 people had been injured and 68 people were arrested but did not give details on the nature of the injuries, reasons for the arrests or the individuals' nationalities, the Daily Mail reports.
UEFA blamed the clashes on attempts to use fake tickets at turnstiles, whilst the stadium said it was due to the late arrival of fans.
Read more: Liverpool heartbreak as team loose Champions League after police pepper spray fans
Read more: Liverpool fans hire speedboat to get to France after their flight was cancelled
But Liverpool fans blamed young Parisians for the tensions, saying they had taunted police and caused the gates to be shut.
"This will be pinned on us, but it's nothing to do with us," said one fan.
"There's hundreds [of young Parisians] here causing trouble, they're not even for the game - it's chaos."
Liverpool FC has defended its fans and demanded an investigation.
Merseyside Police has also issued a statement in support of the fans and said it will 'link' with Liverpool FC, UEFA and the UK Football Policing Unit to help out.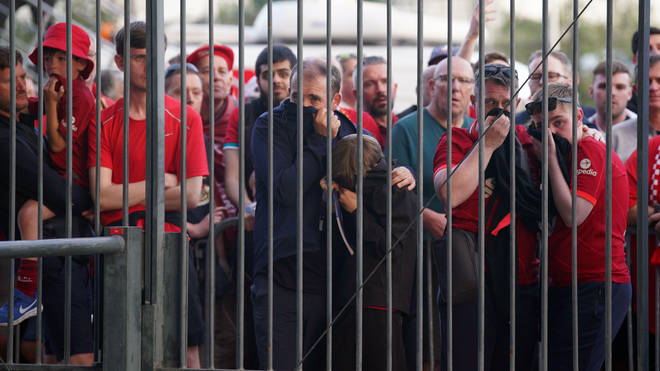 A club spokesperson said: "We are hugely disappointed at the stadium entry issues and breakdown of the security perimeter that Liverpool fans faced this evening at the Stade de France.
"This is the greatest match in European football and supporters should not have to experience the scenes we have witnessed tonight.
"We have officially requested a formal investigation into the causes of these unacceptable issues."
Liverpool Mayor Joanne Anderson tweeted: "Disgusted by appalling management & brutal treatment of @LFC fans by French police & Stade De France staff @ChampionsLeague final.
"I'm writing to Foreign Sec Liz Truss requesting answers from UEFA, & for President Emmanuel Macron to investigate.
"Shameful to pin blame on fans."
Culture Secretary Nadine Dorries said: "The footage and accounts from Liverpool fans and the media on their entry to the Stade de France last night are deeply concerning.
"Thousands of ticket holders travelled to Paris in good time to support their team in the biggest match of their season.
"I urge Uefa to launch a formal investigation into what went wrong and why, in coordination with stadium staff, the French Police, Federation Francaise de Football, Merseyside Police and Liverpool Football Club.
"It is in the interests of everyone involved to understand what happened and to learn lessons from these events."
The match ended up starting over half an hour late due to the unrest outside.
Hundreds of Liverpool fans who claimed to have tickets continued to be kept out of the stadium.
Some were not allowed in until half time, and others were taken away by police.
Read more: Fears oil price will rise again after Iran accused of piracy for seizing Greek oil tankers
Read more: 'Real love of dreams': Ray Liotta's fiancée breaks her silence on his shock death
A UEFA statement read: "In the lead-up to the game, the turnstiles at the Liverpool end became blocked by thousands fans who had purchased fake tickets which did not work in the turnstiles.
"This created a build-up of fans trying to get in. As a result, the kick-off was delayed by 35 minutes to allow as many fans as possible with genuine tickets to gain access.
"As numbers outside the stadium continued to build up after kick-off, the police dispersed them with tear gas and forced them away from the stadium."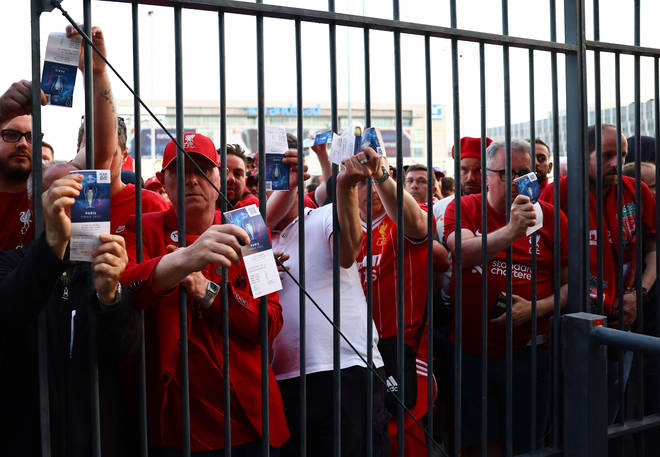 Fan Carl Noades, 63, said: "There only seems to be one gate open, it's ridiculous, the game's kicked off and we're stuck outside.
"It's a disgrace, the way they're treating us is shocking, there's no organisation."
Nick Smith, 42, another fan, said: "I had a ticket, paid through the nose, especially at the minute when everyone's struggling.
"But complete lack of organisation means I'm at a pub and not where I should be."
Another fan was seen wrapped in a blanket surrounded by emergency workers after being caught up in a scuffle.
Assistant Chief Constable Chris Green of Merseyside Police said: "We are aware of a number of reports relating to incidents both before and after last night's Champion's League Final at the Stade de France in Paris.
"We are also aware that Liverpool FC have requested a formal investigation from UEFA and we will be linking in with both the club, UEFA and the UK Football Policing Unit to pass on the observations of our officers who attended the game and took part in the pre-match meetings with the relevant authorities.
"As with all European matches officers from Merseyside were deployed in France to work in an observatory and advisory capacity with the local officers, and they have reported the vast majority of fans behaved in an exemplary manner, arriving at turnstiles early and queuing as directed and their observations will be passed on to the relevant authorities as part of the debrief for the game.
"Many thousands of fans have travelled throughout this season to matches across Europe and we have worked closely with our supporter groups, the Club and European hosts to ensure that the matches passed without incident and fans were kept safe. Our officers returning today will conduct a formal debrief to ensure that we can fully support any subsequent investigation following last night's game.
"We know that people who have witnessed a lot of distressing scenes last night and we wish everyone returning home from Paris a safe journey. Our focus today will be supporting Liverpool city council with the policing of the homecoming parade."
In the end, Liverpool ended this season with the Carabao Cup and FA Cup after losing 0-1 to Real Madrid.
Liverpool were caught napping in the 59th minute as Real Madrid took the lead.
Casemiro played wide to Federico Valverde on the right, and his driven cross was met by Vinicius Jr at the far post as he ghosted in behind Alexander-Arnold.
Real Madrid goalkeeper Thibaut Courtois, told BT Sport: "Yesterday in the press conference I said that when Madrid plays finals they win. I was on the good side of history.
Read more: Cop sacked for saying he was sexually aroused while reading about sexual assault of teen
Read more: Superyacht worth £6m sinks after being engulfed in black smoke and flames
"I saw a lot of tweets coming my way that I would get humbled today it was the other way round.
"Today I needed to win a final for my career, for all the hard work to put respect on my name as I don't think I get enough respect, especially in England. I saw a lot of criticism even after a great season.
"I am really proud of the team. We stuck to it and when I needed to be there I was there for the team. We beat some the best clubs of the world. City and Liverpool were unbelievable this season.
"They fought to the end in the Premier League, Liverpool won two cups and they were really strong.
"We played a great game today. We had one chance and scored it."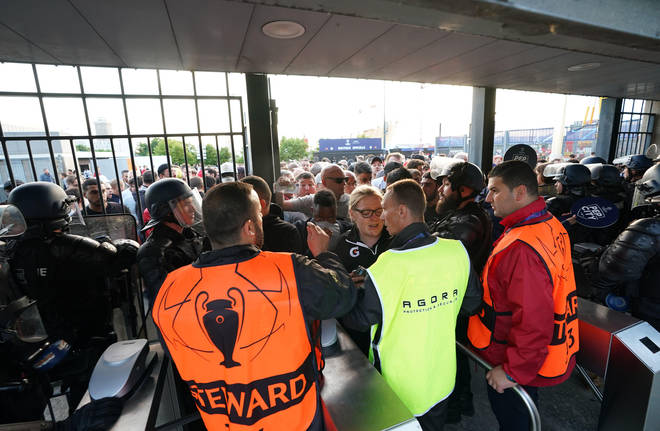 The Reds took on 13-time winners Real Madrid at the Stade de France on Saturday night.
Earlier on Saturday, tens of thousands of Liverpool fans gathered close to the fan zone near the centre of Paris ahead of the match.
A sea of red shirts surrounded the Cours de Vincennes area in the south-east of the city, with smoke billowing into the air as flares are let off.
Supporters, largely ticketless, could be seen drinking and chanting in nearby pubs with traffic brought to a standstill.
Footballs were being kicked into the air and banners flown.
Read more: Labour call for a vote on Boris Johnson's decision to 'water down' ministerial code
Read more: Prince William oversees final preparations for Trooping the Colour ahead of Jubilee
Some of the fans in Paris started drinking at 7am on Saturday, with one talking of being "smashed" by 12pm.
John Racks, 39, from the Wirral, Merseyside, said: "Yeah, the drinking started early, the sun's out now and it's getting to my head a bit.
"I'd like to say at nearly 40 I'm careful but I kind of got lost and started drinking this morning, now I'm smashed.
"The atmosphere here is boss, the city is red."
Another said: "I'm sat here on top of some statue in Paris with my mates, there's nothing more you need."