Monitor the elderly in their homes to avoid sending them to A&E, says former NHS chief Lord Crisp
12 January 2023, 08:19 | Updated: 12 January 2023, 08:22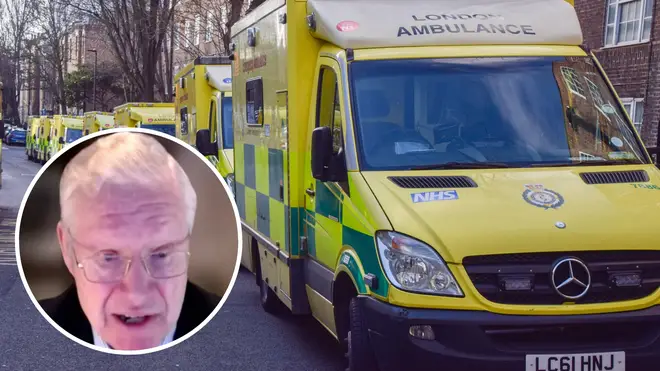 The former head of NHS England has called for high-tech monitoring of the elderly in their own homes so that health issues can be identified earlier to avoid the need for so many people to go to A&E.
Lord Crisp told Nick Ferrari at Breakfast today that the NHS is set up to deal with 'health problems from the 1950s' and not Britain's older population that puts increasing strain on NHS services.
He said there were more ongoing health issues that needed regular treatment, like "dementia, diabetes - we keep people alive much longer," he said.
"Many cancers have turned into things you live with for a long time.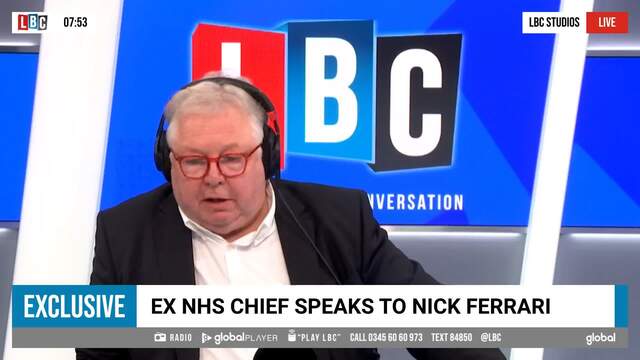 Strain on hospitals could be eased by the elderly being 'monitored' from home says Ex-NHS Chief
"At the moment… there are problems before you come into hospital. If you are living in the community aged 80 it's really important somebody keeps an eye on you.
"If 'acute episodes' can be anticipated you can be treated sooner and avoid the need to visit hospital. It's a big part of the picture."
He called for investment in technology to monitor the elderly at home to help alleviate pressure on overcrowded A&E departments.
He said he thinks throwing cash at the problem isn't the answer but that money isn't being spent in the right areas.
Read more: Notorious Russian mercenary group claims it has found body of missing British aid worker in Ukraine
"Do the sticking plaster things you have to do to keep it going, but I'd invest heavily in primary and community care to keep things going,"
"This is unprecedented," he added.
"There's a lot of people sicker now because they didn't seek help during the two years of covid. Many of us decided we wouldn't go into health facilities for that period.
"There's a lot of pressures that have come together."
"It's a really major problem and it's a build up of previous problems and then the acuteness of covid."
He said the government must admit the service is in crisis before radical change can happen.
His comments come as health leaders warned of an 'intensified' risk to patients if strikes continue.
They urged ministers to reach an agreement with trade unions as soon as possible.
The warning from the NHS Confederation comes as ministers are set to sit down with various unions on Thursday - including doctors - in a bid to avert future strikes.
But talks with medics, particularly those from the British Medical Association (BMA), may start on a sour note after Steve Barclay cancelled a meeting on Wednesday in favour of conducting media interviews.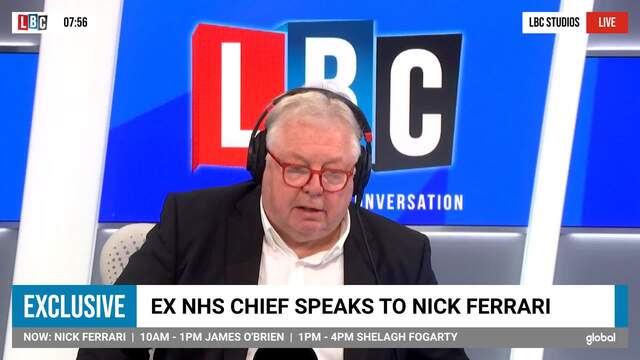 Ex-NHS England Chief Lord Crisp says Rishi Sunak needs to accept the N
The Health Secretary is set to meet with BMA representatives along with the hospital doctors' union HCSA and the British Dental Association on Thursday.
Meanwhile, civil service unions are set to meet Cabinet Office ministers.
It comes after the Public and Commercial Services (PCS) union announced that about 100,000 civil servants will walk out on February 1 in a dispute over pay.
The PCS union said that the dispute could be resolved if ministers "put some money on the table".
Mark Serwotka, general secretary of the Public and Commercial Services union, said: "I am meeting with the Minister for the Cabinet Office, Jeremy Quin.
"If he puts some money on the table, there is a chance this dispute can be resolved.
"If he doesn't, then he'll see public services from benefits to driving tests, from passports to driving licences, from ports to airports affected by industrial action on February 1."
And officials from the Rail Delivery Group will meet with the Rail, Maritime and Transport union and Transport Salaried Staffs Association in a fresh bid to break the deadlock.
Transport Secretary Mark Harper raised hopes of a breakthrough within "days" as he confirmed a "renewed offer" was on the table ahead of the talks.
The unions have made it clear they need a new offer on pay, jobs and conditions before the dispute can end.
The meetings come after 14 health unions announced that they will not be submitting evidence to the NHS pay review body for the next wage round while the current industrial disputes remain unresolved.
The 14 unions, representing more than one million ambulance staff, nurses, porters, healthcare assistants, physiotherapists and other NHS workers in England, have called for direct pay talks with ministers.
Unions said they believe the lengthy pay review body process is not able to deliver a deal that resolves the current pay and staffing dispute, which has led to a series of strikes.
Matthew Taylor, chief executive of the NHS Confederation, said: "For NHS leaders there is a real fear that the risk to patients will only intensify with future strikes, including for nurses and physiotherapists planned in the coming weeks, and no sign of resolution on the horizon.
"In what is by far the toughest winter in the NHS for a decade, and set against the perfect storm of rising levels of winter illnesses including Covid and flu and huge staff vacancies, the Government must not turn a blind eye on the situation.
"It must reach an agreement with trade unions as soon as possible."
Meanwhile, NHS leaders will be assessing the impact of Wednesday's ambulance strikes where up to 25,000 ambulance workers with the GMB and Unison unions staged walk outs.
Dr Adrian Boyle, president of the Royal College of Emergency Medicine, said that strike action can lead to "pent-up demand" in the days after walkouts.