Revolt of the resident 'freedom fighters' as hated LTN planters are torched - and driver clashes with eco-activists
28 March 2023, 13:18 | Updated: 28 March 2023, 13:48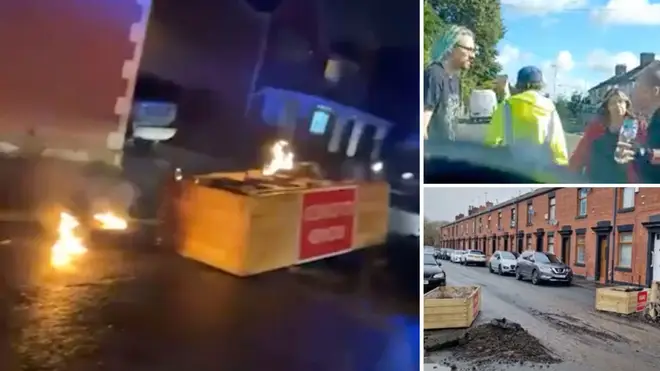 Angry residents have launched a rebellion against Low Traffic Neighbourhoods (LTNs) in Greater Manchester, setting them alight and going head-to-head with eco activists trying to defend the areas.
"Freedom fighters" in Rochdale took it upon themselves to torch several planters that closed off roads just hours after they were installed last week.
Footage emerged online showing the destroyed boxes, with firefighters on the scene to deal with the fires.
The group of rebels behind the stand have been praise by some online as "freedom fighters", with the scheme having since been paused as the council considers "next steps".
The incident took place on March 23 after a trial was launched at the beginning of February across the Deeplish and Milkstone area of the town.
However, it was not long before clips were shared online showing vehicles driving on the pavement to avoid them.
Read more: Sadiq Khan reveals orbital 'Superloop' bus network around London suburbs
Read more: 'Appalling' councils are fining Londoners £100m for driving through LTNs, says mother of girl killed by toxic air
Local business Auto Shop, which provided an update on the damage on Facebook, said Councillor Shahid Mohammed had been "working behind the scenes to remove most of the signs" and pause the changes pending a review.
Sharing a message from Mr Mohammed, they said: "I have been in contact with senior officers at the Council and spoken to them about the events of last night in Milkstone and Deeplish.
"Everybody who knows me, knows how much I care about this area and our amazing community and I understand there are some strong feelings out there about the active travel trial.
"However, while we are always willing to listen to feedback and want to work with the local community, violence and threats cannot and will not be tolerated. The damage is being cleared by the Council and Police are investigating.
"Because of this, the Active Neighbourhoods trial has been paused while we assess and review the next steps."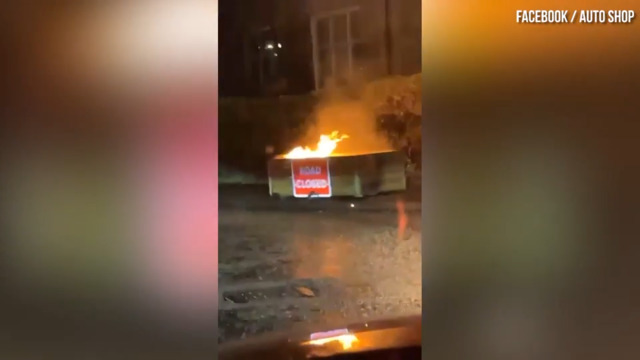 LTNs set on fire in Rochdale
They had previously warned that action against the scheme could "get worse" if nothing was changed.
They said in a Facebook post: "Road blocks in Deeplish clearly shows the frustration and anger by some locals.
"When [yo]u have to drive an extra half a mile to your home or your destination, publics reaction prompted by fires and the signs moved so traffic can flow back to normal.
"Hope the officials involved can now calm things down otherwise it can get worse."
Reacting to the clips on social media, one person said: "Yes yes yes this is what we like to see power to the people strength in numbers there's more of us than them."
Another person said: "People do NOT want these measures. It's absolutely mad.
A third person added: "Well done! This is [a] fight we must win!"
However, others were quick to condemn the action, with one Facebook user saying: "Let's hope the police find out who did this and lock them up."
A second person said: "Absolutely disgusting behaviour and probably from the ones that speed through the streets and main roads, good one idiots for doing this only makes you look pathetic and stupid."
A final person said: "Local residents will appreciate the improved safety and much quieter streets. The vandals will go elsewhere (you don't think these are the only laws they break do you?) and life will return to normal.
"Except it'll be more pleasant. No matter how much vandalism these criminals cause, as they're speeding around your residential roads, the council will just keep spending your money repairing the damage they cause."
Extraordinary video shows eco Stasi in Oxford policing a Low Traffic Neighbourhood blockade & refusing to let a woman drive through to get to work

Donning their hi-viz vests & with no official authority they refuse to move. It's a cult!

pic.twitter.com/mqV6fCjIA5

— Martin Daubney 🇬🇧 (@MartinDaubney) March 28, 2023
Meanwhile, clips from Oxford showed eco protesters blockading an LTN and refusing to let a driver through - even though she was fully prepared to accept a fine.
Wearing hi-vis jackets, the group can be seen preventing a woman from getting to work, warning her that she will get a fine if she drives through.
"I will get a fine," she can be heard saying but the argument soon escalates a the woman gets out of her car. Other locals also get involved, saying she should be let through but the group refuses to budge.
LTNs were introduced by the Government to try and reduce traffic in residential areas through a variety of measures including blocking certain routes with street planters.
They aim to lower the number of people on roads and increase walking and cycling.
Since the Spring of 2020, during the Covid pandemic, mass funding was made available to install more of them in London. Since then, they have expanded to Bristol and Oxford – with plans for more of them elsewhere in the UK.