Animal rights protestors close M57 after glueing themselves to the road amid Grand National protests
15 April 2023, 21:01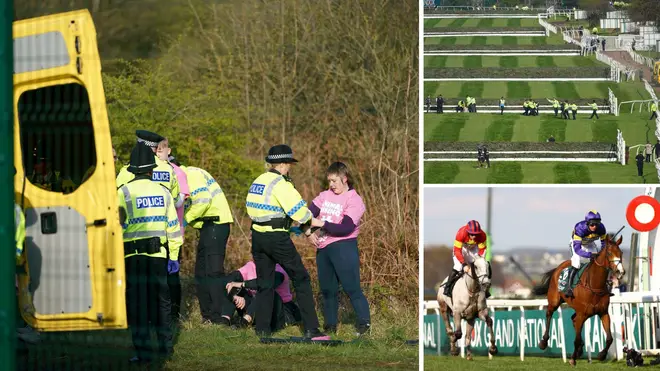 Animal rights campaigners have closed the M57 near Aintree after glueing themselves to the road in protest of Saturday's Grand National.
Activists from Animal Rising, formerly known as Animal Rebellion, closed an entire stretch motorway in a protest that coincided with action taking place at the famed racecourse.
Protestors dressed in pink t-shirts could be seen spanning the stretch of motorway, with queues of more than an hour stretching back to the M62.
The action coincided with protests at Aintree, where activists could be seen climbing fences in a bid to access the jumps - which protestors say are cruel to horses - before being forcibly removed by police and locals.
Merseyside Police has now updated its figures, confirming that 118 people have now been arrested in relation to both protests following favourite Corach Rambler's storming win.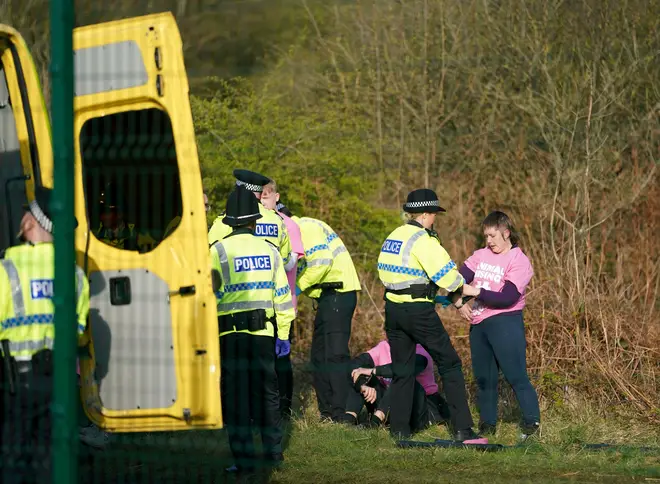 North West Motorway Police took to Twitter to announce the motorway had reopened shortly after 8pm, with the busy stretch of road closed for around three hours. 
North West Motorway Police said on Twitter: 'We have a number of people sat on the M57 at junction 2 northbound - motorway is closed.'
Read more: France on fire again: Violent protests erupt after Macron's bid to raise retirement age approved by top court
Read more: A&E, cancer units and intensive care to be hit for first time in fresh nurses strike on May bank holiday
National Highways noted that traffic was stopped in both directions between junctions one and two shortly before 5.15pm, with police able to reopen the southbound stretch before 6pm.
The Animal Rising group shared on social media that demonstrators had run onto the track, "delaying the race indefinitely".
However, race preparation by jockeys and horses continued despite the disruption.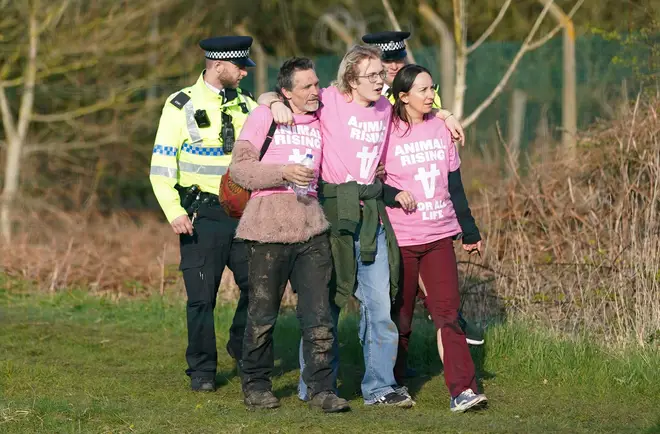 A 25-year-old woman from London was arrested at around 11.20am on Saturday while a man was arrested around 30 minutes later.
Another woman, aged 33, from the London area, was arrested in Greater Manchester earlier on Saturday in connection with potential co-ordinated disruption activities at Aintree racecourse.
The protesters added on Twitter: "In the UK alone, 49 horses have died or been killed so far this year due to horseracing: this is unacceptable,"
"We are a nation of animal lovers - we shouldn't be harming animals for entertainment, food or any other reason. It's time to create a kinder future."
Activists also said they would block traffic by performing a slow march along Ormskirk Road, the main access route.
Around 30 animal rights protesters gathered outside Aintree Racecourse on Saturday morning.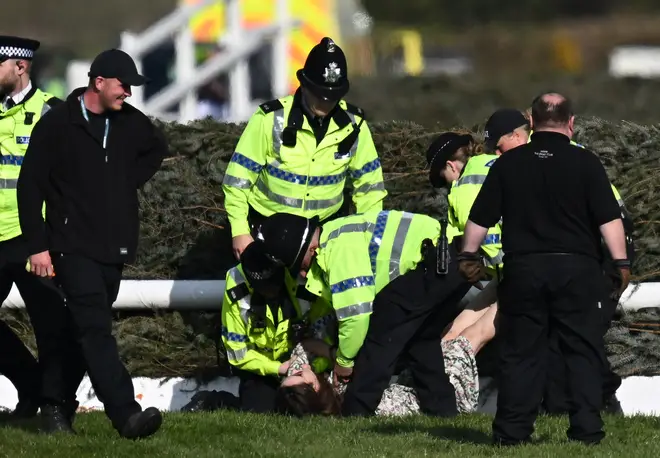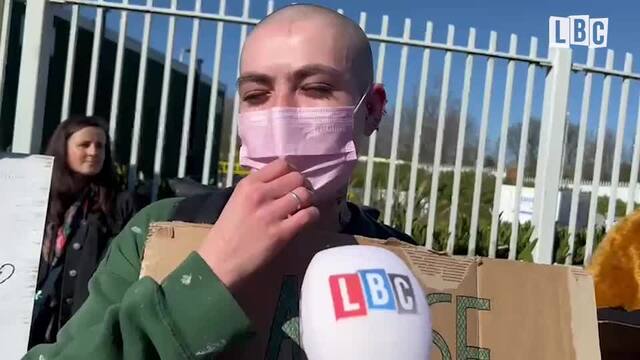 Protesters gather outside Aintree
Speaking to LBC, one independent protester said: "We're here today because this is a long overdue barbarity that should have been outdated so long ago.
"Horses are flight animals - they're not running because they love it."
Another person demonstrating outside the racecourse added: "It's systematic - people are encouraged to attend these events and constantly abuse animals in this way.
"We need systematic change, we need to reconnect with nature, with animals and rebond again.
She continued: "If they did really know all the hardship, the suffering and the abuse that these lovely beings go through for this event I hope they would feel the same way."