Met Office issues flood warnings with Hurricane Lee aftermath set to hit UK later this week
18 September 2023, 16:24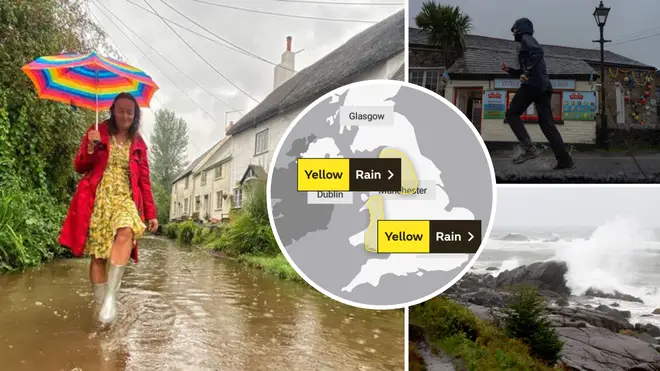 Heavy rain that flooded a town in Devon and an airport in Exeter is expected to hit parts of Northwest England and Wales over the next few days.
Two flood warnings have been issued for "heavy rain that will affect parts of northwest England and Wales" and 10 further flood alerts are currently in place for other parts of England.
Power supplies could be affected, forecasters warn.
The Met Office said: "Over the course of this 36 hours in these areas, 50-100 mm of rainfall is likely to accumulate widely, with as much as 150-200 mm in some locations.
"Higher ground across Cumbria and Lancashire, such as across the Peak District and Lake District, will be worst hit."
The remnants of Hurricane Lee will reach British shores between Tuesday morning and Wednesday evening, bringing further rain.
It comes after a huge downpour and thunderstorms across much of the south of England over the weekend.
Parts of Devon and the southwest have been flooded, with Exeter Airport closed on Sunday due to the high waters.
Roads were closed, buses and trains were cancelled and Paignton Zoo was closed, as well as Exeter Airport.
The seaside town in Devon, Dawlish, was completely submerged in rainwater and the Royal National Lifeboat Institution (RNLI) was called out to assist residents.
Addressing Hurricane Lee, Met Office meteorologist Jonathan Vautrey said: "It is certainly worth keeping up to date with the forecast.
"It is worth checking those things immediately before you head out on your journey so that you are aware where the most severe thunderstorms are possible.
Read more: Commuter chaos as thunderstorms and heavy downpours cause travel disruption for thousands
Read more: New thunderstorm warnings issued by Met Office as forecaster warns of hail, floods and lightning strikes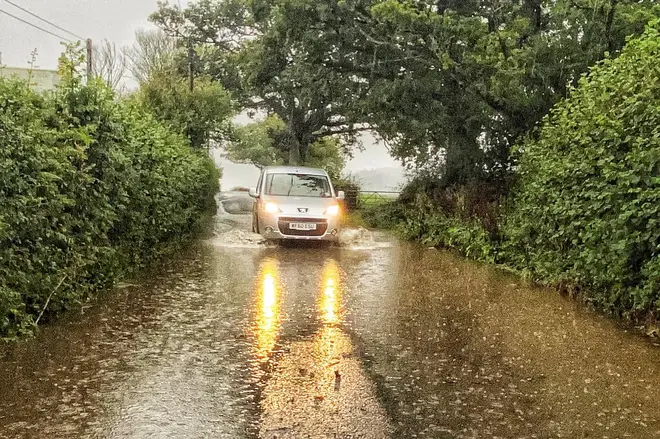 "Make sure you are taking care as the weather could change at very short lead times and just be prepared for those gusty winds and potentially large hailstorms."
"That will be getting picked up by the jet stream," Mr Vautrey said. "Showers in places could be heavy with a risk of further thunderstorms.
"It could be quite an unsettled, autumnal week to come."
14 flood warnings were in place but the Met Office lowered the figure to 6 at around midday.
Earlier this morning, lightning struck houses in Dorset, causing them to burst into flames.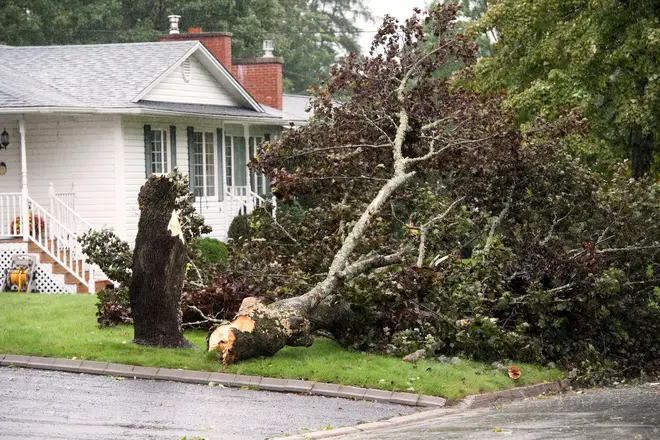 Forecasters issued a yellow warning for London, the south-east and east of England and the East Midlands that stayed in place until 6am on Monday. Almost a month's worth of rain fell, according to a gauge by Exmoor.
Some places saw as much as 60mm of rainfall, more than half the average for September.
The band of rain moved eastwards throughout Sunday and cleared by the early hours of Monday morning.
Despite the wet weather easing, the Environment Agency issued several fresh flood warnings, meaning flooding is expected, after midnight.
The affected areas include the Cumbrian coastline, the River Cole in Swindon and the River Gwash in Ryhall and Newstead, Lincolnshire.
Conditions are expected to remain "blustery at times" early this week but are likely to be fresher.