'Completely delusional' Brexiteers will die soon and Britain will rejoin single market in 15 years, Ryanair CEO says
20 April 2023, 13:14 | Updated: 20 April 2023, 13:19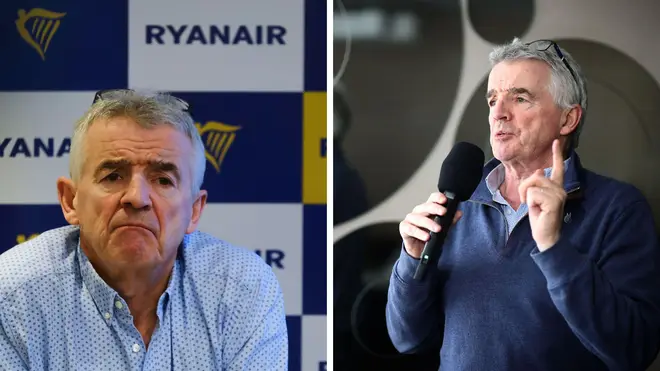 The CEO of Europe's largest airline claims Britain will be forced to rejoin the EU in the next 15 years.
Michael O'Leary, a keen critic of Brexit and the owner of Ryanair, believes it's only a matter of time before the older generation of Brexiteers die.
The chief executive said he has hopes the next generation rejoin the single market, as they are "much more pro-European" and he believes "in the next five to 10 years quite a number of Brexiteers will die".
Speaking at a Bloomberg event, Mr O'Leary claimed the British public were sold a "tissue of lies" in the lead up to the referendum and leaving the EU was "unbelievably messy".
He also accused former PM Boris Johnson of being "completely delusional" in his pursuit of Brexit and said the consequences of leaving would ultimately be "net negative" in the next five years.
Read more: Rishi Sunak 'carefully considering' findings after receiving report into Dominic Raab bullying allegations
"Everything that was promised to the UK population, the sunny uplands and the ability to do trade deals everywhere around the world were shown to be a tissue of lies," he added.
"We mistakenly assumed there would be some kind of competence at the top of the government under Johnson and they would at least put the economy first and do a sensible deal.
"It turns out that was completely delusional, just like Johnson and the rest of his Brexit cohort."
Since leaving the European Union, he said visas have become "ludicrously expensive" for EU staff, costing up to £3,000 per person.
Read more: Alec Baldwin movie Rust to resume filming 18 months after on-set shooting tragedy
However, the budget airline boss said he feels "more optimistic" moving forward with Rishi Sunak and Jeremy Hunt in office.
But he did hit out at aviation minister, Baroness Vere, as he said she's "not the brightest sandwich in the picnic basket".
"The problem we find dealing with the government is there's an obsession in most departments to find excuses that show where Brexit benefits.
"Duty free is back on flights to and from Europe, that's about the only benefit."