Labour in turmoil as Jess Phillips among ten frontbenchers to resign over Gaza ceasefire vote
15 November 2023, 19:32 | Updated: 16 November 2023, 05:34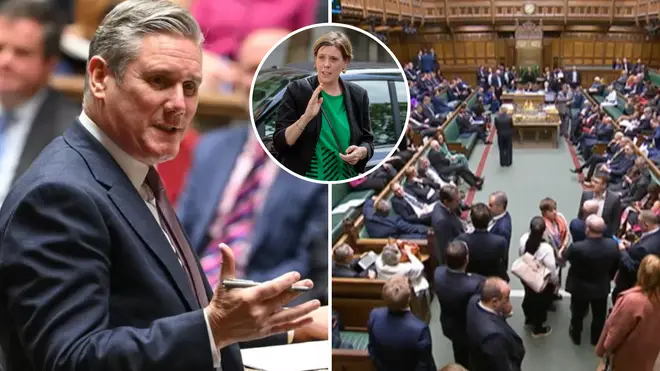 The Labour party has seen a huge revolt after ten frontbenchers resigned when MPs rejected the SNP amendment calling for a Gaza ceasefire.
There were 125 votes in favour and 293 votes against the amendment.
Jess Phillips was among 56 Labour MPs who voted in support of the ceasefire.
Ten of the party's frontbenchers left their jobs over the vote, which includes eight shadow minsters.
In addition to Phillips, these included seven shadow ministers: "Paula Barker, Rachel Hopkins, Afzal Khan, Sarah Owen, Yasmin Qureshi, Naz Shah and Andy Slaughter."
Parliamentary private secretaries Dan Carden and Mary Foy also left their positions.
Ms Phillips said it was with a "heavy heart" that she quit, adding that she had to vote with her constituents, her head and her heart.
It comes after frontbenchers were ordered to abstain on the SNP move and instead back Labour leader Sir Keir Starmer's position calling for longer "humanitarian pauses" rather than a ceasefire.
But MPs also voted against Labour's amendment.
Read more: Emmanuel Macron calls for Israel to stop 'bombing babies' in Gaza and urges UK and US to back ceasefire
Read more: Keir Starmer admits 'differences' in Labour over Israel stance, after senior figures call for ceasefire
Several Labour frontbenchers quit ahead of the vote too, including Yasmin Qureshi, who was Labour's shadow minister for women and equalities, Imran Hussain, who was shadow minister for the new deal for working people and Paula Barker, shadow minister for devolution.
Sir Keir said after the vote: "I regret that some colleagues felt unable to support the position tonight."
SNP Westminster leader Stephen Flynn said Parliament must "show moral leadership" and vote in favour of backing an immediate cessation of hostilities.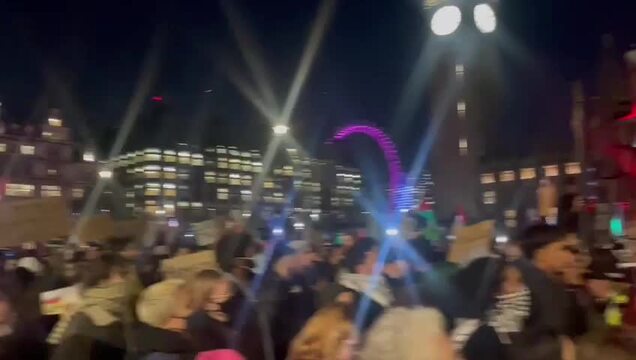 Protests ahead of Gaza ceasefire vote
It came after huge crowds of pro-Palestinian activists gathered outside the Houses of Parliament ahead of the vote on Wednesday, chanting "ceasefire now" as they waved Palestinian flags.
One protester told LBC: "I feel like Labour especially are positioning themselves against a ceasefire because they think this will get them in trouble for the General Election but I think this is rubbish.
"Thousands of children are dying because of this position. I just think they need to put party politics on the side and every single MP has a responsibility in this."
She added: "The UK and US have a huge role in the way this crisis is unfolding."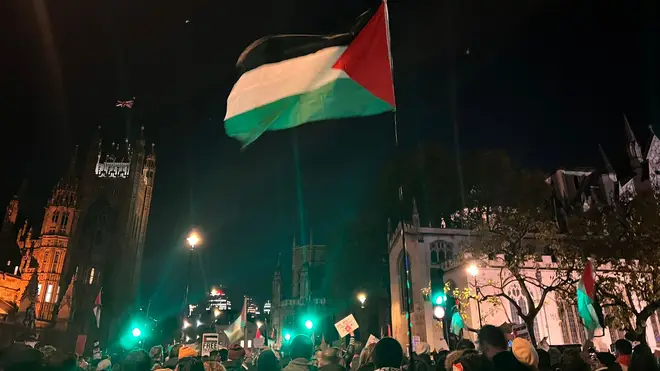 Another protester said: "What we're seeing here is a lot of double standards. They have one rule for Ukraine and another rule for Gaza and Palestine."
A third person told LBC: "We're watching atrocities unfold in real time and I think we're going to look back on this period in horror and shame.
"The least that we can do as citizens is articulate that we're not going to stand for it. I wouldn't be able to rest if I wasn't here."
Defence Secretary Grant Shapps hit out at MPs who voted for the ceasefire, as he claimed they were "essentially voting to give Hamas the green light to commit further terrorist atrocities".
In addition to the 56 Labour MPs, a further 39 SNP MPs, 15 Lib Deb MPs and three independent MPs also voted in favour of the ceasefire.