National guardsman dubbed 'Jack the dripper' accused of leaking top secret documents since last year
14 April 2023, 08:42 | Updated: 14 April 2023, 09:23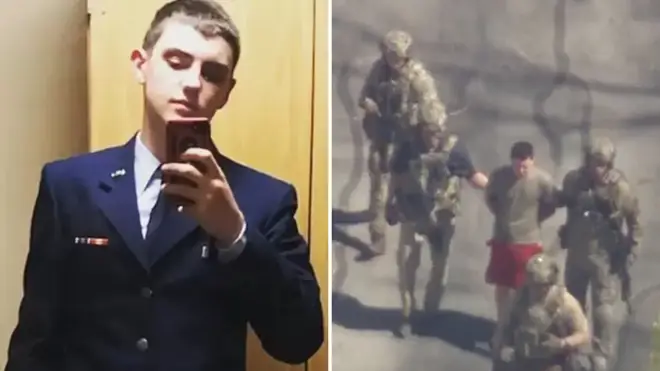 An American national guardsman has been arrested for leaking classified American defence and intelligence documents, allegedly under the nickname "Jack the dripper".
The Justice Department arrested Jack Douglas Teixeira on Thursday on suspicion of being behind the breach, one of the worst leaks for years, to an online chat room.
The 21-year-old was seen live on TV being detained by armed FBI agents at his Massachusetts home, which was cordoned off by law enforcement.
He wore a t-shirt and shorts as he was taken away, as the bureau vowed to continue "identifying, pursuing, and holding accountable those who betray our country's trust and put our national security at risk".
He is believed to have been the head of a private online group of around 25 members, where the Pentagon documents were shared.
They include information about Ukrainian units, international support for Kyiv, as well as apparently reporting numbers of British, US and other countries' special forces in the country.
The documents also held information apparently uncovered by the US from other countries, including on Russia and its own allies.
It is thought the Kremlin will be monitoring what has been published, despite President Joe Biden trying to play down their importance and saying there was nothing "contemporaneous" of "great consequence".
MPs say it could put British lives at risk while the Government claims the documents could include misleading details.
Teixeira is a member of the Massachusetts Air National Guard, with officials following him "for some time".
His mother, Dawn, said he was based in Cape Cod and recently changed his phone number.
A man told The New York Times he saw a man resembling Teixeira arrive a the property and said: "He needs to get an attorney if things are flowing the way they are going right now. The Feds will be around soon, I'm sure."
But he is a low-ranking member of the force, leading to questions over how he could have accessed such a trove of secret intelligence, which is thought to be the worst leak since Edward Snowden.
One member of the group chat told The Washington Post: "He's fit. He's strong. He's armed. He's trained. Just about everything you can expect out of some sort of crazy movie."
Another said: "He knew what he was doing when he posted these documents, of course. These weren't accidental leaks of any kind."
The group, which is invite only, contained about two dozen young men and boys, "united by their mutual love of guns, military gear and God".
Members said OG had been leaking secrets for longer than was thought.
Teixeira is now scheduled to make a court appearance at the US District Court in Massachusetts.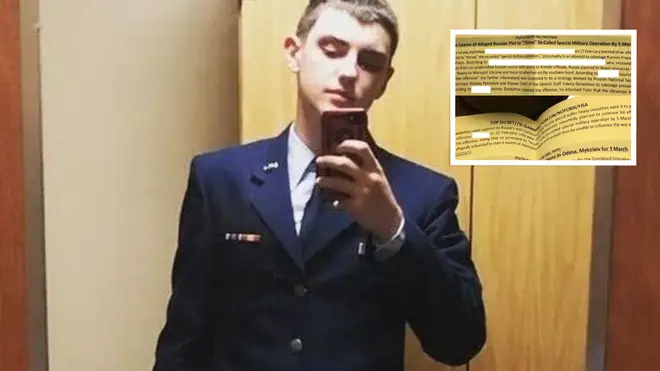 Is it suspected the intelligence could have been leaked to social media platform Discord, which is popular with online gamers.
Teixeira allegedly more than 100 classified documents under the moniker "OG" and was also known as "Jack the dripper" in a chat group called "Thug Shaker Central".
It hosts voice, video and text chats for groups.
In a Ukraine-focused chat, one member shared documents they said were classified, at first typing them out and then posting images of the papers.
Reports said members of the group chat Teixeira had a "dark view" of the government and viewed authorities and spy agencies as a "sinister force".
Discord is working with law enforcement.
The intelligence was photographed on printed papers, which could help investigators collar who is responsible.
They are usually distributed via secured terminals or on tablets which are distributed at meetings and collected afterwards.
The National Guard said in a statement: "We are aware of the investigation into the alleged role a Massachusetts Air National Guardsman may have played in the recent leak of highly-classified documents."
Speaking at a press conference on Thursday, Air Force Brigadier General Pat Ryder said officials consider the leaks to be "very serious".
He said: "We [have] stringent guidelines in place for safeguarding classified and sensitive information.
"This was a deliberate criminal act, a violation of these guidelines."
He said servicemen are given "a lot of responsibility" at a young age
US attorney general, Merrick Garland, said the arrest was "in connection with an investigation into alleged unauthorised removal, retention and transmission of classified national defence information".
Read More: Putin's top generals plotting to 'throw' Ukraine war, according to rumour in leaked US spy documents
Read More: Seconds from disaster: Russia 'nearly shot down RAF plane' but malfunction stopped missile attack
The classified documents surfaced online last week and are believed to be one of the worst intelligence breaches in US history.
They claimed a Russian fighter jet nearly shot down an RAF signals plane after the pilot misheard an order.
It also estimated some 50 British special forces soldiers were in Ukraine, though this is not elaborated on.
The leak of the intel report claims his top generals are plotting to "throw" the war in Ukraine to undermine his leadership.
Russia's leader Vladimir Putin is also receiving treatment for cancer, according to the leaked intelligence documents.