NATO chief warns Putin victory would 'make the world more dangerous' as Russia-China relations become 'very serious'
30 March 2023, 18:35 | Updated: 30 March 2023, 18:48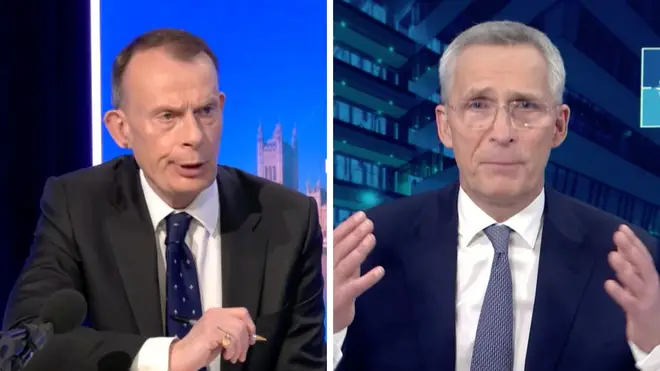 NATO's Secretary General has tonight said backing down to Putin would "make the world more dangerous", as he admits warming Russia-China relations have to be taken "very seriously".
Speaking on Tonight with Andrew Marr, Jens Stoltenberg said NATO will "stand with Ukraine for as long as it takes" - even if that decision meant a decade-long conflict with Russia.
Describing NATO as being "prepared" for such a strategy in Ukraine, the NATO chief, who has extended his tenure until April 2024, added: "we cannot allow President Putin to win".
"Yes, we have made it so clear that we cannot allow President Putin to win in Ukraine. Not only because this will be a tragedy for Ukrainians, but also because it will be dangerous for us," said Mr Stoltenberg.
"It will make the world more dangerous because then the message is: that when authoritarian leaders, like President Putin, uses military force in violation of international law, they get what they want. That will make us more vulnerable."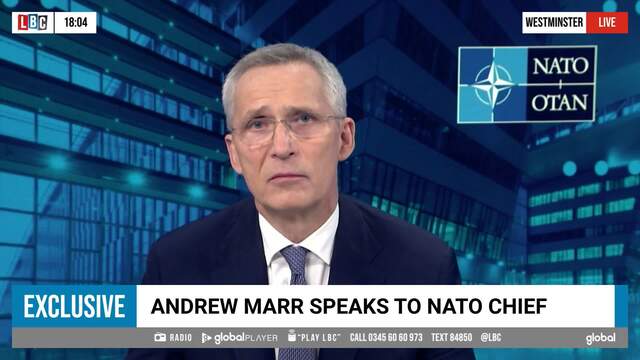 NATO Sec Gen: 'The nuclear rhetoric coming from Moscow is dangerous'
Describing the United Kingdom as the "lead nation" when it came to "mobilising support from NATO allies", Mr Stoltenberg highlighted the need for a hard stance to ensure "President Putin does not win this brutal war of aggression against Ukraine".
"Wars are by nature unpredictable. No one can tell how or when this war ends," said Mr Stoltenberg.
"But what we do know is that we need to support Ukraine to ensure that Ukraine remains as a sovereign independent nation."
Read more: Home Office drives up migrant hotel costs with staff 'competing for the same contracts'
Read more: Charles Bronson loses bid to be freed from jail as parole board rules against him
Highlighting the importance of the US standing with NATO, Mr Stoltenbeg added: "it is in our interest to ensure that Ukraine prevails, because if we lose in Ukraine, we will be more vulnerable.
"So, this is all about our security. And that matters also for the United States."
Andrew Marr: Russia and China's meeting demonstrates 'big, mutually hostile alliances'
Speaking with Marr, Stoltenberg also touched on Finland's application to join the growing international alliance, noting it was in neighbouring Sweden's best interests to join "as soon as possible".
"I remember that before the Madrid Summit, the NATO Summit last year in Madrid, everyone thought it was impossible to get an invitation. Well, we've given an invitation to both Finland and Sweden," said Mr Stoltenberg.
"Also, Turkey, has invited Finland and Sweden to become a member. All NATO allies. Also, Turkey has signed the accession protocols.
"And what now remains is the final ratification in the Turkish and the Hungarian parliament. I will work hard, it's a top priority for me to ensure that we can have that in place by the beginning of the summit in July.
Adding: "I cannot promise because we speak about sovereign independence in parliaments, but I think it's absolutely possible."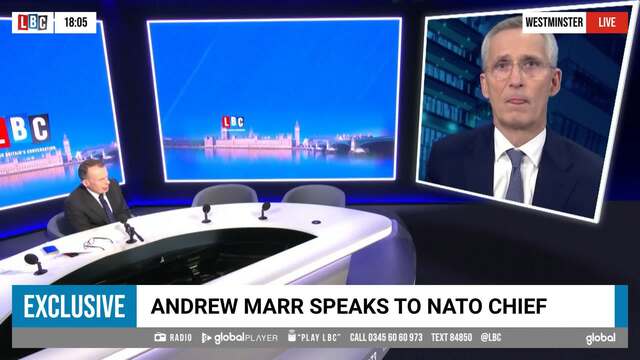 NATO Sec Gen on Russia creating a misunderstanding over shells
Mr Stoltenberg also spoke of Russia twisting terminology to suit its narrative, reflecting on the use of nuclear depleting shells provided to Ukraine.
"The Russians know very well that this has nothing to do with nuclear weapons," said Mr Stoltenberg.
"But they have just tried to create a misunderstanding, a misperception, and they use that as part of their rhetoric… But NATO is the strongest alliance in history.
"We have been prepared for the conflict for many years. You have to remember that the war didn't start in February last year. It started in 2014."