'A bitter blow': Nurses criticise Government's 'shambolic' 3 per cent pay rise offer
21 July 2021, 17:57 | Updated: 21 July 2021, 20:24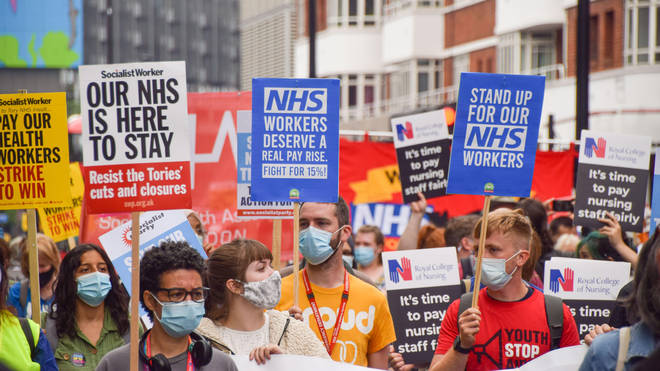 NHS staff in England will receive a 3 per cent pay rise backdated to April 2021, the Government has announced, but the move has been criticised by unions and NHS staff.
Staff including nurses, paramedics, consultants, and dentists in England will receive the raise after the government accepted the recommendations of the independent NHS Pay Review Body (NHSPRB) and the Review Body for Doctors' and Dentists' Renumeration (DDRB).
Whilst the raise is more than the 1 per cent increase proposed by the Government earlier in the year, it still falls short of what some NHS staff were asking for.
In January, the Royal College of Nursing (RCN) submitted evidence to the NHS pay review body asking for a 12.5 per cent increase in nurses' salaries, and previously NHS staff and campaigners marched through London demanding a 15 per cent raise.
"NHS staff are rightly receiving a pay rise this year despite the wider public sector pay pause, in recognition of their extraordinary efforts," said Health Secretary Sajid Javid.
"We asked the independent pay review bodies for their recommendations and I'm pleased to accept them in full, with a 3 per cent pay rise for all staff in scope, from doctors and nurses to paramedics and porters."
Prime Minister Boris Johnson said the pay rise was to "recognise the extraordinary contribution" NHS staff have made throughout the pandemic.
Our NHS staff have been heroic throughout the pandemic, providing care and saving lives.

To recognise the extraordinary contribution they have made they are receiving a 3% pay rise this year. pic.twitter.com/Z5TnyqPqYx

— Boris Johnson (@BorisJohnson) July 21, 2021
Read more: Paying France £54m to stop dangerous illegal migrant crossings 'a mockery' - Tory MP
Read more: Keir Starmer self-isolating after his child tests positive for Covid
For the average nurse, the raise will mean an additional £1,000 a year, while many porters and cleaners will receive around £540.
The Welsh Government has also announced a 3 per cent pay increase, with Health Minister Eluned Morgan saying the raise "recognises the dedication and commitment of hardworking NHS staff and the enormous contribution they have made".
Student mental health nurse Zoe Grigsby, 30, was one of many nurses who gathered in Victoria Tower Gardens near Parliament in anticipation of today's announcement, with placards and banners calling for a pay increase of 12.5 per cent.
She described the 3 per cent rise as a "slap in the face" and said a larger pay rise was essential as Covid cases surge.
"On my way home today, I saw politicians were describing nurses and healthcare workers as the backbone of the UK, but they're not showing it by giving them fair pay," she said.
"There's most likely going to be a third wave of coronavirus and we've already got nurses who are financially stretched and now they're going to be even more so, especially if they've got young families that need childcare."
Ms Grigsby, who has two years of training left before she qualifies as a nurse, said some of of her course-mates were questioning if they should drop out following the news.
"They're concerned they will not be able to financially support themselves when they finally graduate," she said.
"That's what is shameful - future nurses are being dissuaded from studying nursing. It's just dreadful."
Read more: Tougher measures to protect women include making street harassment a specific crime
Read more: Minister urges people to isolate when pinged 'even if their wedding's the next day'
Pat Cullen, RCN General Secretary and Chief Executive, said: "After a shambolic day, comes a shambolic announcement. When the Treasury expects inflation to be 3.7%, ministers are knowingly cutting pay for an experienced nurse by over £200 in real-terms.
"Hospitals and other parts of the NHS are struggling to recruit nurses and healthcare support workers. The government has been warned that many more are on the verge of leaving. With today's decision, ministers have made it even harder to provide safe care to patients.
"This announcement is light on detail. It must be fully-funded with additional monies for the NHS and ringfenced for the workforce bill.
"Nursing staff will remain dignified in responding to what will be a bitter blow to many. But the profession will not take this lying down. We will be consulting our members on what action they would like to take next."
Read more: Weather causes chaos as extreme heat and hailstones the size of golf balls hit UK
Read more: James O'Brien's take on Cummings 'using' PM to get 'Brexit con over the line'
The RCN has also criticised the pay increase for NHS workers promised by the Welsh Government, with Director of RCN Wales Helen Whyley calling it "bitterly disappointing".
"This does not reflect the 12.5 per cent ask of the Royal College of Nursing, which would bring nurses in line with other professions and redress the fact that their wages have reduced over the last 10 years," she said.
Chair of the RCN Trade Union Committee, Graham Revie, called the raise "inadequate and irresponsible", and said it compromised "the nursing profession and its patients".
Nursing professionals have kept Wales going throughout the #COVID19 pandemic – today's announcement from the Welsh Government does not reward them with #FairPayForNursing

— RCN Wales (@RCNWales) July 21, 2021
Unison general secretary Christina McAnea said the pay award was "an improvement" on the Government's "earlier, miserly 1% proposal" but it "falls short of what NHS staff deserve".
"It's less than the wage rise given to Scottish health colleagues and not enough to protect the NHS," said Ms McAnea.
"Porters, cleaners, nurses, paramedics and other health workers have waited for months for what they hoped would be a fair deal.
"Ministers could have paid up last year if they really valued the NHS. Instead, staff have been made to hang on until the summer - long after their wage rise was due."