'No evidence of widespread voter fraud', Trump's attorney general says
1 December 2020, 20:25 | Updated: 1 December 2020, 21:31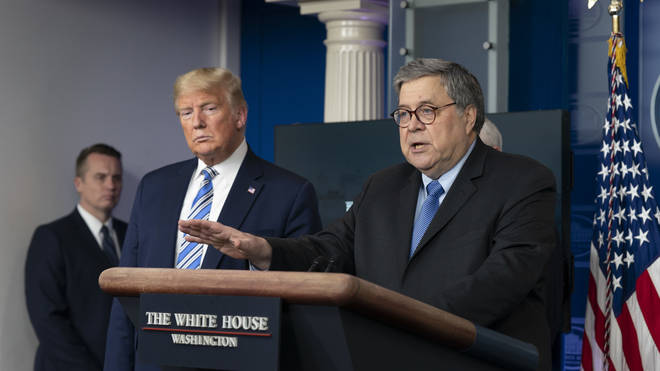 Donald Trump's attorney general William Barr has said there is no evidence of widespread voter fraud on a scale that would change the outcome of the US election.
His comments fly in the face of the president's repeated but unfounded claims that the ballot was undermined by electoral fraud.
The US leader has so far refused to concede to his rival and president-elect Joe Biden despite several of his legal challenges failing to gain ground since the vote.
Speaking in an interview with the Associated Press, Mr Barr said: "To date, we have not seen fraud on a scale that could have affected a different outcome in the election."
Read more: President-elect Joe Biden fractures foot while playing with dog
Read more: Trump 'will leave White House' if electoral college confirms Biden win
The attorney general, who has been one of the president's most loyal allies, is reportedly now in the West Wing following his comments.
However, officials have said his meeting with White House Chief of Staff Mark Meadows was planned before his AP interview, according to CNN's Kaitlan Collins.
Mr Trump's legal team have since responded, saying: "With all due respect to the attorney general, there hasn't been any semblance of a Department of Justice investigation."
It added: "Again, with the greatest respect to the Attorney General, his opinion appears to be without any knowledge or investigation of the substantial irregularities and evidence of systematic fraud."
Mr Barr said US attorneys and FBI agents have been following up specific complaints and information they have received but they have not found any evidence that would change the outcome of the election.
Read more: Trump pardons former aide guilty of lying to FBI over Russia contacts
Read more: Wisconsin recount sees Biden hold state and gain 87 votes
Hope everybody is watching @OANN right now. Other media afraid to show. People are coming forward like never before. Large truck carrying hundreds of thousands of fraudulent (FAKE) ballots to a voting center? TERRIBLE - SAVE AMERICA!

— Donald J. Trump (@realDonaldTrump) December 1, 2020
Prior to the election, he repeatedly suggested mail-in voter fraud could be vulnerable to fraud during the coronavirus pandemic as Americans feared going to polls, choosing instead to vote by mail.
Shortly after Mr Barr's statement was published, President Trump tweeted out more baseless claims of voter fraud.
Last month, the attorney general issued a directive to other US attorneys across the country allowing them to pursue any "substantial allegations" of voting irregularities, if they existed, before the 2020 presidential election was certified, despite no evidence at that time of widespread fraud.
Soon after it was issued, the department's top elections crime official announced he would step aside from that position because of the memo.
Trump's campaign team, led by Rudy Giuliani, has repeatedly claimed Democrats dumped millions of illegal votes into the system with no evidence.
It has filed multiple lawsuits in battleground states alleging that partisan poll watchers did not have a clear enough view at polling sites in some locations and therefore something illegal must have taken place.
The claims have been repeatedly dismissed including by Republican judges who have ruled the suits lacked evidence. Local Republicans in some battleground states have followed the US leader in making similar unsupported claims.
President Trump has railed against the election in tweets and in interviews though his own administration has said the 2020 election was the most secure ever.
He recently allowed his administration to begin the transition over to Mr Biden, but has still refused to admit he lost.