Northamptonshire police chief suspended after he was pictured wearing his brother's Falklands War medal
16 October 2023, 19:07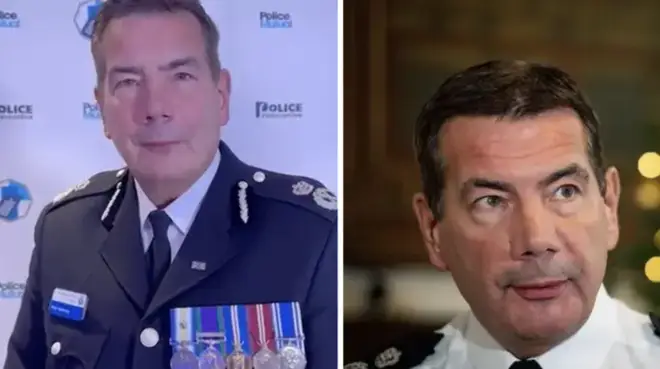 The chief constable of Northamptonshire has been suspended and is facing a criminal inquiry into claims he misrepresented his past by wearing a Falklands War campaign medal.
The Independent Office for Police Conduct (IOPC) said last month that it had begun an investigation into what it described as concerns about Nick Adderley's "potential misrepresentation of his military service".
In a statement issued on Monday, the IOPC said Mr Adderley was due to be interviewed, had been issued with a gross misconduct notice and is under investigation for potential offences of misconduct in public office and fraud.
An IOPC spokesperson said: "The Independent Office for Police Conduct is criminally investigating the chief constable of Northamptonshire over allegations that he has potentially misrepresented his military service, both in public and in communications with the police, fire and crime commissioner.
Read more: Six Brits killed and 10 missing or dead says Rishi Sunak as he condemns Hamas 'pogrom' in Israel
Read more: Top police officer faces probe for wearing Falklands medal despite being too young to fight in the war
"We have advised the chief constable in a criminal letter that we are examining possible offences of misconduct in public office and fraud by false representation.
"After reviewing information gathered so far as part of our investigation, we have also served a gross misconduct notice on the chief constable for potential breaches of police professional standards relating to honesty and integrity, orders, and instructions and conduct.
"The serving of such a notice and letter does not mean that any proceedings will necessarily follow."
The IOPC said it will continue to gather and review evidence as the investigation progresses and "will interview the chief officer in due course".
At the end of the investigation it will decide whether or not to refer a file of evidence to the Crown Prosecution Service to consider any potential offence.
The IOPC spokesperson added: "We will also decide whether the chief constable has any case to answer for disciplinary matters."
News of the criminal inquiry emerged shortly after Northamptonshire Police, Fire and Crime Commissioner Stephen Mold suspended Mr Adderley.
The commissioner said: "Allegations of misconduct must always be fully, independently investigated so that the public have confidence in the integrity of the police service and the processes that independently hold policing to account.
"That independent investigation must now be allowed to take its course and we will not be commenting further on matters related to the investigation."
In a statement issued last month, Mr Adderley said he had always worn his own medals alongside two medals his brothers gave him to wear when one became critically ill and one moved overseas.
As well as expressing disappointment at what said he were "leaked" details of a "very personal family issue", Mr Adderley said he had changed the side of his chest on which he wore his brothers' medals after seeking advice.
Mr Adderley took over as head of the Northamptonshire force in 2018 after joining the police service in 1992 and serving in Cheshire, Greater Manchester and Staffordshire.
He said in a statement issued on September 29: "It is disappointing that someone has leaked such details about what I deem to be a very personal family issue that I have yet to respond to formally.
"Consequently, I am restricted in what I can say, but I have always been keen to respond to such issues directly and openly. Hence, it is important that I state for the public record that I am very proud of my cadet, Royal Navy and police service.
"Having been made aware of this complaint, which has a private family impact upon me personally, I immediately took advice last week regarding the protocol and have changed the side of my chest on which these medals are worn.
"I look forward to providing the IOPC with a fulsome response at the earliest opportunity and I fully appreciate that they have a job to do."
Mr Adderley, who is reported to have been aged 15 during the Falklands War, has been pictured wearing the South Atlantic Medal at numerous events, including an awards ceremony hosted by his force in December last year.