Olivia Pratt-Korbel's mum 'ecstatic' as she leaves court clutching teddy after drug dealer guilty of daughter's murder
30 March 2023, 17:11 | Updated: 30 March 2023, 17:20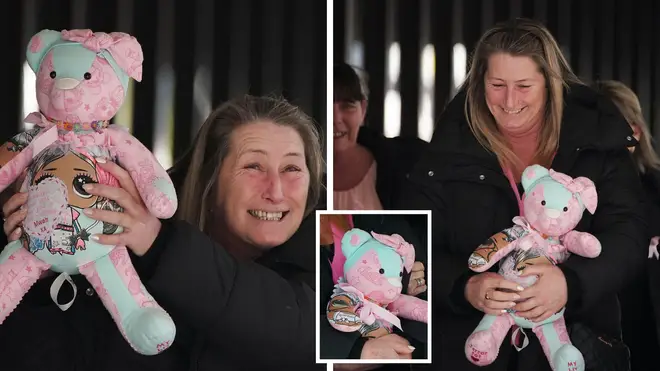 Olivia Pratt-Korbel's mum cracked a smile as she left court clutching a teddy bear after a high-level drug dealer was found guilty of murdering her daughter.
Olivia Pratt-Korbel's mother Cheryl said she was feeling "ecstatic" as she left Manchester Crown Court. She raised a pink teddy bear into the air and shouted "yes!"
It came after Thomas Cashman, 34, was found guilty of the murder of Olivia, the attempted murder of Nee, wounding with intent to do grievous bodily harm to Ms Korbel, and two counts of possession of a firearm with intent to endanger life.
Cheryl sat with her children Chloe and Ryan as the verdict was read out, with them breaking down in tears after he was found guilty.
Read more: 'You're stitching me up': Moment drug dealer who killed Olivia Pratt-Korbel is arrested by armed police
Read more: Drug dealer who shot dead Olivia, 9, as he chased intended target into family home found guilty of her murder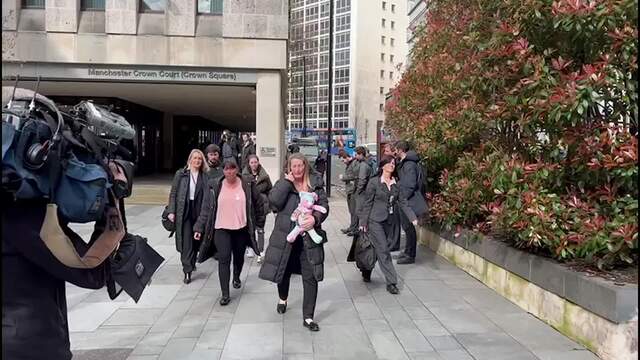 Mother of Olivia Pratt-Korbel leaves court after man is convicted of child's murder
The drug dealer's relatives protested his innocence and his sister left the courtroom shouting and swearing while he shook his head at the verdict.
Cashman had admitted being a "high-level" cannabis dealer but denied being the gunman in the incident, which also injured Olivia's mother Cheryl Korbel, 46, and Joseph Nee, the intended target, in Dovecot on August 22 last year.
During the trial, which lasted more than three weeks, the jury heard the schoolgirl ran downstairs after hearing shots outside, saying "I'm scared mummy, I'm scared".
The bullet which killed Olivia was fired through the front door, hitting Ms Korbel in the hand before striking the schoolgirl in the chest.
Nee, a 36-year-old with a number of previous convictions, was injured before he ran towards the house after three shots were fired from a self-loading pistol in the street on Kingsheath Avenue.
The gunman fired a further two shots from a revolver into the Korbel family home, one which killed Olivia and the other which became lodged in the door.
He then fled the scene, running across back gardens.
The court heard Nee and his family "had their enemies" and it was not the first time he had been targeted in a shooting.