'There are still hurdles to navigate': Government plan to overturn ban on onshore wind farms slammed as 'not far enough'
5 September 2023, 23:28 | Updated: 6 September 2023, 05:22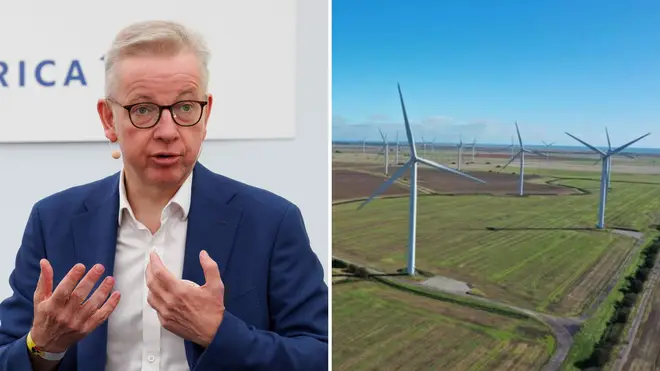 Campaigners have said a government proposal to lift a ban on building new onshore wind farms doesn't go far enough.
Michael Gove announced in a written ministerial statement that communities would be able to apply for onshore wind farms to be built through different routes of the planning system in the hope of speeding up their development.
Councils will also be told to take into account the majority opinion and not just a vocal minority. Communities who are open to onshore wind may also get discounts on their energy bills.
A previous rule in place since 2015 meant that just one objection to could block a new onshore development.
But James Robottom, head of onshore wind at RenewableUK, the industry trade association, said that the proposed changes "don't go far enough."
Read more: Rishi Sunak 'to overturn ban on onshore wind farms' amid concerns over Tory rebellion
Read more: King Charles to divert profits from £1bn offshore wind farm deal for the 'public good'
Ed Miliband expresses his frustration on Sunak's delay in easing ban on new onshore wind farms
"We will still face a planning system stacked against onshore wind that treats it differently to every other energy source or infrastructure project," he said.
"A lot will be open to interpretation and there are still hurdles to navigate which remain in place.
"There has been a slight softening at the edges but nothing more.
"As a result, we're not going to see investment into new onshore wind at the scale needed to rapidly cut bills and boost energy security."
Dhara Vyas, deputy chief executive of Energy UK - which represents the power sector, welcomed ministers' willingness to make onshore wind development more accessible, but said it is still treated as an outlier.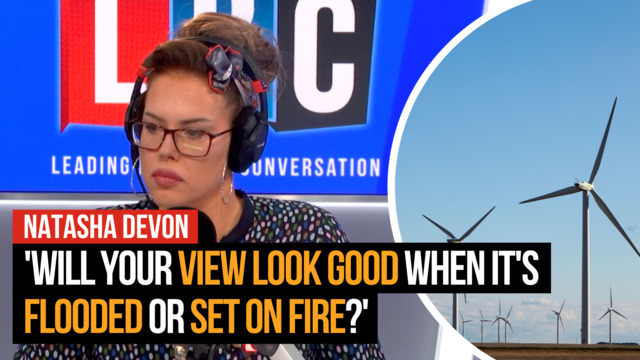 Why should wind turbines ruin my view, asks caller David
She said: "While today's statement confirms the changes the Government proposed last year, it has not, as yet, put onshore wind in the position where it is treated the same in the same way as other infrastructure planning applications.
"Without that, this will represent a missed opportunity as developers will remain reluctant about committing the time and expense of putting forward new onshore projects knowing they still face a higher risk of being blocked."
The new Secretary of State for Energy Secretary and Net Zero, Claire Coutinho, described onshore wind as having a "key role to play", adding that the new changes will "speed up delivery of projects where local communities want them".
Onshore wind farms have received strong opposition from other Conservative MPs over the years, who see them as a blight on the British countryside.
Energy experts have calculated that a lack of onshore wind is costing UK households £5.1 billion extra on their energy bills.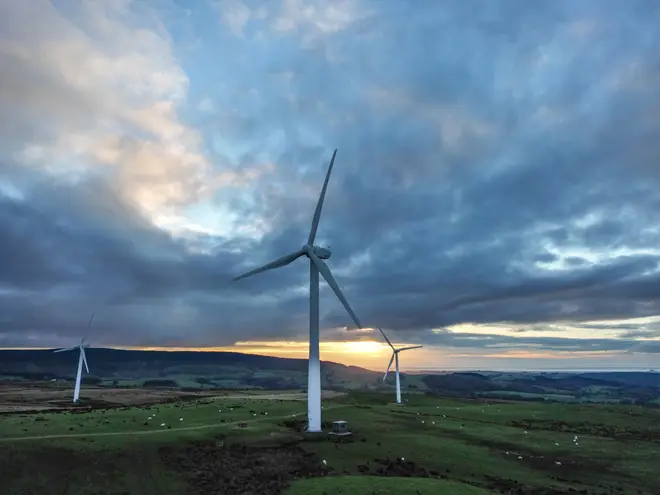 Bob Ward, policy and communications director at LSE's Grantham Research Institute, said: "It is good that the Government has taken this decision, but it is long overdue.
"Onshore wind is the cheapest form of clean energy and it was sheer madness for the Government to have maintained barriers to new developments during an energy crisis that was triggered by our dependence on natural gas.
"We have all been poorer and colder because of the effective ban on onshore wind."
Mr Gove's statement came as former Cop26 president Alok Sharma was set to propose an amendment to the Energy Bill that would end the effective ban on new onshore wind farms while requiring the government show developers how local communities support their plans and how wind farms can provide financial benefits.
Mr Sharma withdrew his amendment when Mr Gove made his statement.
It comes after MPs voted 280 to 19 on Tuesday evening to give the Energy Bill a third reading.
The bill seeks to reduce dependence on fossil fuels, unlock investment in low-carbon energy technologies, increase resilience and produce more energy in the UK, and lower energy bills in the longer term.