Harry hints he may skip Jubilee but still has 'special relationship' with The Queen
20 April 2022, 05:55 | Updated: 20 April 2022, 15:16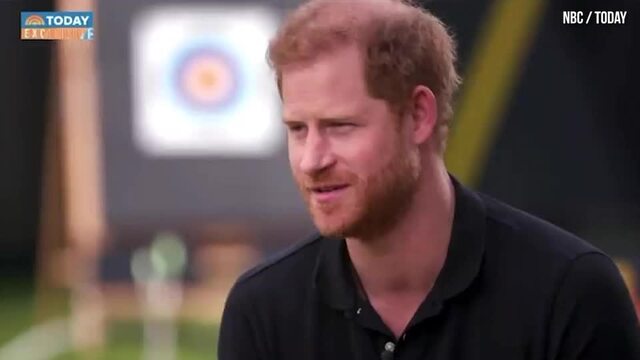 Prince Harry says he's ensuring the Queen is 'protected' in Today show interview
Prince Harry has said he does not yet know if he will attend the Queen's Platinum Jubilee due to a wrangle over security arrangements but insisted he has a 'special relationship' with Her Majesty.
In an interview on NBC's Today show, Harry was asked about his relationship with the Queen, saying: "We talk about things that she can't talk about with anybody else, so that is always a nice peace to her.
"But I think she's... I think after a certain age you get bored of birthdays". He added that he didn't think she would be bored ahead of the Platinum Jubilee celebrations in June.
"She's had a few Jubilees now, every one is slightly different," said Harry.
NEW: Prince Harry on whether he's attending the queen's Jubilee this year: "I don't know yet. There's lots of things: security issues and everything else. So this is what I'm trying to do, trying to make it possible that, you know, I can get my kids to meet her." pic.twitter.com/180vYIj33L

— TODAY (@TODAYshow) April 20, 2022
Asked if he would attend, he said: "I don't know yet. There's lots of things, security issues and everything else.
"So this is what I'm trying to do, trying to make it possible that, you know, I can get my kids to meet her."
Harry said the Queen was "on great form" during their recent meeting but added he wanted to make sure that she was "protected" and had "the right people around her".
He and his wife Meghan Markle visited the monarch and met with the Prince of Wales in Windsor on Thursday, having flown in from their home in the US before travelling on to The Hague in the Netherlands for the Invictus games.
It is the first time the couple had been seen together publicly on this side of the Atlantic for two years amid a security row with the Home Office.
Speaking to NBC's Today show about his meeting with the Queen, he said "Being with her it was great, it was just so nice to see her, she's on great form.
"She's always got a great sense of humour with me and I'm just making sure that she's protected and got the right people around her.
"Both Meghan and I had tea with her, so it was really nice to catch up with her."
Read more: Harry 'won't rest' until world is 'fairer, safer and more equal' for Archie and Lilibet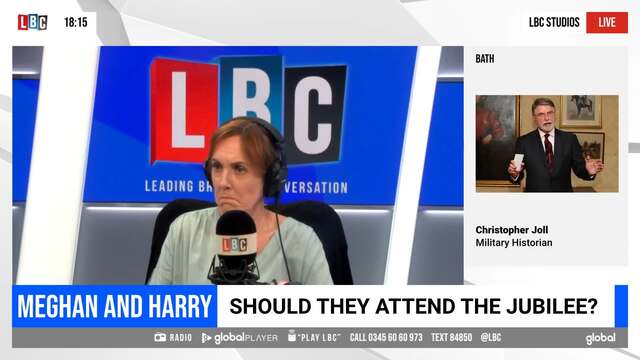 'They have put themselves in a very awkward position.'
It comes days ahead of the monarch's 96th birthday on Thursday and just over a year after the funeral of her husband the Duke of Edinburgh.
Harry said: "Home for me now, for the time being, is in the States and it feels that way.
"We've been welcomed with open arms and have such a great community up in Santa Barbara."
The couple moved to Montecito, California, following their decision to step down as senior royals in 2020, saying they wanted a new life of personal and financial freedom.
Harry flew back from California, without Meghan who was heavily pregnant at the time, to attend his grandfather's funeral in Windsor in April 2021.
He also returned to the UK to unveil the statue of his late mother Diana, Princess of Wales on July 1 2021 with his brother the Duke of Cambridge.
His full interview with NBC is due to air on Wednesday.
Read more: Queen 'won't attend any royal events unless Palace confirm attendance on the day'
Why the treatment of Harry and Meghan is pathetic
It comes after the Duke said he "can't wait" to take his children to the Invictus Games in the future.
Harry, who founded the event for injured servicemen and women in 2014, has been attending this year's games in The Hague, The Netherlands, with the Duchess of Sussex.
Speaking to People magazine, the duke, 37, said he was a "proud papa" after 10-month-old Lilibet took her first steps a few days ago, and "can't wait" to take her and Archie, two, to future events.
"I showed Archie a video of wheelchair basketball and rugby from the Invictus Games in Sydney, and he absolutely loved it," he said.
"I showed him how some were missing legs and explained that some had invisible injuries, too," he added.
"Not because he asked, but because I wanted to tell him.
"Kids understand so much, and to see it through his eyes was amazing because it's so unfiltered and honest."
Read more: Meghan says she 'could not love and respect' Harry more during Invictus Games ceremony
Harry also told the magazine becoming a parent had added "another emotional layer" to his view of the games, as he thought about his own desire to leave the army before starting a family, to spare them the "heartache" of separation and the fear of him coming home injured.
He said: "Every member of the Invictus community has experienced varying degrees of these things.
"I have tremendous respect for what they and their families sacrifice in the name of service."
The duke himself served two tours in Afghanistan, including as an Apache helicopter pilot.
Harry also said that to have Meghan by his side at this year's games "means everything", after making their first public appearance together at the Toronto games in 2017.