Pro-Palestine activists smear weapons firm HQ with red paint in protest as Jewish prayers 'broken up' at St Pancras
2 November 2023, 13:20 | Updated: 2 November 2023, 14:16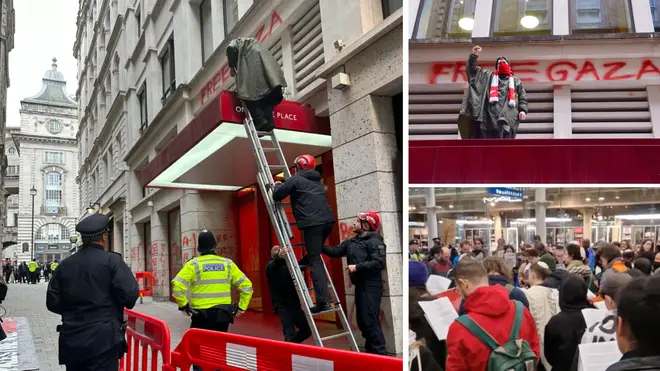 Pro-Palestine activists have smeared a weapons firm's HQ in red paint as part of a 'Free Gaza' protest.
Palestine Action activists smeared red paint over the Foreign Office and aerospace firm Leonardo's on Thursday morning, claiming it had supplied Israel with fighter jets. 
One protester could be seen spraying messages calling for an end to the conflict in the Middle East at the HQ.
Four hours after the protest began, one of the activists involved could still be seen on the roof as police awaited equipment to remove him.
The group claims it is "the direct action network dismantling British complicity with Israeli apartheid".
Two people have since been arrested on suspicion of racially aggravated criminal damage, which is being investigated as a hate crime.
Read more: M&S apologises over Instagram post after burning green and red Christmas hats compared to Palestinian flag
Read more: Masked men unleash 'mice attack' on third McDonald's branch amid slew of 'free Palestine' protests at chain
BREAKING: Palestine Action occupy and spray weapons firm Leonardo's London HQ, suppliers of weaponry for Israel's fighter jets.

106 years ago today, Britain signed away the land of Palestine. It's now up to the people to end the ongoing complicity in genocide! #Balfour106 pic.twitter.com/NOEWDh0TIp

— Palestine Action (@Pal_action) November 2, 2023
The Met said in statement: "Two men have been arrested on suspicion of racially aggravated criminal damage, which we are investigating as hate crime.
"Messages about the conflict between Israel and Hamas have been painted onto the building in red paint, which has also been thrown at it.
"We have no tolerance for graffiti with a hate connotation in London.
"One of the men who climbed onto the canopy above the building was safely removed by officers.
"Both men are in police custody."
There was also disruption at St Pancras station as a group of Jewish people came together to pray at the station before it turned into a clash with police as they attempted to break the crowd up.
Pro-Palestine protesters could be seen holding signs reading "Stop bombing Gaza. Not in our name" and "Jews say ceasefire now".
British Transport Police said: "Just after 8am today (2 November), our officers attended a sit-in protest at St Pancras railway station. 
"The group were reported to be peaceful and there were no reports of disorder. There was no impact on the station services and by 8.45am the group had moved on.
"Anyone wishing to make a report related to this incident can text 61016 or call 0800 40 50 40 with reference 116 of 2 November 2023."