PM hails 'moment of pride' as Covid restrictions scrapped but says virus isn't beaten yet
21 February 2022, 16:42 | Updated: 21 February 2022, 23:16
Boris Johnson says 'our scientists are certain that there will be new variants'
Boris Johnson has hailed a "moment of pride for our nation" as he announced an end of Covid restrictions in England, but warned "the pandemic is not over".
Flanked by chief medical officer Sir Chris Whitty and chief scientific adviser Sir Patrick Vallance, the PM said: "Today is not the day that we can declare victory over Covid because this virus is not going away, but it is the day when all the efforts of the last two years finally enable us to protect ourselves whilst restoring our liberties in full.
"After two of the darkest. grimmest years in our peacetime history, I do believe this is a moment of pride for our nation and a source of hope for all we can achieve in the years to come."
He warned during a Downing Street press conference that "there may be significant resurgences" of Covid-19 and "our scientists are certain that there will be more variants and it is very possible that those will be worse than Omicron".
EXPLAINED: Living with Covid plan: How Britain is set to change in the days ahead
READ MORE: Spring Covid booster jab approved for elderly and vulnerable people
But he added vaccines and treatments would help protect the most vulnerable.
The number of people with Omicron is still "very high" and there is still "quite a lot of pressure" on hospitals, Prof Whitty said.
He also warned of new variants, saying some "will just disappear, but some of them will cause us significant problems".
He urged people to continue to self-isolate, saying "in terms of public health advice, and this is very much the Government's position... people should still if they have Covid try to prevent other people getting it and that means self-isolating".
Prof Whitty said, while there remain a significant number of cases, maximising ventilation, hand washing and using face masks in enclosed, crowded spaces remain important.
Chris Whitty says those who have Covid should still self-isolate
Today's announcement means England will become one of the first countries in the world to go without any pandemic measures whatsoever.
Mr Johnson earlier told the House of Commons "we now have sufficient levels of immunity" to rely on vaccines and treatments "as our first line of defence".
The requirement to self-isolate after testing positive will be lifted from Thursday, he said.
"Routine" contact tracing will end, as will the need for fully vaccinated close contacts of positive cases and those aged under 18 to test daily for seven days. Unvaccinated close contacts will no longer have to self-isolate.
The £500 isolation payment for people on low incomes will no longer be available from Thursday, while increased statutory sick pay will apply for a further month.
Free rapid tests will end in England on April 1. Only the oldest and most vulnerable will continue to receive them for free.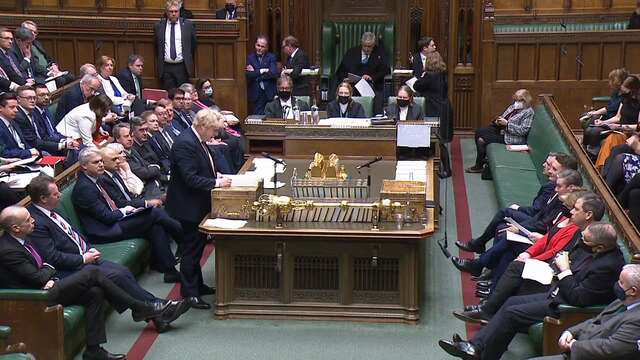 PM: 'We will remove all remaining domestic restrictions in law'
The guidance for twice-a-week testing in schools and education is also ending.
The use of voluntarily Covid status certification will no longer be recommended, Mr Johnson said, adding: "The NHS app will continue to allow people to indicate their vaccination status for international travel."
He said "targeted vaccines and treatments" will be in place for the most vulnerable, adding a new spring booster is being offered to those aged 75 and older, to older care home residents and to those over 12 who are immunosuppressed.
The PM said, with "considerable uncertainty about the future path of the pandemic", the ONS infection survey "will allow us to continue tracking the virus in granular detail".
"Covid will not suddenly disappear so those who would wait for a total end to this war before lifting the remaining regulations would be restricting the liberties of the British people for a long time to come," he concluded.
"This government does not believe that is right or necessary. Restrictions pose a heavy toll on our economy, our society, our mental wellbeing and on the life chances of our children, and we do not need to pay that cost any longer."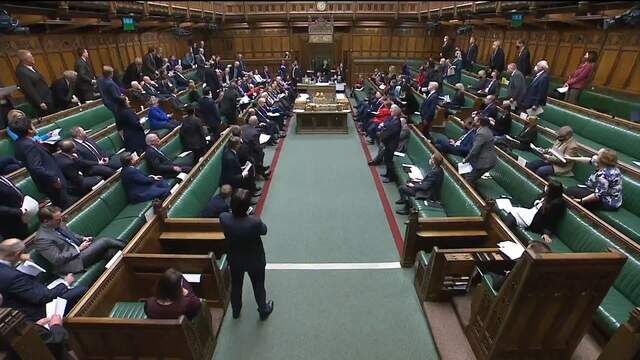 Matt Hancock: 'We're the first major country in the world to be past the pandemic'
Labour leader Sir Keir Starmer told MPs "this is a half-baked announcement from a government paralysed by chaos and incompetence".
"Our plan would see us learn the lessons of the past two years and prepared for new variants", he said, adding the Government's "approach will leave us vulnerable,".
"Free tests can't continue forever, but if you're 2-1 up with 10 minutes to go you don't sub off one of your best defenders," Sir Keir said.
He called on the Government to publish the scientific evidence behind removing the requirement to self-isolate "including the impact on the clinically extremely vulnerable".
And he said, on removing self-isolation support payments and weakening sick pay: "These are decisions which will hit the lowest paid and the most insecure workers the hardest."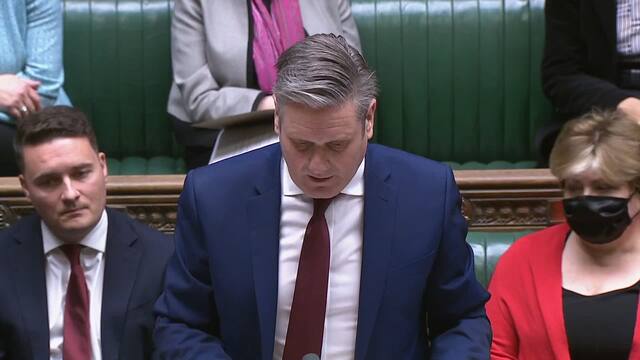 'This is a half baked announcement from a govt paralysed by chaos'
It comes after a key Cabinet meeting to sign off on dropping restrictions was delayed earlier after a "row" reportedly broke out between ministers.
Reports suggest disagreement between Health Secretary Sajid Javid and Chancellor Rishi Sunak over testing.
No10 said it was pushed back while the Prime Minister was briefed, but the meeting was later reconvened and ministers agreed on the plan.
The delay was described by one government source quoted by The Telegraph as a chance for "ironing out some last minute glitches".
It was said Mr Sunak and Mr Javid were not seeing eye-to-eye over the scale of Covid testing in the future.
A No10 spokesman later said: "Cabinet gave unanimous backing to the living with Covid strategy."
Plan B measures designed to slow the spread of Omicron, such as the requirement to wear masks in public places and the use of Covid passes for large events, were abolished in England last month.