Police will clamp down on Hamas-related clothing and anti-Jewish chanting amid new security measures
13 October 2023, 09:46 | Updated: 13 October 2023, 09:52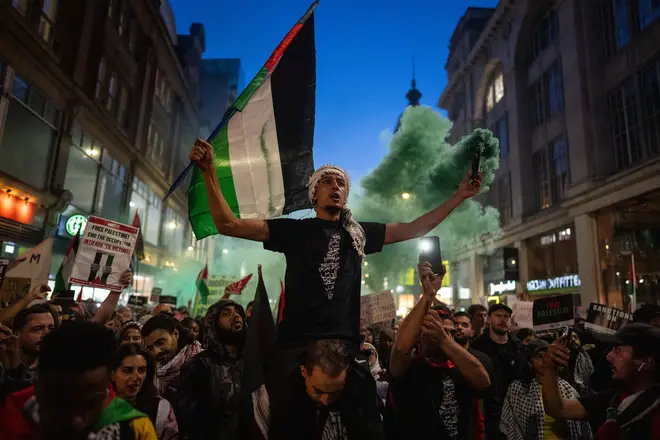 Police will crack down on Hamas clothing and anti-Jewish chants at UK protests over Israel-Gaza, as authorities aim to control unrest but avoid inflaming tensions.
The chair of the Association of Police and Crime Commissioners has suggested officers will clamp down on Hamas-related clothing and anti-Jewish chanting, as part of greater security measures in the UK to control unrest over the conflict between Israel and Gaza.
Speaking about a meeting chaired by the Prime Minister at Downing Street yesterday morning, Donna Jones told LBC's Nick Ferrari at Breakfast: "It was about the preparations for this weekend.
"There is a pro-Palestine protest planned in central London which the Met are expecting over 10,000 people to attend on Saturday, so it was the Met officer providing reassurance to the Prime Minister, the Home Secretary and Michael Gove (Communities Secretary), who was also present at the meeting.
"It was also the Home Secretary and Prime Minister reiterating their strength of feeling around the fact that people using flags or wearing particular items of clothing or masks indicating support of Hamas is in fact an offence under terrorist law, because they are a proscribed terrorist organisation."
Read more: FA's refusal to light Wembley with Israel colours 'mind-blowing,' Lord Mann tells LBC
Read more: 'This is for Palestine': Fury as women in London rip down posters of missing children kidnapped by Hamas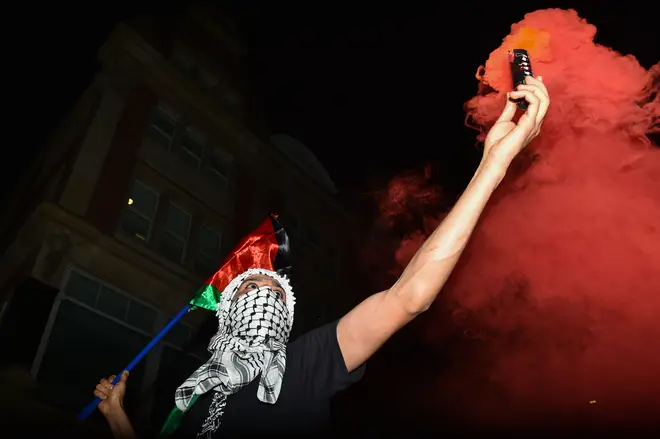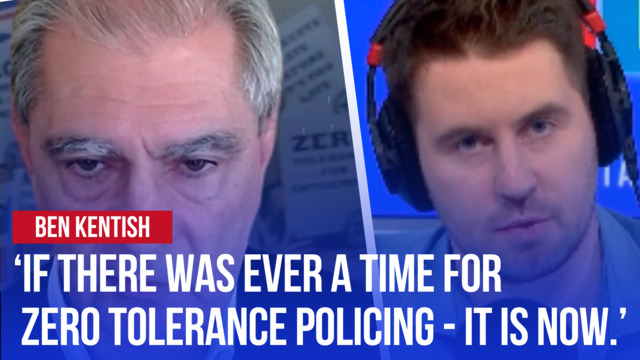 Stephen Silverman stresses the spike in anti-semitism in the UK to Ben Kentish
Pushed for clarification on the issue, she confirmed it was not an offence to carry a Palestinian flag.
Ms Jones, also the acting Conservative police and crime commissioner for Hampshire and the Isle of Wight, continued: "Whilst the Government's position is very much supporting Israel and the atrocious attacks that have happened on the Israeli people... there are people who of course do empathise with those that live on the West Bank and people that represent the Palestinian region of that part of the Middle East, and of course this then does bring into play religion.
"We have to be really careful in Britain - we don't want to inflame the situation."
She added the police were also looking at chants such as "From the River to the Sea" as "a slogan which is intended to cause deep offence to Jewish people".
Rishi Sunak convened representatives from UK policing and the Jewish community with ministers at Downing Street on Thursday for discussions on policing protests.
The roundtable, chaired by Home Secretary Suella Braverman, comes ahead of expected protests and marches taking place across the UK this weekend.
No 10 said specific guidance will be provided to police on the beat on where and when to intervene.
Earlier this week, Mrs Braverman wrote to police chiefs saying that waving a Palestinian flag and chanting pro-Arab songs could amount to a public order offence if it could be deemed to be in support of terror atrocities.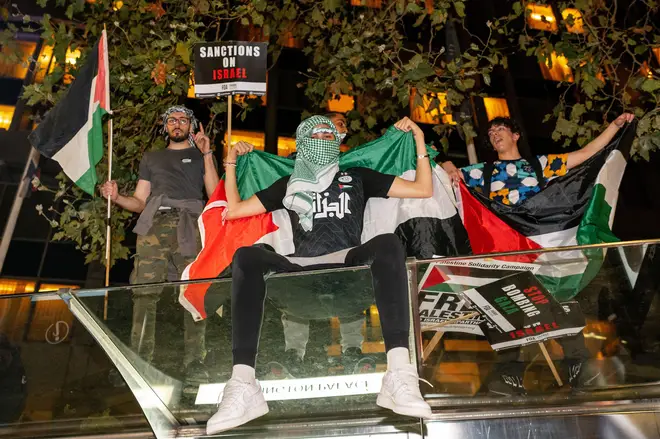 Ms Braverman said that police forces should use the "full force of the law" to prevent harassment of the UK's Jewish community in the wake of events in Israel.
In her letter to police chiefs in England and Wales, she said: "It is not just explicit pro-Hamas symbols and chants that are cause for concern.
"I would encourage police to consider whether chants such as 'From the river to the sea, Palestine will be free' should be understood as an expression of a violent desire to see Israel erased from the world, and whether its use in certain contexts may amount to a racially aggravated Section 5 public order offence."
The Home Secretary said: "I would encourage police to give similar consideration to the presence of symbols such as swastikas at anti-Israel demonstrations. Context is crucial.
"Behaviours that are legitimate in some circumstances, for example the waving of a Palestinian flag, may not be legitimate such as when intended to glorify acts of terrorism.
"Nor is it acceptable to drive through Jewish neighbourhoods, or single out Jewish members of the public, to aggressively chant or wave pro-Palestinian symbols at."
She said that she expects "the police to use the full force of the law against displays of support for Hamas, other proscribed terrorist groups or attempts to harass and intimidate British Jews".