Police seek 15 people after pro-Palestinian convoy halted traffic on busy London roads
20 November 2023, 08:54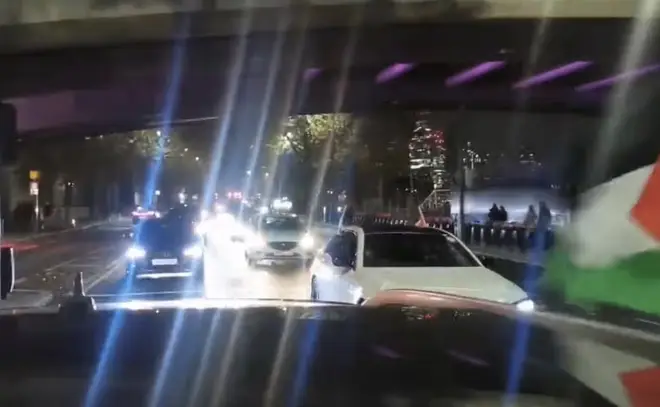 Police are working to trace 15 people who took part in an 80-strong car convoy showing support for Palestine.
Scotland Yard said the large convoy of cars showing Palestinian flags drove through central London at 10.15pm on Saturday night.
The cars set off from a car park in Hancock Road, Tower Hamlets earlier in the evening.
One vehicle was seized, multiple penalties were handed out to 18 drivers and a dispersal order was put in place after the police stopped the convoy in South Kensington.
But police have now said the convoy stopped twice, on the A13 and in the Limehouse Link Tunnel, causing danger to other road users.
They now want to identify 15 people who took part.
Police have released images of the people they want to trace after images and video emerged on social media.
Temporary Commander Karen Findlay, who led the weekend's policing operation, said: "On some previous occasions, convoys of cars have passed through Jewish communities with occupants waving flags and shouting antisemitic abuse. They understandably caused significant concern, fear and upset.
"As soon as the convoy was spotted, a plan was put in place quickly to ensure the convoy would not reach areas where its presence would inevitably cause alarm and intimidation.
"Our inquiries have not only revealed the extent of their dangerous antics on major roads, they've also established the group had plans to move on from Exhibition Road to the Israeli Embassy off Kensington High Street.
Read more: Man arrested after manhunt over death of woman found injured at home in West Yorkshire
Read more: Royal Navy nuclear sub saved from crushing depths moments before near-miss that almost killed 140 on board
"Our intervention on Saturday night was effective in stopping this convoy in its tracks, but now we need to identify those we suspect of being involved in offences earlier on their route.
"The public have been a great help in recent weeks when similar appeals have been made and I have no doubt they'll continue to do the same."
Anyone with information can call 101 and reference 4237915/23 and the number in the bottom corner of the images.