Volunteers fear birds contaminated by oil after 200 barrels leak into Poole Harbour
27 March 2023, 14:36 | Updated: 27 March 2023, 15:35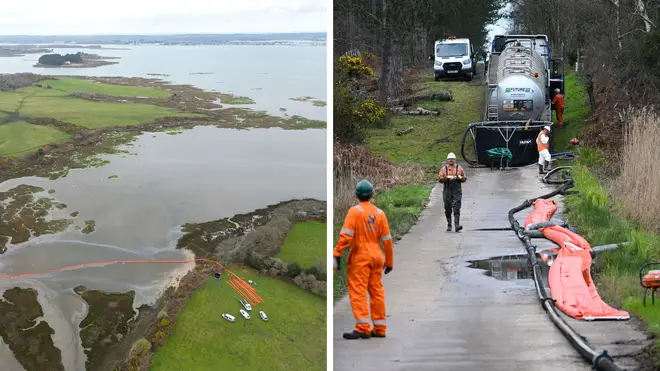 The Poole harbour oil spill is feared to have contaminated birds in oil as volunteers race to assess how badly wildlife has been affected.
Some 200 barrels of oil and reservoir fluid spilled into Poole Harbour in Dorset, leading to authorities telling people not to go into the water.
The spill took place from a Perenco onshore oil field at nearby Wytch Farm under Owers Bay on Sunday.
Peter Robertson, senior site manager at RSPB Arne, which borders the harbour, said: "We have received reports of oiled birds in the area and we are monitoring the situation closely.
"The area is home to numerous bird species such as black-headed gull, Mediterranean gull, redshank and oystercatcher which breed on the coastline, and many other waterbirds which rely on the harbour mudflats for food.
"There are wintering avocet, black-tailed godwit and curlew still present in the harbour. There may also be a risk to the many birds that fish in the harbour, such as sandwich terns and ospreys."
Brian Bleese, the chief executive of the Dorset Wildlife Trust, said: "It is of deep concern for us because it's an area that's very special for wildlife."
He said a handful of seabirds look like they have been contaminated with oil, according to reports passed to his group.
Animals in the area include sea bass and breeding grounds for the only two seahorse species in the UK – the short and long-snouted seahorse.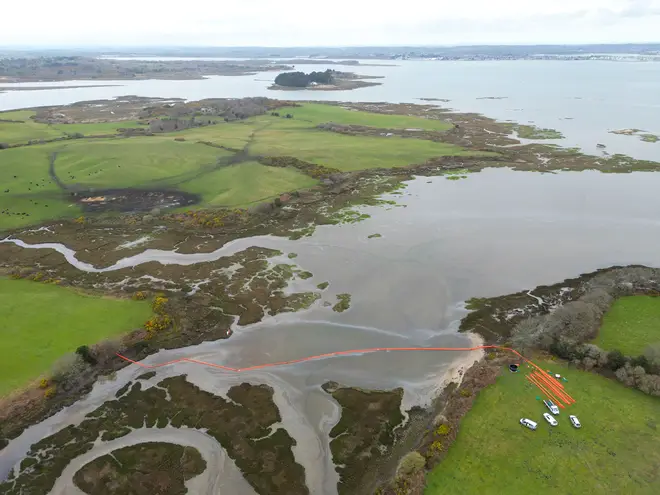 "We hope it doesn't get to the point where we're gathering seabirds and having to scrub them clean. What we do want to see is Perenco take all appropriate action," Mr Bleese added.
Perenco said a "full investigation" would be carried out into what had happened and added that the leak was "under control".
Each of the 200 barrels contains around 160 litres of fluid, which is 85% water and 15% oil.
"The exact amounts discharged are not yet known. It was a limited amount which was quickly stopped, contained and is being cleaned," the business said previously.
Some 100 people are involved in the clean up, with aerial footage suggesting there a reduction of 70% of oil sightings.
The harbour is a Site of Special Scientific Interest (SSI) due to its large wading bird population. Local charity Birds of Poole Harbour said the site was "an incredibly important area environmentally".
Poole Harbour Commissioners (PHC) warned anyone who has come into contact with the spill to wash immediately.
Read more: Children as young as eight strip-searched by police, report into 'deeply concerning' practices finds
Read more: Headteacher sacked for showing kids pictures of Michelangelo's naked David is invited to Italy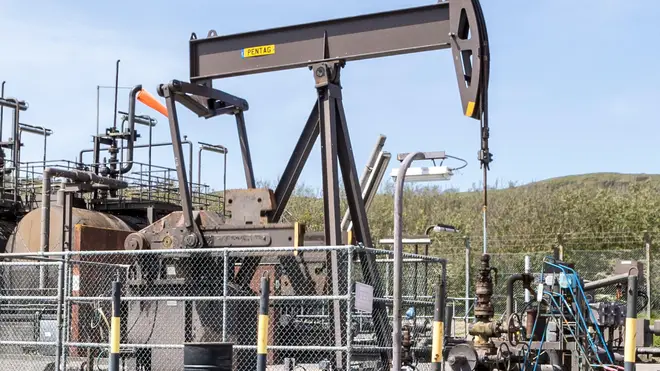 PHC said: "It is estimated that approximately 200 barrels of reservoir fluid has been released into the water column in Poole Harbour.
"Anyone who has come into contact with the spill should wash immediately with soap and water. If eyes have come into contact with the spill, they should be rinsed with water."
PHC added that companies specialising in oil spill clean ups have also been called to the scene.
Wytch Farm pipeline manager Franck Dy insisted the spill is under control.
He said: "Any spill is an extremely serious matter and a full investigation will be launched to ascertain what happened in Poole Harbour.
"It is important to stress that the situation is under control, with the discharge of fluids having been stopped and the spill is being contained."
Bournemouth Christchurch and Poole council leader Philip Broadhead confirmed that a major incident had been declared on Sunday evening.
He added in a Twitter statement: "All partner agencies are working closely together to ensure all measures needed are being enacted."
Poole's is the largest natural harbour in Europe.
Birds of Poole Harbour founder Paul Morton said: "The fact it's happened right in the middle of such an environmentally important area is incredibly worrying.
"Poole Harbour hosts nationally and internationally important numbers of wetland birds each winter and equally important numbers of other species."
He said that several species of birds are arriving or are expected to arrive in the harbour soon as part of seasonal migration patterns, including the only pair of osprey in southern Britain.
Mr Morton added: "When it comes to an issue like this there are several areas of concern. One is that any birds that come into physical contact with this substance can see their feathers damaged and become less water resistant. The substance will also encourage any affected birds to preen constantly, meaning they could ingest the hazardous liquid.
"The other unknown is how much of the oil will settle on the mud and harbour shorelines and what impact that will have on marine invertebrates.
"There are so many unanswered questions currently, although thankfully, as of yet there have been no confirmed reports of any birds showing signs of distress as a result of the incident, although it is still early days."