Pressure grows on Lib Dems to suspend 'disgraceful' peer after she 'posted propaganda that fuels anti-Semitism'
7 November 2023, 08:54 | Updated: 7 November 2023, 13:34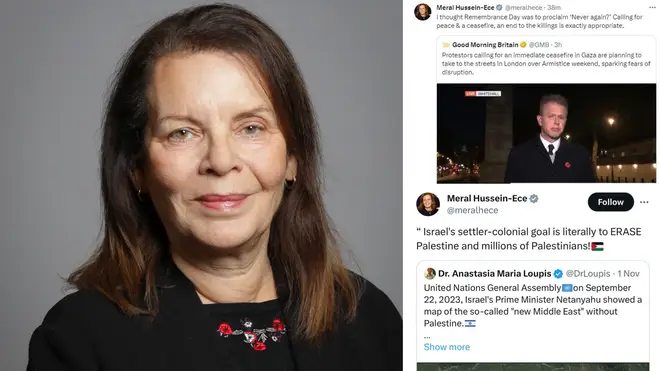 The Liberal Democrats are under increasing pressure to suspend one of their prominent members of the House of Lords.
Baroness Hussein-Ece has represented the party in Parliament since 2010, and was previously on the frontbench as the Lib Dem spokesperson for Women and Equalities. 
However, comments unearthed by LBC show that the peer has repeatedly described Israel's actions as "genocide", has "incessantly faulted Israel" for the bombing of the Al-Ahli Arab Hospital and has shared posts claiming no one in Gaza has committed a "single act of violence". 
In response a spokesperson for the Campaign Against Antisemitism (CAA) told LBC: "Some of Baroness Hussein-Ece's comments on social media are over the line.
"This is tantamount to the sort of propaganda that fuels antisemitism in the UK. A peer of the realm should know better."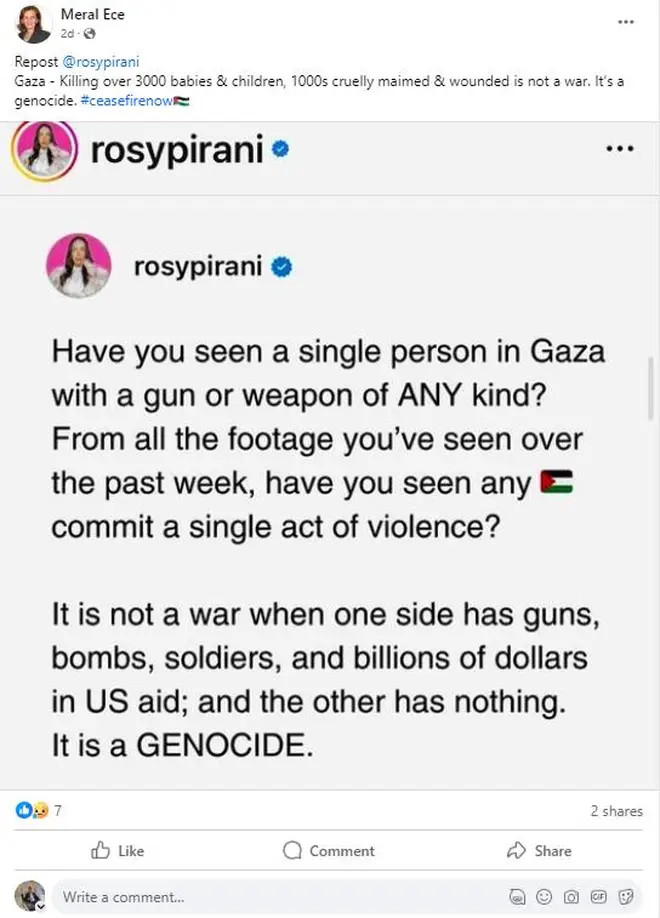 Since the attacks by Hamas in Israel on October 7, Baroness Hussein-Ece, who has also previously been both a Labour and Lib Dem councillor, has repeatedly described the Israeli government's subsequent actions as a "genocide".
On Facebook she recently posted pictures of a pro-Palestinian march in London and described the actions as a "massacre of Palestinian people".  
Meanwhile, on the 27th October the peer tweeted: "Western leaders are complicit in this genocide". 
Speaking to LBC News, Lib Dem Chief Whip Wendy Chamberlain said it was right Baroness Hussein-Ece apologised but would not be drawn on if the peer should be thrown out of the party.
"Those posts were offensive, and I think it's right that Baroness Hussein-Ece has apologised, and has agreed to undertake training."
When Simon Conway pointed out she was still sitting on the Lib Dem benches Ms Chamerlain said: "I think it is right that she's agreed to undertake training, and hopefully we can learn the lessons and move forward from this."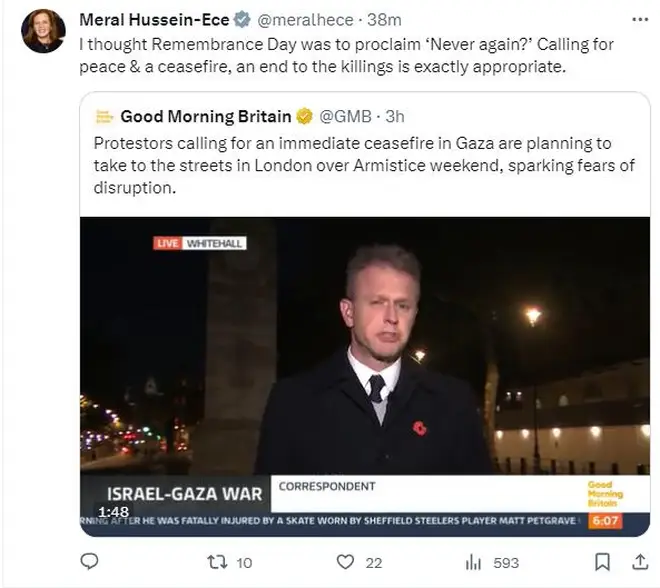 Read More: Gaza becoming a 'graveyard for children', UN chief warns, after Hamas claims death toll 'passes 10,000'
Read More: More than 10,000 killed in Gaza since the start of the war, Hamas claims, after Israel carries out strikes overnight
One post particular which has prompted anger from the CAA was just last week, when Baroness Hussein-Ece tweeted: "I thought Remembrance Day was to proclaim 'Never Again?' Calling for peace & a ceasefire, an end to the killings is exactly appropriate".
The CAA spokesperson added to LBC: "Describing Israel's self-defence in Gaza as a betrayal of the principle of 'Never Again' is dangerously close to a comparison of Israel to the Nazis, which is a breach of the International Definition of Antisemitism".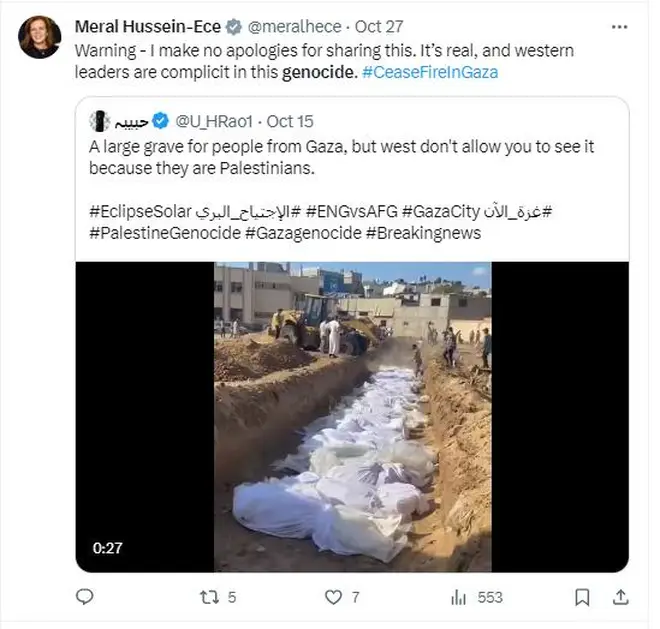 The UK's Special Envoy for Post-Holocaust issues Lord Pickles told LBC: "This is in clear breach of the International Holocaust Remembrance Alliance's definition of Antisemitism.
"It's one of the examples given to compare Israel to the Nazi's. It wasn't the Israeli's who came out in the early light of the 7th October like a 'nazi death squad' to murder people on the basis of their race, it was Hamas."
Other comments by Baroness Hussein-Ece, who was also a commissioner on the Equality and Human Rights Commission, include sharing a post from Instagram in which it questions "have you seen a single person in Gaza with a gun or weapon of ANY kind?... Have you seen any [Palestinian Flag] commit a single act of violence. It is not a war when one side has guns, bombs, soldiers, and billions of dollars in US aid; and the other has nothing. It is a GENOCIDE."
The peer has also come under criticism for claiming it was Israel who bombed Gaza's Al-Ahli Arab Hospital. In tweets, which are still on her 'X' feed, she says in two separate posts: "Bombing a hospital is a war crime. No excuses #GazaUnderAttack", and "Now let's fear whether bombing a hospital is ok".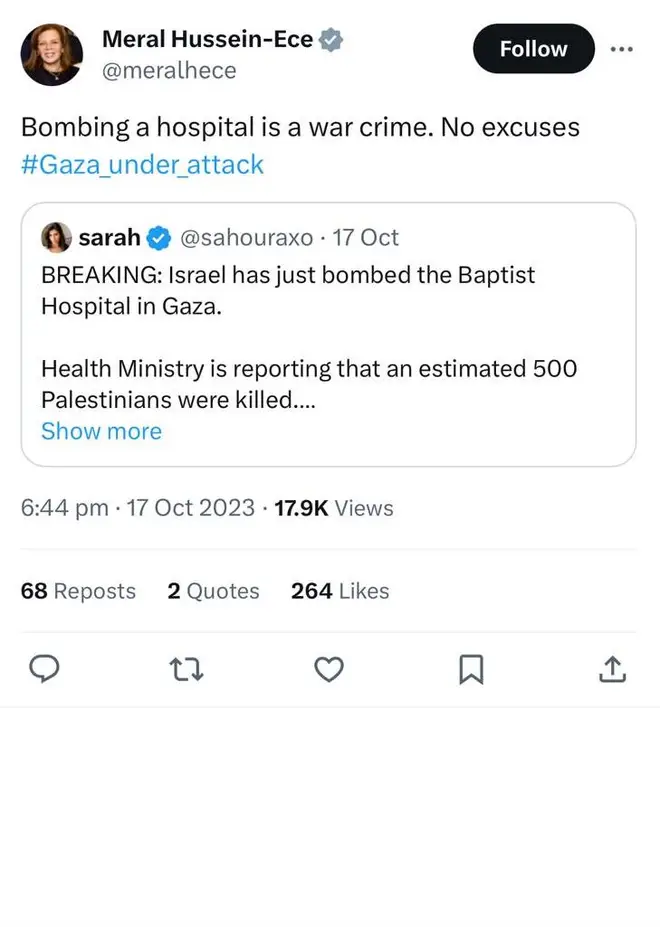 These claims are despite the intelligence services in the US, Canada, France and Britain indicating that the origins of the explosion were likely from within Gaza.
Similarly, on November 1st the peer shared a quote saying "Israel's settler-colonial goal is liberally to ERASE Palestine and millions of Palestinians".
In response the Campaign Against Antisemitism labelled her comments as the "incessant faulting of Israel for the bombing of a hospital that quickly emerged to have been the fault not of Israel at all but of a terrorist group's errant rocket, is disgraceful". 
The Campaign Against Antisemitism have confirmed they will be officially writing to the Liberal Democrats after the revelations by LBC.
Lord Pickles, who was a formerly a Cabinet Minister and Chairman of the Conservative Party said if the peer was a Conservative "she would be immediately suspended for these allegations to be investigated.
And if she is guilty, she would be expelled".
The Chair of Liberal Democrat Friends of Israel, Gavin Stollar told LBC: "Using the phrase 'never again' in the context of the current conflict between Israel and Hamas in Gaza is as ill-considered and inappropriate as it is offensive. This is not a phrase to be bandied about in this way".
He added: "Baroness Hussein-Ece should reflect on her language. I'm pleased that she has tweeted that her comments were offensive, unequivocally, and that she has apologised for that. And I'm pleased she has opted to engage in antisemitism educational training."
Baroness Hussein-Ece has since said in an online statement: "A few of my tweets about Israel / Gaza were offensive and have upset people and I'm sorry. I am deeply worried about the humanitarian situation in Palestine and Israel and those who have lost loved ones.
"This is not about me. I have undertaken to take part in the holocaust awareness training along with other Lib Dems Peers to ensure continuing advocacy for peace in the Middle East in a way that is sensitive and effective for all our communities."
In response, the Liberal Democrats have confirmed they are looking into the comments.