Prince William put on the spot by schoolboy's cheeky question about his bank balance on visit to youth project
17 November 2023, 13:39 | Updated: 17 November 2023, 13:44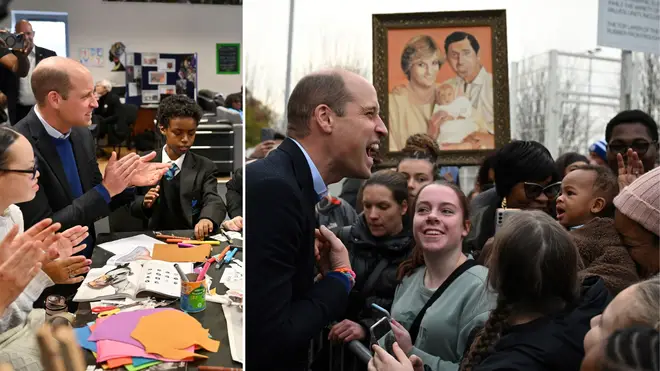 The Prince of Wales was put on the spot when a cheeky boy asked how much was in his bank account during a visit to Manchester's Moss Side.
William was joined by the Mayor of Greater Manchester Andy Burnham for the tour after the prince's Royal Foundation and the politician's office donated £50,000 each to bolster the work of the Manchester Peace Together Alliance.
As he met young people and volunteers at the Hideaway Youth Project, a lead partner of the Manchester Peace Together Alliance, he sat down with some schoolchildren working on a collage.
Amir Hassan, 11, made William laugh when he asked him "How much do you have in your bank account?" and the schoolboy said afterwards the future king had quipped he "didn't know".
Prince William's true fortune is laid bare in the Duchy's annual reports.
Read more: Duchess of Sussex teases new TV and film projects at 'Power of Women' gala saying 'many exciting things on the slate'
Read more: 'I've spent more time with James Cleverly this week than with Suella Braverman in the last year', Sadiq Khan tells LBC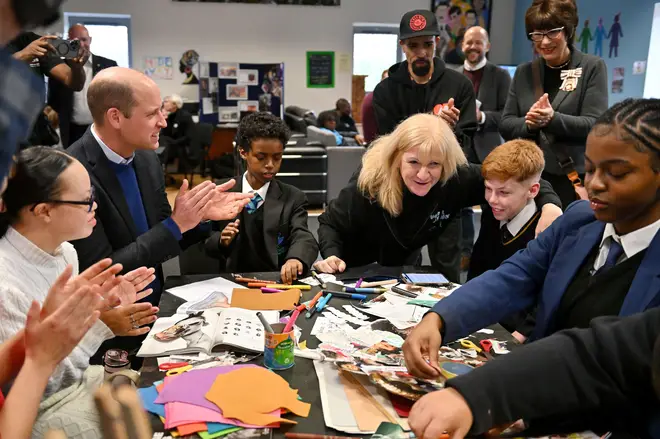 Last September, William was predicted by The Sunday Times to be worth £1.05 billion after he inherited the Duchy of Cornwall estate from his father, becoming the biggest private landowner in Britain.
Other assets now belonging to Willian include £345m of commercial property in London, Milton Keynes and elsewhere.
He is able to use the estate's profits to fund 'public, private and charitable' activities.
William inherited around £10million when his late mother Diana died and another £7million after the Queen Mother's death in 2002.
King Charles's private fortune is believed to sit at £1.8billion, the Guardian reported in April.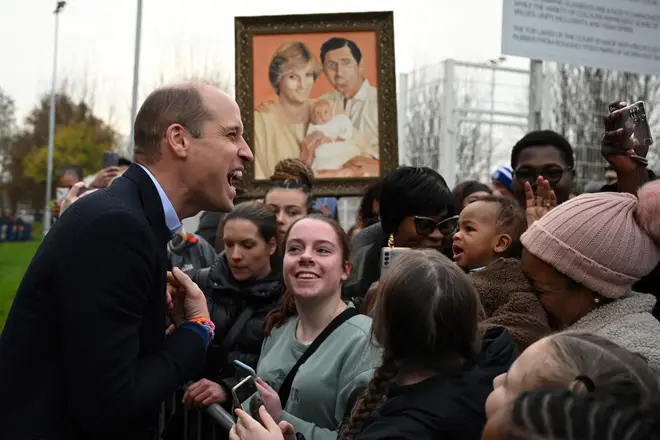 In Manchester, the future King was asked whether he wanted to join the art project, where the children were cutting out hairstyles they thought were empowering and positive, and replied "I'm literally the last person you should ask. My hair is disappearing."
The prince also briefly joined a game of pool and produced groans from the watching guests when he twice failed to pot a yellow ball.
Prince of Wales meets Andy Burnham in Manchester
The £100,000 of funding will be used to create an employment, skills and training programme for young people at risk of violence, a first for the alliance, a community-led initiative combating the underlying causes of youth violence with targeted mentoring and activities.
The three-year project will see the alliance working with the private sector for the first time, which has committed to providing work shadowing, apprenticeships and employment for young people.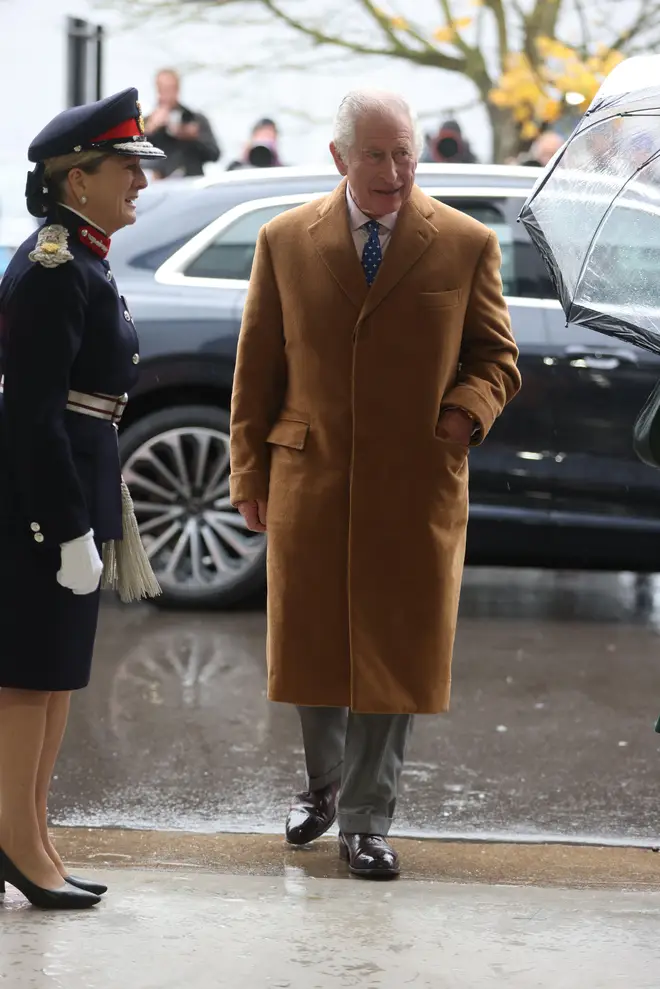 Describing the benefits of the project, Mr Burnham said: "The city is succeeding in many ways. The community is still strong, what we haven't got yet are the paths for people so that they can see the opportunities out there and then get that support.
"Be it educational support, or personal support to make their way towards taking up those opportunities. And for me, this is absolutely about the next chapter of Greater Manchester."
William also met some mothers who had lost children to violence, including Audrey Preston, 57, whose 21-year-old son was killed three years ago.
She said: "I think it's important he came into Moss Side to listen to our stories. When I was told he was coming I thought 'wow, why would he want to come and listen to me?'.
"Lots of kids get murdered in this area and nobody cares really about the families, we're just left to our own devices, so it's good he came, good for the community."
William's Royal Foundation will also provide £25,000 in funding to the Hideaway Youth Project to cover the cost of much-needed IT equipment and the refurbishment of a recording studio.
Later, William made a short trip locally to visit the Moss Side Millennium Powerhouse, a community hub with sports facilities and a library.
William kept his promise to visit after being invited in May by Wendy Simms, a member of the local Rastafarian community, who met the prince at a Buckingham Palace garden party where she was attending as a guest in recognition of her work founding and running a local food bank Keeping It Real 24/7 in Moss Side.
"It's been a while Wendy, I told you I'd come and see you," William told Ms Simms as she greeted him at the start of the visit.
William brought with him his own donation to the food bank, a basket of food of cultural importance to Jamaicans, but sometimes hard to buy in the UK, including okra, yams and dragon fruit.
The royal visitor toured the centre as youngsters crafted and played games in the sports hall.
The centre also serves as a multi-service youth hub which works with a wide range of local organisations, including The Hideaway Youth Project, to provide a weekly programme of activities and clubs designed to support young people to lead healthy and fulfilling lives.
William spent time chatting to staff and volunteers at the centre, which also provides mental health support and NHS services as well as careers advice and guidance.
During the visit, William donned an apron and helped cooks in the community kitchens.
The royal visitor sliced okra, onion and sweet pepper to go with a fish stew, being cooked alongside a Jamaican speciality known as Saturday Soup.
Cooks Morris Hall, originally from Portland, Jamaica, and Donovan Beach, originally from St Andrew, Jamaica, worked with the royal visitor as they prepared the dishes.
Mr Hall said: "He's a nice boy to come here. I'm from Jamaica and I never thought I'd ever live to see any member of the royal family this close."
Later, William visited Jessie's Wall, a memorial outside the centre to Jessie James, a murder victim who was shot dead aged 15 in 2006 in the park next to the hub.
Extensive work has been carried out in consultation with the local community over the past few years to restore the tribute, which was originally created by Jessie's friends soon after his death.
William met Jessie's mother, Barbara Reid, Rosemary Reid, his sister, Millicent Henry, his aunt, and family friend Hilary Charlesworth.
Barbara Reid read a statement to William beside the memorial, thanking him for his support, and "to make a stand for justice".
"We have been given a life sentence, bruised and battered since Jessie's murder. We will not give up hope. We look forward to a brighter tomorrow," Barbara Reid said.
Dozens of well-wishers later helped give William a raucous send-off, with the prince shaking hands and posing for selfies before leaving.