Pro-Palestinian march planned for Armistice Weekend 'must go ahead', Winston Churchill's grandson tells LBC
7 November 2023, 19:57 | Updated: 8 November 2023, 08:39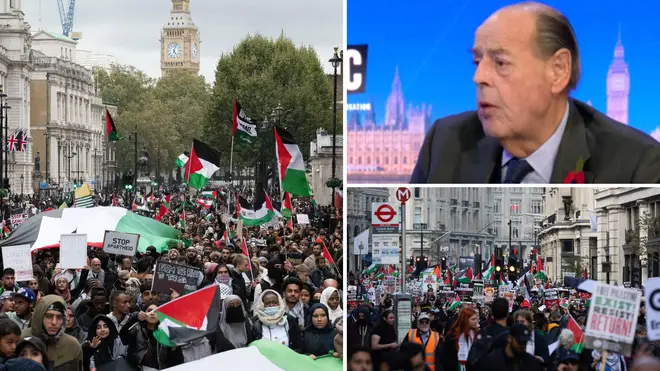 A pro-Palestinian march planned for Armistice Weekend "must go ahead", Winston Churchill's grandson and former armed forces minister Lord Nicholas Soames has told LBC.
Speaking as the Metropolitan Police confirmed the march on Saturday would be allowed to go ahead as the "evidence threshold" to ban it had not yet been met, Lord Soames told LBC "a lot of people died during the war to assert freedom".
"And because you may not agree or disagree with their views and because it is very contentious and very difficult, it's going to put tremendous strain on the police, I think it must be allowed to go ahead," he told LBC's Andrew Marr.
"It's nowhere near the Cenotaph. It's in the afternoon and most of these people, 90% of those people are not there to make trouble.
"They're there to express a deeply held view. And I think it must be allowed to go ahead and I think it would be a great mistake to play politics with it."
Lord Soames tells Andrew Marr: 'Palestine protest must go ahead.'
Asked whether he agrees with the Home Secretary's remarks that some pro-Palestinian marches are 'hate marches', the former armed forces minister replied: "They are not hate marches.
"There are some people who attach themselves, as you know, to every demonstration and that is my one fear about Saturday - but the police will handle that.
"The previous demonstrations have been pretty good really. I mean, there's been a few arrests and but for the scale of people.
"I think they are not hate marches and why would you say such a thing? I don't get it... It is polarising and we live in a country which needs all the none polarisation it can get."
Read More: 'Suella Braverman succeeded - she's caused hate', claims caller after Home Secretary criticises pro-Palestine marches
Read More: Pro-Palestine protest planned for Armistice Day can go ahead, Met chief confirms, as ban threshold 'not yet reached'
It comes amid mounting pressure on the Met to cancel the march, including from the Prime Minister Rishi Sunak and the Home Secretary Suella Braverman.
Mr Sunak labelled plans for an Armistice Day protest as "provocative and disrespectful" and said there was a "clear and present risk that the Cenotaph and other war memorials could be desecrated".
Meanwhile, the Home Secretary Suella Braverman called it "entirely unacceptable to desecrate Armistice Day with a hate march through London".
Sir Mark said: "If over the next few days the intelligence evolves further and we get to such a high threshold - it's only been done once in a decade - where we need to say to the home secretary we need to ban the march element, then of course we will do."
"But that's a last resort we haven't reached," he told the BBC.