'Our family of seven is now a family of four': Rabbi who lost wife and two daughters 'numb' after West Bank killings
10 April 2023, 19:15 | Updated: 10 April 2023, 20:43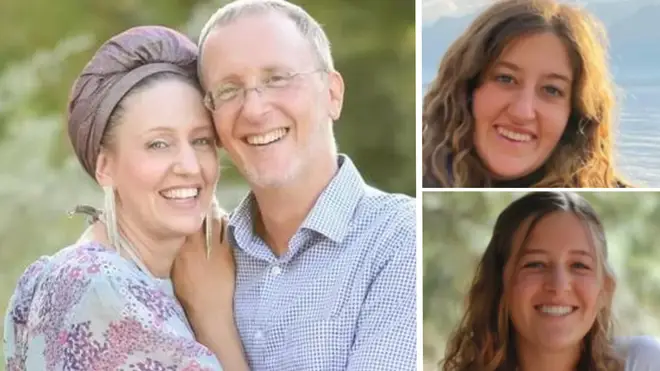 A rabbi whose British-Israeli wife has died three days after their two daughters were killed in an attack in the West Bank has described how he felt "numb" after learning of their deaths.
Rabbi Leo Dee told a press conference how he saw a photograph on Instagram of his car with a bullet hole in it, with the family's suitcases with blood on them, and drove "like a lunatic" to the scene.
His daughters Rina and Maia were killed by 20 bullets from a Kalashnikov rifle and his wife Lucy was shot twice.
Lucy Dee, 48, had been in a coma since the shooting near an Israeli settlement in the West Bank on Friday.
Ein Kerem Hospital in Jerusalem said that she had died on Monday morning "despite great and constant efforts".
Read More: Mother of British sisters shot dead in West Bank also dies of her injuries three days later amid surge in violence
Her children Rina and Maya Dee, aged 15 and 20, who moved with their family from the UK to Israel in 2014, were shot dead in the attack, which officials suspect to be by a Palestinian.
The car that the victims were travelling crashed after being shot at, before the gunmen continued shooting at close range, Israeli media reported.
Their father and Ms Dee's husband, Rabbi Leo Dee, was in a separate car during the attack and paid tribute to his daughters yesterday at their funeral, before the death of their mother.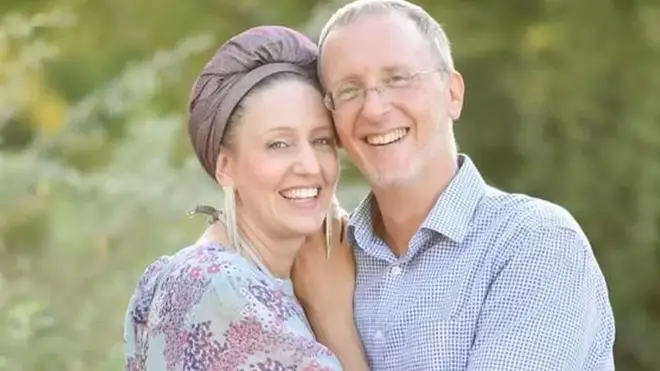 He said at the press conference, broadcast on the BBC: "I hadn't noticed it ring, I hadn't picked up the phone, the feeling she called me during the attack and I wasn't able to speak to her will come back and haunt me for a while."
He said that he was able to identify his daughter Maia at the scene after police produced her identity card, and he then drove to the hospital where his wife had been taken.
He said: "I went numb. I didn't cry yet, I was highly rational.
"I drove another hour and a half to the hospital.
"Lucy had had two bullets - one through the brain stem and one lodged at the top of her spine.
"There was an operation. There was reason for hope. But alas our family of seven is now a family of four."
Read more: King Charles Coronation plans unveiled including procession route, regalia and a break from tradition
Read more: London boroughs could get in-out referenda on ULEZ zone under Tory mayoral hopeful
Paying tribute to Maya, Mr Dee said: "You were always an angel and now you will always be our guardian angel."
He added: "You wanted to sign up for another year of national service, where you could really make a difference. But mummy and I wanted you to start your studies and maybe meet a special boy.
"But you insisted that girls like you always do two years of volunteering so we waited to see what and where this would be."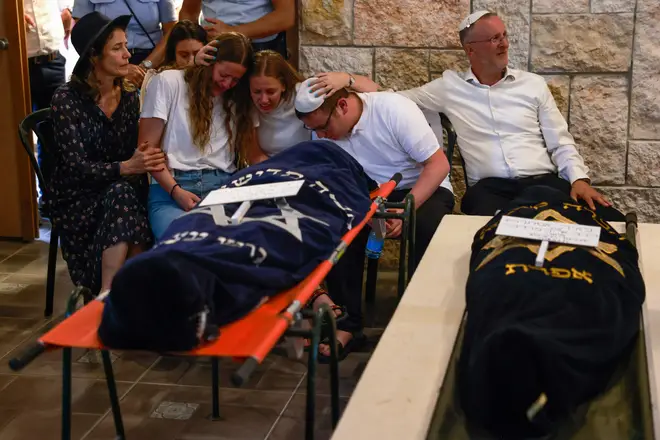 Addressing Rina, whom he called "beautiful and darling" he said: "You were such a great student. Such a great friend."
"You dreamt of travelling the world, now you are travelling to heaven."
The bodies of the two girls were brought out together, with one draped in blue cloth and the other in black - both of which were embroidered with a star of David.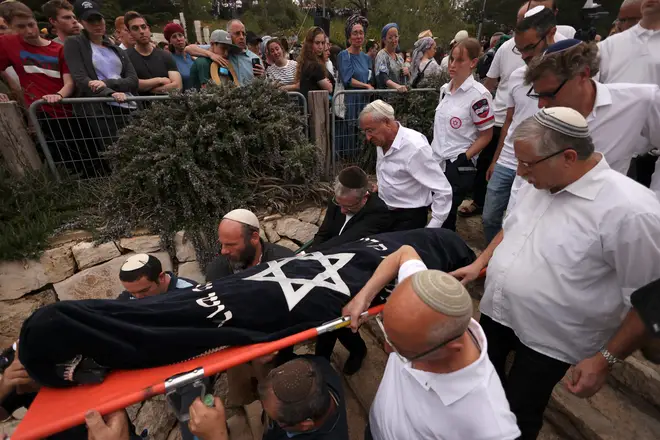 Mr Dee, embraced his daughter's bodies while mourners sang songs of grief at the service, the BBC reported.
The attack came amid a surge in Israeli-Palestinian tensions and violence.
After news of the girls' deaths emerged, Israeli Prime Minister Benjamin Netanyahu offered his condolences to the family in a statement on Twitter "on behalf of all the citizens of Israel".
He added: "We all send our condolences and strength to this dear family in this moment of great sorrow."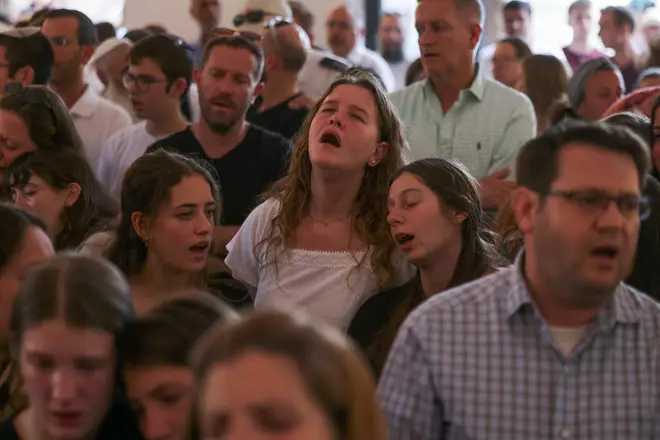 Mr Dee was formerly the senior rabbi at Radlett United Synagogue in Hertfordshire and before that was an assistant rabbi in Hendon, North London, before moving with to Israel with his family in 2014.
In a statement shared with the Telegraph on Saturday, he said the family was "saddened" by "current political situation in Israel".
"Some people think that a religious government will suppress minority rights and become totalitarian," he said.
"But this is not a risk in Israel as religious Jews simply believe in balancing love and justice. For our part, we have felt a warm hug of love from Jews in Israel and beyond and we are confident that justice will be done."
Read more: Girl, 15, who died in blaze at block of flats in East London named as Tiffany Regis
Read more: Londoner on track to complete epic run across US for charity following mother's death from cancer
On the day of the attack, an Italian tourist, Alessandro Parini, 36, was killed and five other Italian and British nationals were wounded when a car rammed into a group the Israeli capital, Tel Aviv.
Italian president Giorgia Meloni's office expressed sympathy for the family of Mr Parini and "solidarity with Israel for the vile attack".
Following the incident, a spokesperson for the UK Foreign Office said: "We are saddened to hear about the deaths of two British-Israeli citizens and the serious injuries sustained by a third individual.
"The UK calls for all parties across the region to de-escalate tensions."